Vikram on 'Sketch', his son's plans, 'Karna' & more
Sunday, January 21, 2018 • Telugu Comments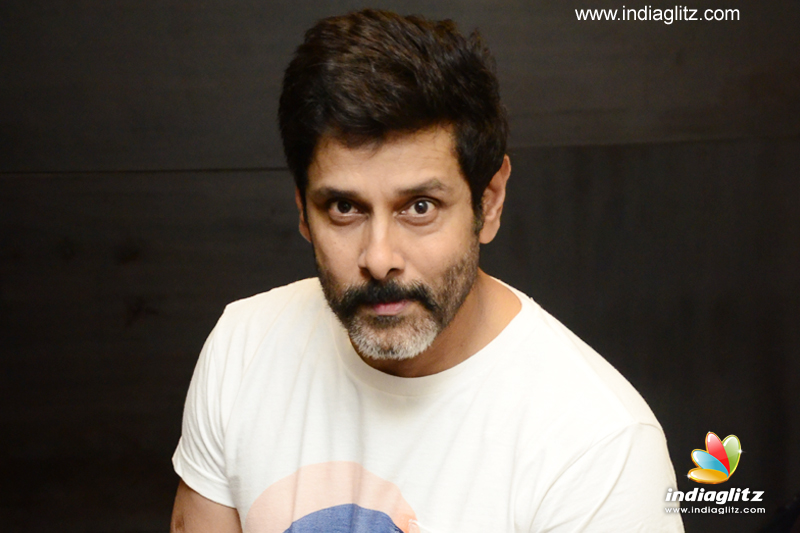 Vikram awaits the release of 'Sketch' in Telugu. In this interview, the versatile actor talks about the film, what makes it special, his son's future plans, his upcoming films, and more.
What is the rationale behind the title?
The word sketch is often used in the context of a scheme to kidnap or murder someone. If you want to know the relevance of the word in the context of the movie's story, you have to watch 'Sketch'.
What is your character in the movie?
I have played the role of a loan recovery agent who ensures recovery by scheming a plan every time. But what happens when the hero confronts a certain character? That's the crux. This is a pucca commercial movie. Director Vijay Chander has made it into a full-on mass entertainer. There are doses of realism and cinematic entertainment. The Tamil version has been doing very well in Tamil Nadu and Overseas territories as well. I was confident about 'Iru Mugan' ('Inkokkadu' in Telugu) and I am confident about this film as well.
Is the film character-based alone?
It's not just based on the character. The story has its share of twists. Especially, the climax stands out. Not just I, Tamannah too was pretty excited when she heard the story. She was telling me that no other story excited her so much since 'Baahubali'. I am glad that the director waited to narrate to me this script after waiting two months.
Is the story of 'Sketch' inspired?
The director wrote the story seven years ago. He had visited several places in Tamil Nadu where goondaism was prevalent. Since the story is based on a real-life incident, the proceedings are slice-of-life. Many are feeling that some of the scenes have happened for real. I don't want to say more as it might kill the excitement.
That said, the film is commercial.
What feedback are you getting for your acting?
Those who have watched the Tamil version are loving my performance. The other day, my wife, too, was saying the same thing. I have a feeling that I have done an out-and-out commercial movie in a long time. The kind of heroism you will see in the movie is new. There are no too many punchlines.
What is your priority - experimental or commercial cinema?
These two are two eyes for me. My fans are going to enjoy watching 'Sketch'. The unit members are confident that it will be a hit in Telugu.
The film seeks to tell no message. Normally, I do only those films which are novel. Even if it's in a commercial mold, my character has to be new. 'Sketch' will be loved by the Telugu audiences. Keralites, too, have liked it.
What kind of character has Tamannah played?
Tamannah is playing a traditional Brahmin girl. Hers is a serious character. I am a mechanic who comes from a goonda backdrop. It's a contrasting combination. The romance is quite real and the chemistry between us has worked so very well.
When are you going to do a straight Telugu movie?
There are many languages in the country. I will do a film wherever I am offered a good role. 'Baahubali', for example, is not just Telugu cinema. It's pan-Indian. I am next going to do a Hindi film. Just like 'Baahubali', the Hindi audiences have watched my films 'Aparichitudu' and 'I'. In Mumbai, they are watching our films with subtitles. 'Baahubali' has proved that there is so much of talent in South India.
Your son is doing the remake of 'Arjun Reddy'. Tell us about the project.
I am looking forward to this film. My son (Dhruv) has learned method acting at a New York Institute. I thought that he will debut after three years. But this offer has changed everything. Everybody felt that he will be apt for the story and the role. The film gives a lot of scope for performance. I am happy as a father. Dhruv has plans to go back to learning direction after this movie.
Now that Rajinikanth, Kamal Haasan and Vishal are either in politics or are political, do you have plans to enter politics?
I can't even wear the 'pancha' properly. Films are my life. Politics doesn't suit me. All that I know is how to act in front of the camera. I am not fit to be a politician.
Your combination with director Shankar is always exciting. Are you going to team up with him, again?
It was only recently that I did 'I'. There is a lot of time for it.
What are your upcoming movies?
'Dhruva Natchatiram' with Gautham Menon and 'Samy Square' are two of my upcoming movies. A thriller under the banner of Kamal Haasan has been announced. It will be directed by Rajesh M Selva. 'Karna' will be announced in February. This film will be made on a budget of about Rs. 300 Cr. The characters of Bhishma, Duryodhana, Kunthi and Draupadi will be played by the right names.
Actress Photos
Hari Teja
Riya
Shradda Das
Rashi Khanna