Action packed Murder Mystery in Pandiraj style
Wednesday, December 23, 2015 • Tamil Comments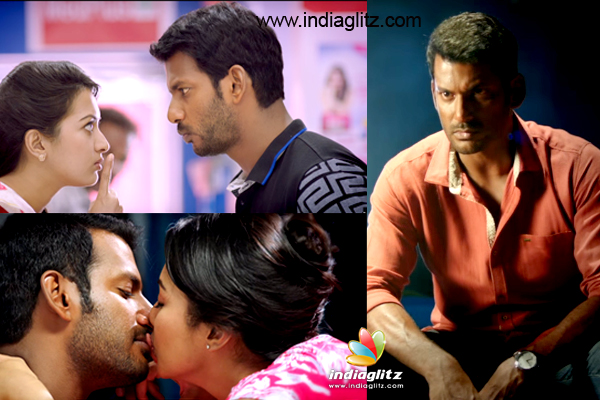 The trailer of director Pandiraj's 'Kathakali' starring Vishal and Catherine Thresa in lead roles has just released. The trailer is suspenseful, refreshing and promises a good action entertainer to put it short.
From the trailer we could guess that the lead man played by Vishal is caught in a murder mystery and in the run to save his life from villains. He also tries to learn who actually is the real murderer.
The substantial part of the trailer has been allocated for action sequences and they are written and shot in Pandiraj's unique way of handling action sequences. The romance sequences of the film have been shot aesthetically.
The lead lady Catherine Thresa seems to be playing a strong heroine role in the film and not just the love interest of hero. Karunas is back as the lead comedian and heroes friend. The comic one-liners retain the Pandiraj style of social satire. Suspense has been maintained over the main villain of the film.
Hiphop Tamizha Aadhi's rerecording is pulsating in action sequences.
Going by the trailer, we can expect 'Kathakali' to be a thrilling action flick from Vishal with the unique treatment of Pandiraj which includes refreshing romance and satirical comedy.
Actress Photos
Amy Jackson
Aditi Rao Hydari
Lavanya Tripathi
Yaashika Aanand