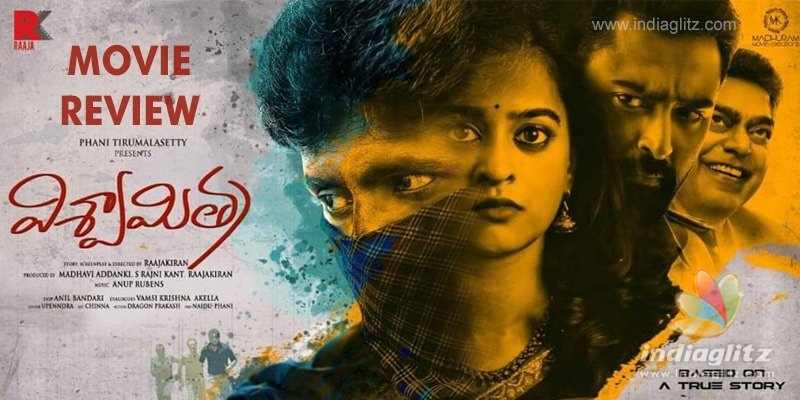 Viswamitra', starring Nandita Raj, Prasanna Kumar and Sathyam Rajesh, hit the screens this Friday.  Here is our review of the supernatural thriller.
Story:
Mitra (Nandita Raj) is a kind-hearted Samaritan working in a company owned by a lecherous boss named Rana (Ashutosh Rana).
Whenever she falls in trouble, a jeans-clad man named Viswa (Sathyam Rajesh) comes to her rescue.  Mitra falls in love with him but he keeps disappearing soon after saving her.
Soon, her old friend Gopal (Prasanna Kumar), a Circle Inspector, grows keen about Viswa and tries to trace him.  This is when Mitra and the CI stumble upon a shocking fact.  What is that and what turn does the story take from here?  Answers to these questions are found in the second half.
Analysis:
Somewhere in a rom-com scene, Vidyullekha Raman refers to Sathyam Rajesh as a cute boy.  When he is not doing those embarrassing naughty things that comedians are known to do in our movies when they are mesmerized by the heroine's allegedly stunning beauty, Rajesh is shown as if he is an avatar of some saviour God.  When he walks in slow motion thinking he is an Allu Arjun, the music director imagines that he is working on a superstar movie.  Believe it or not, Sathyam Rajesh is the film's orphaned hero who itches to meet that golden girl who wears sarees and spends her birthdays with orphans.  The makers have claimed that 'Viswamitra' is based on true events.  They have said anything is possible in this universe.  'Sathyam' to be told, we can't agree more after watching this film.
Before Sathyam Rajesh is introduced, the director forces the audience to go through the pain of witnessing the nakras of a couple of comedians.  There is a purpose here.  We are not supposed to find Rajesh funny since he is the male lead.  So, the director makes others do buffoonery to make sure the audience believe that the hero is not a buffoon - atleast in the director's eyes.
Ashutosh Rana is a womanizer and he is shown doing those TV serial things in a TV serial set-up just so that our Sathyam Rajesh can turn into a Bhagawan Krishna out to save Draupadi.  With this outdated villain who doesn't know how to use CCTV footage in his office building, the film rots till the last minute.
There are orphans. And orphans. And orphans. They get emotional in a slew of melodramatic scenes.  A cop cries and cries as if Gummadi is back with a bang.
After a point, Nandita Raj acts as if she has to think of herself as a combination of Soundarya and Anjali Devi.  Jeeva plays a cop who specializes in smells and goes on to preach Karma philosophy like a repentent Rao Gopal Rao.
The performances are steadily dated.  The cinematography is ridiculously below par.  The background music is consistently ordinary.
Verdict:
'Viswamitra' delivers forgettable thrills right from word go.  It's a casting nightmare and the scenes are grossly underdeveloped.  The climax takes a strong heart to be witnessed.
Rating: 1 / 5.0
Showcase your talent to millions!!
Write about topics that interest you - anything from movies to cricket, gadgets to startups.
SUBMIT ARTICLE
More
తెలుగు Movie Reviews
Ponniyin Selvan 1
Nene Vasthunna
Babli Bouncer
Dongalunnaru Jaagratha
Krishna Vrinda Vihari
Alluri