'Vivegam' - Promises a sure shot blockbuster!
Wednesday, August 16, 2017 • Tamil Comments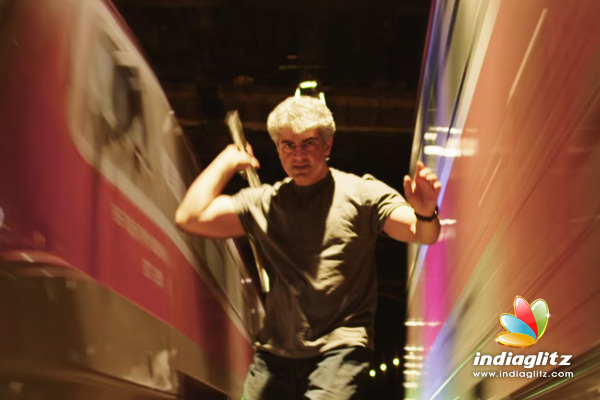 The much expected trailer of Thala Ajith's 'Vivegam' has been released. The release of the trailer itself has come as a surprise for the fans as the director Siva kept the suspense alive until two hours before the release. The trailer release was confirmed only two hours prior to its release.
Coming to the trailer it has come out as a fantastic package promising a Tamil film with true international flavour in content as well as making and it looks like a sure shot hit at the box office.
Unlike the teaser which was completely action packed. the trailer carries all the elements of the film such as action, friendship, romance, sentiment and of course the massbuild of up for the indomitable Thala.
The trailer starts off with a perfect dialogue to set the tone for an Ajith starrer and it also ends with a couple of massey dialogues- one uttered by Vivek Oberoi and the final one uttered by Ajith himself. An the final shot giving a prelude for Ajith's first ever six pack appearance is going to be a historical moment in theaters for Ajith fans. The trailer also captures Ajith's romance and family life with Kajal- who looks stunningly beautiful and homele and also a prelude to comical entertainment with Karunakaran. Vivek Oberoi also looks smart and suave and he comes as a friend and colleague of Thala in the film.It is a big surprise that the trailer has got some laid back moments instead of completely adrenaline pumping segments. A commendable idea by Editor Ruben!
Anirudh's BGM is classy while Vetri's visual's and Milan's sets give bring the much needed international flavor for the film. Siva's dialogues both in mass as well as romance sequences are going to be a big plus for the film.
In short 'Vivegam' trailer serves as the best curtain raiser for the most expected big budgeted film of the year.
Actress Photos
Muskan Sethi
Sony Charishta
Rashi Khanna
Sneha Gupta