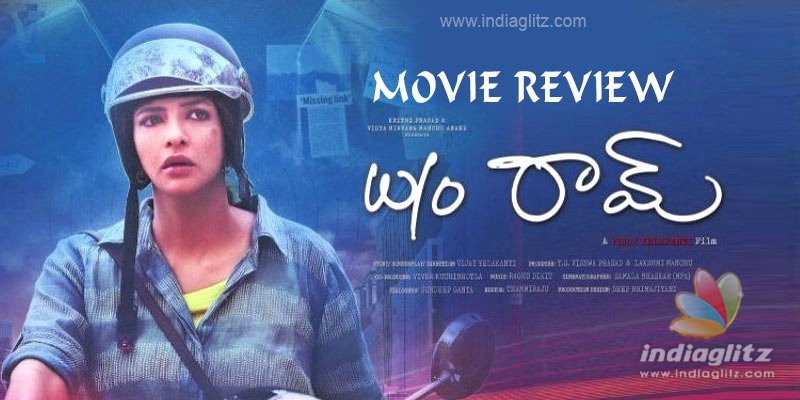 'Wife Of Ram', starring Lakshmi Manchu as the main lead, hit the screens this Friday.  Here is our review of the crime thriller.
Story:
Deeksha (Lakshmi Manchu) is in the hospital because some mysterious person just killed her husband and knocked her off, resulting in the death of the foetus in her womb.  
When she goes to the police to complain about the murder of her husband, Sathyam (Srikanth Iyer), a callous cop, humiliates her with his indifference.  
After several failed attempts to get the system to render justice to her, Deeksha decides to find out the truth behind her husband's murder all by herself. She carries out an intelligent investigation.  In this, she has the help of Chary (Priyadarshi), a newly-recruited constable uncorrupted by the system.  
Deeksha is a fighter yes, but the nexus out to see her either dead or compromised is too powerful.  A twist arrives and the climax is a gripping fare.
Analysis:
As thrillers go, 'Wife Of Ram' doesn't really break new ground.  If you have watched thrillers made in Bollywood and Hollywood, you might actually predict the twist to an extent well in advance.  That said, the film has an impressive narration.  
Debutant director Vijay Yelakanti makes an effort to infuse detailing and he doesn't at least take his audience for granted.  When Deeksha sets out with her own investigation, the way she tries to trace what happened days before her husband's death, where all he went, who all he met, and what all he might have been through - is fairly engaging.  
As is the case with some of the well-made thrillers in recent times, many things are explained only in retrospect.  So, when Chary speaks of DNA traces, it might seem to be either unnecessary or pretentious at first, but when the retrospection happens, it makes at least some sense.  Why should Deeksha be in a jewelry shop when an important character calls her up?  The audience comes to see the point only much later.
Is Deeksha confident or anxious or both?  She is a mix of everything.  She is strong, she is vulnerable.  She may come across as an idiotic person who meets a complete stranger late in the night, but there is more to it than meets the eye.  
There are moments when 'Wife Of Ram' acquires traces of some well-known thrillers like 'Kahaani'.  There are moments when the narration seems to be too convenient because sometimes, some characters seem to display sharpness/alertness quite easily.  But then, such things are negated by the last 30 minutes (here too, the crime scene should have been brief and nuanced).  
Thanks to Lakshmi Manchu's earnest acting, many scenes are saved.  Vijay Yelakanti lets her be touched inappropriately by a bisexual prostitute and the Manchu actress carries herself with confidence in this and most other scenes.  In a film full of pretty below-par performances, Lakshmi Manchu stands out for sure.  
The message of how men must be told to respect women is driven with sincerity.  Most films do it like a lip service but 'Wife Of Ram' is different.  
The film suffers also from some unnatural comedy.  Srikanth Iyer's characterization is supposed to evoke laughter but all that the director manages to do is try to be a shadow of the old Ram Gopal Varma.  His behaviour in the scene in the hospital where he shows his arrogance in front of Deeksha is so affected.  
Adarsh Balakrishna as a South Asia-trotting baddie is a caricature.  Samrat and other characters have their limitations.  The dialogues could have avoided cliches.  
Samala Bhasker's cinematography is apt.  Raghu Dixit's background score and Tammiraju's editing are a big plus.  
Verdict:
'Wife Of Ram' avoids cliches. It comes with a twist.  For all its drawbacks, the film redeems itself with its second half.  Lakshmi Manchu gives a mature performance.  Technical departments render able services.
Rating: 2.5 / 5.0
Showcase your talent to millions!!
Write about topics that interest you - anything from movies to cricket, gadgets to startups.
SUBMIT ARTICLE
More
Telugu Movie Reviews
Ponniyin Selvan 1
Nene Vasthunna
Babli Bouncer
Dongalunnaru Jaagratha
Krishna Vrinda Vihari
Alluri