'Yuddham Sharanam' audio released
Sunday, August 27, 2017 • Telugu Comments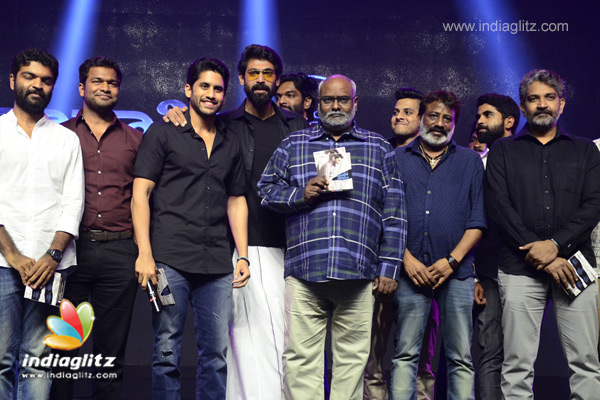 The audio of 'Yuddham Sharanam' was released at an event held on Sunday. SS Rajamouli and Rana Daggubati, among others, graced the event as guests.
MM Keeravani said, "I liked Vivek Sagar's album 'Pelli Choopulu', including the RR. I wish him and the entire team all the very best.
Rana Daggubati said, "I used to flunk in exams as a child, whereas Chaitu used to crack them with ease. I am very close to the unit of 'YS'. I am sure that you are going to be treated to a very cool movie on Sept 8. Chaitu's films are more important to me than my films. I wish him all the very best. David Nathan is one of the best writers I have interacted with."
Krishna, the film's director, said, "My best friend Chay is one of the reasons I am standing here today. He has constantly encouraged me. I am a fan of Sai sir, who is an amazing producer."
Rajamouli said, "My wife doesn't like a story easily. But when Krishna (director) gave her the story's narration, she told me with excitement that he had worked on the characters meticulously, the way we had done for 'Baahubali'. It's the first time that I heard her speak so positively about a movie. That's when my faith in this project grew. I have liked the punch line in the trailer. Chaitanya is selecting the right kind of stories. The film seems to tell the story of how an ordinary man defeats a big villain. The title song is very good. I am haunted by the song, which I have listened to twice."
Naga Chaitanya said, "Your encouragement when the Teaser was released motivated us a lot. I thank producer Sai Korrapati garu, who encourages fresh talent. Seventy per cent of those who have worked on this film are newcomers. My director and I shared the same birthday, Nov 23. We studied together since Standard IV. In Standard VIII, we fell in love with the same girl. That's when our 'yuddham' started. I won that war. The Sept 8 war will be won by him, though. He has a long way to go. Thanks, Vivek Sagar, for the lovely album. Kartikeya (Rajamouli's son) as the line producer took care of everything. If everybody is smiling today, it's because of him. Intelligence is the main weapon that you will see in this movie. I am going to meet fans before the release of the movie."
Actress Photos
Lavanya Tripathi
Shantini Theva
Divya Rao
Payal Rajput