Rich in everything
Wednesday, August 30, 2017 • Telugu Comments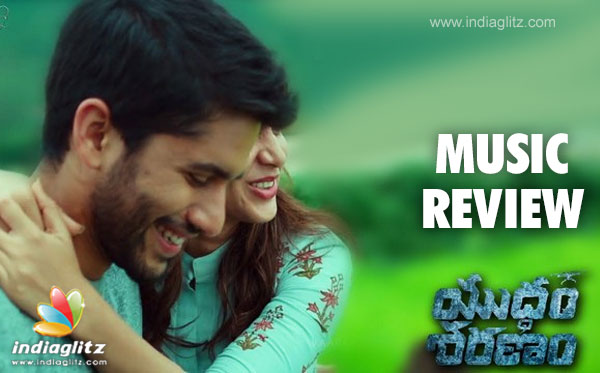 'Yuddham Sharanam' is a promising album to listen. Vivek Sagar enlists the services of singers such as Shaktisree Gopalan, Karthik, Tracey Thorton, Nikhita Gandhi & Pranav Chaganty, Shivam & Kaala Bhairava, and Pradeep Kumar.
The lyrics are by Kittu Vissapragada, Shreshta, Pranav Chaganty.
Yelugula Teraley
Artist: Shaktisree Gopalan
Lyrics: Kittu Vissapragada
Vivek Sagar's instruments aesthetically catch the sounds of Nature. Shaktisree Gopalan's vocals are in the space of an offbeat voice. Her voice sits well with the subdued mood of the soothing number. Kittu Vissapragada comes up with evocative wordings.
Neevalaney
Artist: Karthik
Lyrics: Shreshta
One feels the song has a 'Premam' hangover, with Gopi Sundar writ large over the number. Vivek's tuning brilliantly evokes a sense of festivity. Phani Teja's Carnatic Synth somewhere in the middle is enthusing.
Karthik's vocals are eminently sharp as well as endearing. Shreshta's lyrics are a treat to listen, mirror as they do the joyful mood of the protagonist.
Adedo Maayalley
Artist: Tracey Thorton
Lyrics: Kittu Vissapragada
The song is yet another offbeat number of the album in terms of its arc and vocals. Tracey Thorton's voice is too youngish. It fits the bill in a song that tries to be distinct, refusing to play to the gallery. Abhijit Gurjale's violin and George Hull's Saxophone are spectacular.
Padmavyuham
Artists: Nikhita Gandhi & Pranav Chaganty
Lyrics: Pranav Chaganty
After 'Boom Boom' ('SPYder'), Nikhita Gandhi enlivens the booming number with her unique vocals. Her voice has the quality of sounding both optimistic and sounding something ominous. She is complemented by Pranav Chaganty, who also is the song's verbose and imaginative lyric-writer. Electric Guitars and Drums are leveraged to a majestic effect.
Enno Enno Bhavaley
Artist: Pradeep Kumar
Lyrics: Shreshta
A family number couldn't have been more classical in its musical essence, at least in the times we are living in. Pradeep Kumar's soulful voice is a throwback to AR Rahman's discoveries of the 1990s. Vivek Sagar not only deploys an excellent bassist and a talented guitarist but also chips in with Aslam Khan's Saarangi. Shreshta's lyrics are profound, and has a great emotional value.
Yuddham Sharanam
Artists: Shivam & Kaala Bhairava
Lyrics: Kittu Vissapragada
For a fiery title, the song has the perfect kind of lyrics. Kittu Vissapragada's lines are the best part of the number, which mirror the rage within. 'Vegam nee patham' and 'Yukthame rakthamai cherapada gundelona gayam' are some of the phrases which instantly make an appeal.
Rendered by Shivam and Kaala Bhairava, the song is largely inspired when it comes to music. The raw appeal of the male voices is complemented by a tune that continues to be monotonous through the course of the song. It's a one-note equivalent of a one-note act.
Verdict:
The album features some chaste Telugu, trendy music, and a versatile use of a range of instruments.
Rating: 3/5