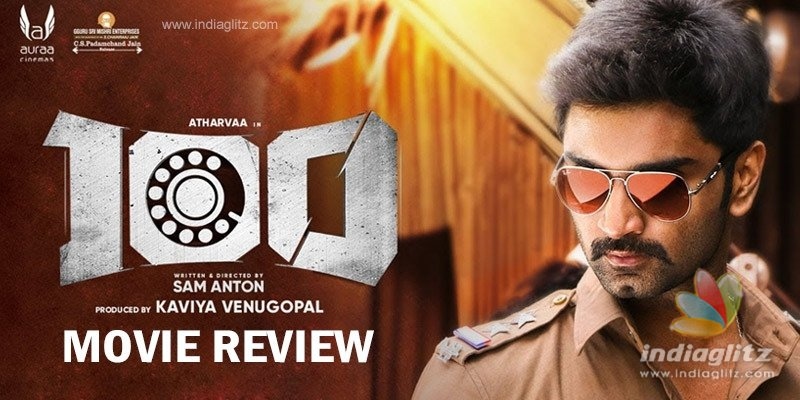 '100', starring Atharvaa Murali as a cop, is now streaming on Aha.  Here is our review of the dubbed flick.
Story:
Sathya (Atharvaa) is a fiery young man who is aspiring to become a cop and even before he gets his posting, he unleashes his anger on wrongdoers bashing them up to pulp at every given opportunity.  His best friend is Anwar (Mahesh), a cop whose sister Ayesha (Harija) is also like a sister to him.  
Then there is Nisha (Hansika Motwani) who runs into the hero after he bashes up her brother Vicky (Raaj Ayappa) for stalking Ayesha and a friendship begins. When Sathya gets his job posting, he finds out to his dismay that instead of fieldwork, he has to sit behind a desk and take calls for 100.  Sathya has no interest in his work but then comes a call that changes his life and affects all those around him, leading him deep into a network of hideous crimes.
Analysis:
You are a trainee cop who is tasked to receive calls on 100 in the control room.  Because of some nascent troubles in your otherwise smooth-going life, you are somewhat disturbed and snap a distress call from a wailing woman regarding the abduction of her kid.  Stop and ask yourself how likely is it for a sincere-minded trainee cop with a determined mindset to do such a stupid thing in an absent-minded state.  In '100', this is presented as 'nail-biting' drama.  
There is a whole plot involving shady delivery boys, a drug gang, abductions, flesh trade and all.  But none of this goes into making the proceedings exciting.
Talking of nativity, the Tamil original came with some specific references to real-life incidents.  Somehow the Telugu version lacks authenticity and impact.  
The love track between the male lead and Hansika Motwani is atrocious. The hero says that he will shake the State once he becomes a cop, only to be shaken up by Hansika's beauty in a jiffy.  She is angry at him that he had assaulted her brother.  But when he explains to her that she is a motherly figure in her family, she blushes immediately and, instantly, there comes a dream song.  
Prominent character actor Radha Ravi and his scenes with the hero are as bland as the crimes that take place in the movie.  Just to project the hero as a sharp-witted vigilante cop, the entire police department is shown to be full of idiots.  When you traverse half of Hyderabad in a matter of minutes, even a kid in the police department can understand in sleep that the metro rail was your mode.  In '100', only the hero can crack the 'puzzle' (where there is none)!
The background score by Sam CS is a rehash of the 'Arjun Reddy' wara voom voom wara voom wara voom noise.  RD Rajasekhar's cinematography is able.
With ineffective performances, the action scenes come across as even more affected.  The execution is familiar.
Verdict:
'100' is a formula-driven vigilante cop drama with a twist.  It barely makes us root for its characters.  With its pedestrian action sequences, it makes the experience all the more tiresome. 
Rating: 1.75 / 5.0
Showcase your talent to millions!!
Write about topics that interest you - anything from movies to cricket, gadgets to startups.
SUBMIT ARTICLE
More
Telugu Movie Reviews
Hunt
Driver Jamuna
ATM
Vaarasudu
Waltair Veerayya
Veera Simha Reddy