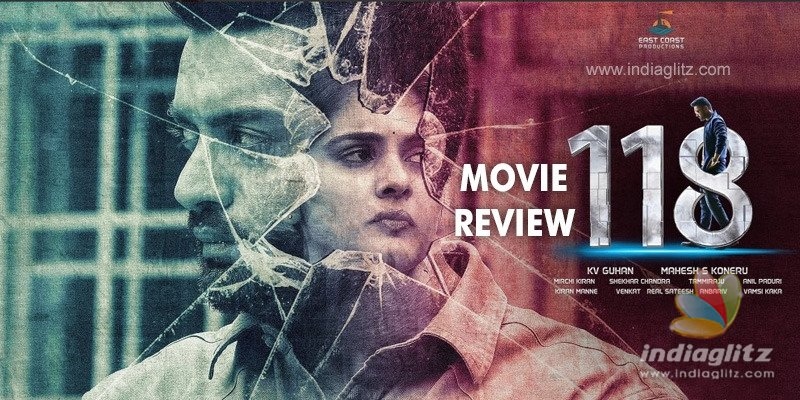 '118', a thriller, hit the screens this Friday.  Starring Nandamuri Kalyan Ram and directed by KV Guhan, it has Nivetha Thomas in a key role.  Here is our review of the movie.
Story:
Gautham (Nandamuri Kalyan Ram) is an investigative journalist whose curiosity is always intact.  During his stay at a resort, he gets mysterious dreams of a woman (Nivetha Thomas) being killed by unknown goons.
Days later, Gautham realizes that the dreams hold some clues to a real-life incident.  He learns that the woman of the dreams exists in reality.  
The hero relentlessly pursues one clue after another and chases the elusive mystery.  Who are the villains? What is their motive? What of Aadhya, who seems to be missing?  Answers to these are found in the second half.
Analysis:
At one level, '118' is a commendable effort because it avoids low-hanging fruits such as routine comedy.  It stays true to the genre and its subject.  If you love movies that don't pander to run-of-the-mill ingredients, you may like this film.  
Director KV Guhan (who has been a cinematographer of repute) deals with a dark subject here.  In tune with the flavour and mood of the film, the frames are suitable.  The dialogues are rather understated, so also Kalyan Ram's expressions.  The body language of the actors, generally speaking, is restrained.  
It's around Nivetha Thomas's character that the story revolves but even she is not allowed to over-dominate.  It's refreshing that the director avoids any song involving her.  
The climax can be seen in two different ways.  It should have had an action episode to elevate the hero.  Instead, the director goes for a climax that is not cliched.  Let's see how it's received by the audience.  
'118' is a cross between a horror flick (that woman who gatecrashes into the dreams of random individuals at will) and a psychological job.    
Everything said, the film does have its share of flaws.  When it's clear as daylight that the villains are stopping the hero from knowing something, what would be the commonsensical course of action for him?  Literally chase them (because you are a hero), play mind games (because you supposedly have a sharp brain), use your VIP network (you are a star journalist whose safety is assured by the Chief Minister himself in a high-profile case where the Home Minister is the rogue), or probably capture one of the villain's men and make him reveal the identity of the big fish.  A combination of one or more of the above actions would make for a routine yet sensible approach.
The film's antagonist is a billionaire who has a sophisticated network.  He wants the hero eliminated because it's a do or die situation for him.  He hires goondas who are so unprofessional that they behave as though they are the hero's undercover operatives.  One dude thinks he has killed the hero, who actually is safe without a drop of blood on his miraculous body after a bloody accident.  
When you know you urgently need to talk to a guy who is in Dubai, you seek his phone number from his parents, call him up and do the needful.  You don't wait for him to return to India.  You want to know with whom a character (Hari Teja) spoke on the phone on a particular day.  You know that she is co-operating with you in your investigation.  You ask her what you need to know from her.  
At any given point of time, you can spot the tensed hero showing confusion, frustration, cluelessness or a combination of all the three.  Amidst all this, he forgets to get angry.  
The flashback should have been pithy. Shalini Pandey, Bharath Reddy and others make little impact.  Prabhas Sreenu (as the hero's friend) and Chammak Chandra (as his maid) could have been better.  
Kalyan Ram's performance is mature.  His dialogue-delivery and looks are decent.  The film does away with songs and routine comedy situations.  Shekhar Chandra's BGM scores marks to an extent.  KV Guhan's cinematography is OK.
Verdict:
'118' is a sincerely told story that offers thrills.  The film adopts an approach that is different from the routine templates we get to see in movies.  It has its misses, though.  The ball is now in the audience's court.
Rating: 3 / 5.0
Showcase your talent to millions!!
Write about topics that interest you - anything from movies to cricket, gadgets to startups.
SUBMIT ARTICLE
More
Telugu Movie Reviews
Shekar
College Don
Sarkaru Vaari Paata
Ashoka Vanamlo Arjuna Kalyanam
Acharya
Oh My Dog