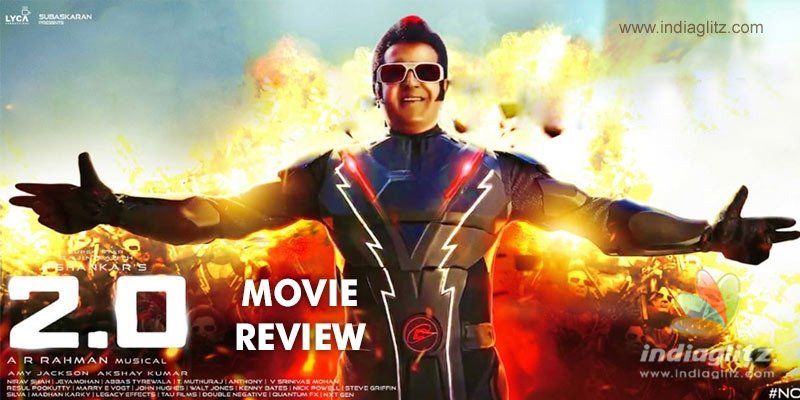 '2.0', starring Superstar Rajinikanth in the lead, hit the screens this Thursday.  Here is our review of the multi-genre movie.
Story:
When a mysterious force (Akshay Kumar metamorphoses into something larger-than-life) terrorizes people living in Chennai by snatching away their mobile phones and committing some vigilantist murders, the government is clueless even as the social order threatens to fall apart.
This is when Dr. Vasigaran (Rajinikanth) offers to bring back humanoid robot Chitti (from the first part, 'Robot', released in 2010) to life.  When the omnipotent Chitti takes a reincarnation, the deadly force stares at death.
But a mischief later, the blood-thirsty antagonist is back to suck human blood.  What will Dr. Vasigaran and his assistant (Amy Jackson as a humanoid robot named Vennela) now do?  What is the motive of the unseen force, referred to as the Fifth Force?
Analysis:
While watching some movies, there comes a point when you give up once and for all.  No matter how the rest of the film is going to be, this one frustrating element is a good reason to downgrade the film per se.  In the case of '2.0', this reviewer had that moment when Akshay Kumar entered the screen in the flashback as an old man.  There was absolutely no reason to show him as a frail, stereotypical NGO-type grandpa.  If anything, it would have been marvellous had he been a 40-year old hunk, brimming with life, hope and ideas.  It was literally exasperating to see him petitioning politicians and capitalists.  Shankar makes this character a vapid creature staring at death, to put it mildly. If you are a fan of vintage Shankar, you can be forgiven for having too many complaints about this movie in your cine MPU.  In 'Bharateeyudu', 'Jeans' and 'Aparichitudu', the flashbacks were moving, had great depth and drama.  The first two of these films, in addition, had a divine BGM by the once-gifted AR Rahman.  In '2.0', the flashback is plain, the BGM is deadpan (as it's during most part of the so-called action-thriller).  Admit it.
A dwarf robot has to look like a dwarf, not call itself a mini robot and be done with it.  It doesn't matter how many of them you painstakingly create in the lab.
The climax in a large football stadium comes with, among others, mediocre reaction shots of the crowds.  Above all, what beats the imagination is how come Shankar thought Rajinikanth and Akshay can go missing for a good part here.
Indian cinema is not yet done with songs.  To be sure, it shouldn't be done with songs.  It may sound unpopular but it's a sign of a lack of imagination that '2.0' has no songs save one.  To watch a Shankar movie without songs is akin to watching a Chiranjeevi movie without dances.
To watch a Shankar movie without a proper explanation of things is akin to watching a Rajamouli movie without a clear-cut narration (the latter is a non-existing thing, the former has come into existence with '2.0').  The way Rajini's character explains the science behind aural energies is bland at best and clinical at worst.
Robot's biggest winner was Chitti undoubtedly as we loved Chitti's style, laughs and that sinister feel. However, Chitti's scope is very limited in '2.0', the expectation of some good ol' Chitti feel is completely amiss as all he is able to do is laugh a bit.
We miss Kollywood writer Sujatha's services miserably and this becomes obvious in the climax when Chitti is out of words and all he does is laugh.
To give the makers where it's due, '2.0' does have top-notch visual effects (VFX supervision is by Srinivas Mohan) and production designing (by Muthuraj)  here and there.  The sight of countless mobile phones engulfing the bodies of soldiers is a flash of brilliance.
The first half has several engaging moments.  From worried capitalists (telecom players) to the government treating the emergency situation of cell phones vanishing into thin air as a national security issue, the scenes are handled with maturity.
The way Amy Jackson becomes a hero, saving her creator Vasigaran from death, is another highpoint that defies cliches.  Dialogues are witty here and there.  Watch her deliver a repartee or two ('Why do you thank a mere laptop?', pointing to herself) to her boss.  The view that our people can't live without TV, cinema, food and gossip, takes the cake.
Shankar surely has relied heavily on the VFX and streamlining the subject to suit nativity. Nirav Shah's cinematography comes in handy.
Verdict:
'2.0' comes with a weak script.  Vintage Shankar is on a holiday.  Made to a template, the alleged thriller is also predictable.  You will say the first half is better than the second or vice-versa but you will not find both of them equally good.
Rating: 3 / 5.0
Showcase your talent to millions!!
Write about topics that interest you - anything from movies to cricket, gadgets to startups.
SUBMIT ARTICLE
More
Telugu Movie Reviews
Ponniyin Selvan 1
Nene Vasthunna
Babli Bouncer
Dongalunnaru Jaagratha
Krishna Vrinda Vihari
Alluri