CAST & CREW
Trisha Krishnan
As
Janu
Vijay Sethupathi
As
Ram
Aadithya Baaskar
As
Young Ram
Aadukalam Murugadoss
As
Sathish
Bagavathi Perumal
As
Murali
Devadarshini Neelakandan
As
Subhashini
Gopi Gpr
Supporting Actor
Gouri G Kishan
As
Young Jaanu
Janagaraj
As
Watchman
Kaali Venkat
Supporting Actor
Kavithalaya Krishnan
As
Barber
Niyathi Kadambi
As
Younger Subhashini
S Janaki
Supporting Actress
Varsha Bollamma
As
Prabha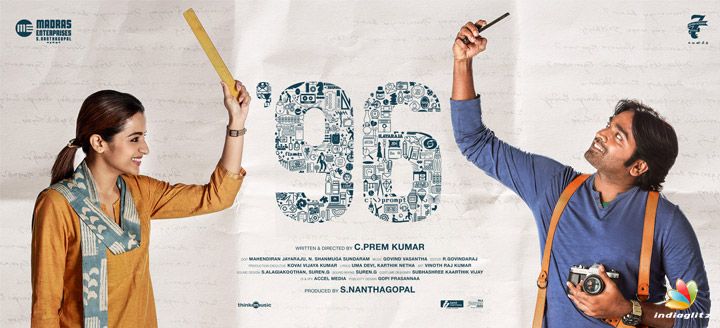 96 - A Poetic Love Story that will unlock your memories
Premkumar the cinematographer of 'Naduvula Konjam Pakkatha Kaanom' was instrumental in Vijay Sethupathi getting his big break in Tamil cinema as the story actually happened to him in real life.  Prem has turned director with '96' a matured love story which takes Vijay Sethupathi to the next level in his career and is also a grand comeback for the evergreen Trisha.
Ram ( Vijay Sethupathi) is a photographer by profession and is a nature lover by instinct who travels all around the country capturing moments.  On a chance visit to his hometown Tanjavur, he goes into his school and begins to walk down memory lane to 1994 when he is a tenth standard student (Aditya Bhaskar)  harboring feelings for his classmate Janu (Gauri Kishan).  Ram suffers from a common social inability and though Janu also likes him he finds it difficult to communicate with her and circumstances tear them apart.  Back in the present Ram and his friends Murali (Bagavathi Perumal), Sathish (Aadukalam Murugadoss) and Subha (Devadarshini) plan for a reunion of class '96. At the event the married Janu (Trisha) arrives and the childhood sweethearts have a chance to be together for a few hours after twenty two long years and what happens next is told in a poetic and a highly engaging manner.
It's not even a week since we had Vijay Sethupathi dominate as Rasool in 'Chekka Chivantha Vaanam' and here he is "living" the role of the pining lover (pardon the cliched expression).  There are too many moments in the film for VJS to prove what a special actor, he is and one of them is when Trisha calls him a "Naattu Kattai Paiyan" and watch him become uncomfortable and pleased at the same time - a class act.  Another example is his mad scramble in the dark when Trisha sings his favorite song for him and the Makkal Selvan reacts as if he is absorbing it into his body. Few can fight their tears when Vijay Sethupathi locks up one more memorabilia of his love for life in the closing shot.  After a really long time Trisha gets a role that gives her the scope to act and she grabs it with both hands to give a gleaming performance.    Post interval its all Vijay Sethupathi and Trisha and the evergreen star actress holds her own against him and her best moments are when she tells the students of VJS how he would have proposed to her had he been a confident man and when she chides him about his virginity.  Trish now holds the distinction of acting in the two best love stories of this millennium and in both she is irreplaceable as Jessie and Janu.  Aditya Bhaskar as the young Vijay Sethupathi is solid on debut handling the character of a self conscious young man confidently.  Gauri Kishan is very pretty in a girl next door way and her acting is very natural expressing most emotions subtly.  There is a lot of eye talk between Aditya and Gauri which they have done cutely and it sure is a two thumbs up for these youngsters.  Similarly Devadarshini's daughter Niyathi who plays her younger self and the guys playing the younger Murali and Sathish are close to life.  Bhagavathy Perumal, Divyadarshini and Aadukalam Murugadoss as the friends of the lead pair keep the humour quotient up in all the scenes they appear in the first half and propel the screenplay to a delightful interval block.  Veterans Janagaraj and Kavithalaya Krishnan put in neat appearances as the school watchman and barber respectively.
The driving force of '96' is the natural way that the screenplay unfolds, taking its time to set up all the characters and in providing great detail.  There are no forced humor or twists for the sake of it, but still the close to three hours is so lively and engaging because of the honesty of the filmmaker.  A major portion of the film is set in the memories of school life, the innocent first love and the friendships which are sure to strike a chord with all sections of the audiences.  The simple scene of a college girl carrying a letter from young Ram to young Janu is narrated in three different angles that explains a lot of the conflicts of the film nicely.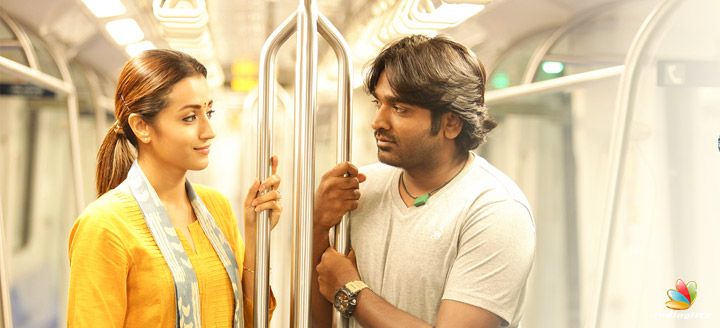 On the downside there are a few moments that seem to drag a little and the cell phone wielding internet fed Millennials  may not relate to the emotions but they are the poorer for that.
The cinematography by Mahendran Jeyaraju and N. Shanmugha Sundaram is very subjective and captures the intricate emotions and feelings of the lead pair to perfection.  This type of story demands an Illayaraja in the background score and Govind Vasantha never makes anyone feel that way.  The songs are so emotion packed that combined with the visuals they become such powerful storytelling tools by themselves especially "Kadhalae Kadhalae".  Editor R. Govindaraj has let the story flow as naturally as possible which is a major plus.  Premkumar in his debut film has chosen a difficult subject to film, but the maturity he shows in his writing and execution reminds one of none other than the Iyakkunar Sigaram K. Balachander.  Period! 
Verdict : Go for this fascinating love story that will take you on a tear filled happy journey down your memory lane.
Showcase your talent to millions!!
Write about topics that interest you - anything from movies to cricket, gadgets to startups.
SUBMIT ARTICLE
More
Tamil Movie Reviews
Chithha
Iraivan
Chandramukhi 2
Mark Antony
Jawan
Kushi