Is A.R. Rahman a religious fanatic - Chinmayi's strong statement
Thursday, July 30, 2020 • Tamil Comments
A.R. Rahman is not only one of the most celebrated music composers on the continent but also a disciplined individual who commands respect by his noncontroversial personality. The digital era is such that no one can escape criticisms and trolls on social media and most of them are uncalled for and toxic to say the least.
Singer and social activist Chinmayi Sripaada reacting to allegations that the Isaipuyal is a religious fanatic has posted a strong statement citing an example that he is not. Chinmayi has shared pics of a Hindu religious function conducted for her mother to which ARRand his wife participated.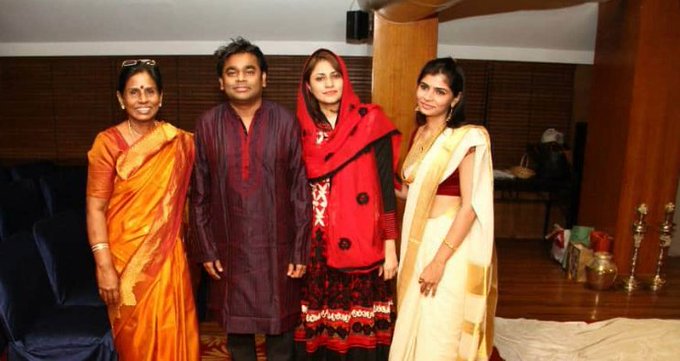 Chinmayi has written "Everyone frothing at their mouths that Rahman sir has 'matha veri' can kindly remain silent. I conducted a Kanakabhishekam for my mother in the Sthana of Guru - something so many in super religious Hindu space didn't agree on. How can (GASP) unmarried girl (GASP) do a kanakabhishekam for (GAAAASP) a divorceeeeeeeeeee????! I invited very few people for this very radical pooja by normal standards. I invited Rahman sir and his family. Saira ji came."
Chinmayi has added "Rahman sir came a bit late but every hour, Samidorai anna gave me a call and said Annan nichayama varuvaru. And he came. I paid respects to him and Saira ji as well, in the sthana of my Guru and Guru Patni.
I know very few, truly spiritual men like AR sir. Many Hindus deify Swami Vivekananda, whose Guru Ramakrishna Paramahamsa practiced all faiths to see it leads to the same destination. I wonder if even Guru Ramakrishna Paramahamsa would be spared in India today."
Chinmayi then went on to make it clear "For musicians, the God is in the suswara; the pitch-perfect note. When we sing, play, nothing exists. No one exists. And the nothing & everything converges in the notes; in the silence after the music becomes inaudible. You won't get it unless you are an artist. Le Kanakabhishekam BTW Rahman sir said Namaskaram to my mom also. (He being Muslim and my mother being Hindu gaaaasp he came to a Hindu religious function where a woman was getting a Kanakabhishekam done by her daughter!) I only invited some 50 people to this event. Le end."
Le Kanakabhishekam
BTW Rahman sir said Namaskaram
to my mom also. (He being Muslim and my mother being Hindu gaaaasp he came to a Hindu religious function where a woman was getting a Kanakabhishekam done by her daughter!)
I only invited some 50 people to this event.
Le end. pic.twitter.com/wUYpxe85RR

— Chinmayi Sripaada (@Chinmayi) July 30, 2020
Actress Photos
Divyabharathi
Yaashika Aanand
Nabha Natesh
Amala Paul