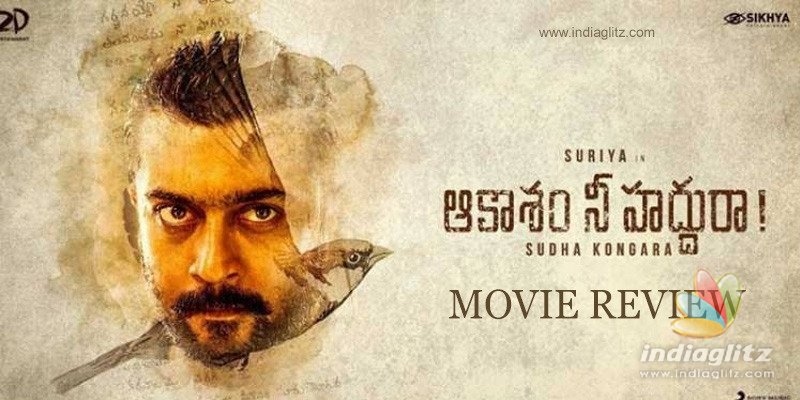 'Aakasam Nee Haddu Raa', starring Suriya in the lead, is now streaming on Amazon Prime. Here is our review of the latest OTT release.
Story:
Chandra Mahesh aka Maha (Suriya) hails from a small town near Guntur. An Air Force captain, his impossible dream is to launch and run a successful low-cost airline company. While his ideas can be game-changing, he faces bureaucratic hassles from the word go. Behind his hardships is Paresh Goswami (Paresh Rawal), a corporate monster. Can Maha realize his dreams against monumental obstacles?
Analysis:
The film, directed by Sudha Kongara, is based on the book 'Simply Fly', which narrated the story of Captain Gopinath, the founder of Air Deccan. Air Deccan becomes Deccan Air in this fictionalized and highly dramatized version of a real story. The entire story unfolds between 1997 and 2003, the era when SMSes were almost unheard of and Post Offices still had a role to play in our lives.
As performances go, Suriya's impeccable act is superlative. As a determined man who rarely has a reason to smile, a lone fighter in a cruel corporate world, a husband whose loving wife Baby (Aparna Balamurali) is his support system, a son whose equations with his father are poignant, Suriya delivers a stunningly studied act. Paresh Rawal's fabulous act saves his somewhat routine character from sinking. Aparna, the Malayalam actress, is enjoyable. Urvasi, Karunas and Mohan Babu fit their parts.
Due credit to the writing department that balances drama with reality. There are moments that look too fortuitous, but the people involved make all the difference. For example, a nobody getting an audience from APJ Abdul Kalam would have seemed far-fetched but for the fact that Kalam was known as the People's President.
Thanks to the credible performances, the breathtaking journey of a mega dreamer gets redeemed right from the start. The audience watches the movie with the knowledge that the protagonist will definitely realize his dream, yet it is the performances and the believability factor that keep him or her on the edge of the seat.
The scenes involving Suriya and Aparna are colourful; they evolve from banter to usual camaraderie to unusual bonding. The presentation of the shifting equations between the hero and Mohan Babu's character (who is his boss at the NDA) is another highpoint. Prakash Belawadi's character, the villagers, the friends (played by Vivek Prasanna and Krishnakumar), the fellow dreamers -  they all make sure the film retains its emotional core.
The film moves front and back in terms of timelines. Yet the proceedings don't confuse. The continuity is maintained by and large.
It would have helped a great deal had Paresh Rawal's character been a believable corporate villain. He talks like a mean-minded political thug in the presence of an All India Radio journalist. Give us a break! The second half could have been tighter, especially in those moments where the hero earns back his confidence with relative ease.
GV Prakash Kumar's songs are used as montage moments to a decent effect. The BGM keeps the gravitas intact. Niketh Bommireddy's cinematography is superb.
Verdict:
'Aakasam Nee Haddu Raa' is the thoroughly-engaging tale of an ordinary man with a gigantic dream. Director Sudha Kongara not only balances life and larger-than-life cinematic tropes but also does it in a gripping fashion. Suriya's flawless performance will leave you mesmerized.
Rating: 3.25 / 5.0
Showcase your talent to millions!!
Write about topics that interest you - anything from movies to cricket, gadgets to startups.
SUBMIT ARTICLE
More
Telugu Movie Reviews
Karthikeya 2
Laal Singh Chaddha
Macherla Niyojakavargam
Sita Ramam
Bimbisara
The Legend