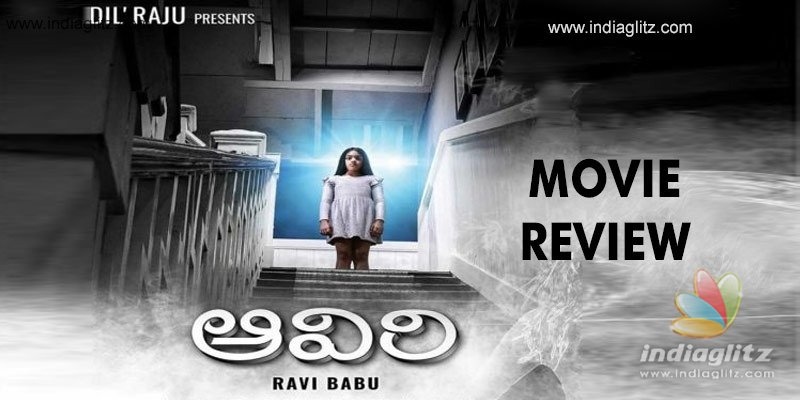 'Aaviri' hit the screens this Friday.  Written and directed by Ravi Babu, it is the most important release after 'Meeku Mathrame Chepta'.  Here is our review of the movie.
Story:
Raj (Ravi Babu) and Leena (Neha Chauhan) face a personal tragedy when their elder daughter dies due to asthma.  Even before they can overcome the grief, their younger daughter Munni (Baby Sri Muktha) starts behaving eerily and keeps the secret of witnessing her late sister's ghost to herself.  The house is clearly haunted!  To make matters worse, Munni is being lured into running away from the home by the unseen ghost.  
What is the aim of the spirit?  Is everything fine with the main characters?  Is there a secret which the audience doesn't know?  Find out in the second half.
Analysis:
Writer-director Ravi Babu has been a sensible filmmaker for the most part of his career.  'Adhugo' was a rare exception where he bungled it up big-time.  One thought he won't repeat the forgettable 'Avunu-2' experience ever again with the horror-thriller genre.  But he has proved us wrong with 'Aaviri', which fizzles out right after the first 30 minutes.
The subject is laced with a flashback, a harassed couple, a problematic ghost and a child who is a victim of the circumstances.  There are also themes of guilt and redemption.  What could have been a solid entertainer turns into a damp squib, thanks to lazy writing and lazier execution.  
If anything, 'Aaviri' teaches two things.  1.  How not to put CCTV cameras to improper use.  The palatial bungalow is under CCTV surveillance and yet the parents don't check out what is happening with their daughter.  It takes a Professor who looks like a gangster for CCTV footage to be viewed!  2.  Don't ever try to be a ghost without wearing the spirit's make-up, and special effects surrounding you.  An actor in this film literally ruins the show with nearly-comical expressions.
The scenes get way too tiresome when the possessed child keeps doing impossible things (like riding a scooter without using hands) right in front of the mother's eyes but the latter doesn't wonder how her kid is able to do it.  This is beyond ridiculous!
The child keeps staring dangerously but the mother never sees anything odd about it.  But it takes just a few minutes for the babysitter (Himaja Reddy in a brief role) to see that something is terribly wrong with the child.
If chemistry is about a couple romantically sharing kisses and hugs just a few days after the demise of their daughter, this film deserves Nobel Prize for Chemistry.  Almost every male character is always suited and booted.  Ravi Babu is so stiff that he might have wanted to mislead the audience into thinking that he is the bona fide ghost of the story.  
Baby Sri Muktha is a bright spot in the film's mediocre universe.  She gets her understated acting right.  Neha Chauhan looks fine in the first half.  However, when a new shade is introduced, she scares us in an unintentional manner.
The background music treads a known path.  The cinematography is largely effective in the given set-up.  Almost the entire film was shot in a house (which is toured by its characters repeatedly in the course of the film).  
Verdict:
'Aaviri' falls flat with a weak story.  If its characters are lazily written, its climax is a cop out.  Forget thrills and scares, this one will make you hoot in serious scenes.
Rating: 2 / 5.0
Showcase your talent to millions!!
Write about topics that interest you - anything from movies to cricket, gadgets to startups.
SUBMIT ARTICLE
More
Telugu Movie Reviews
Shekar
College Don
Sarkaru Vaari Paata
Ashoka Vanamlo Arjuna Kalyanam
Acharya
Oh My Dog