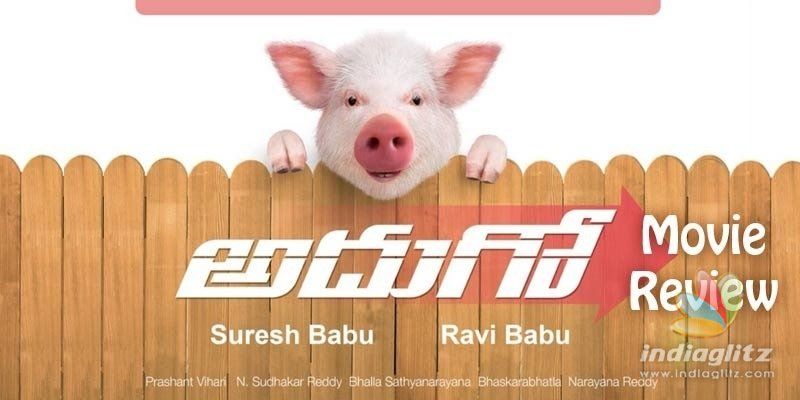 'Adhugo', starring Ravi Babu, RK, Nabha Natesh and others, hit the screens this Wednesday on the auspicious occasion of Diwali.  Here is our review of the film whose story revolves around a piglet. 
Story:
The story essentially is about four rival gangs led by Shakthi (Ravi Babu), Durgah, Gangaraju, and Shankar wanting a piglet named Bunty.  If Shakthi needs to find it so that he can extract a chip that it has accidentally swallowed, sworn rivals Gangaraju and Shankar need it to win an animal race.  
The above gangsters are comedy pieces who have their idiosyncrasies.  
Throw in Abhishek (Abhishek Varma) and Raji (Nabha Natesh), and the piglet's owner (a child), you have an alleged crime caper.  
Analysis:
Quirky comedy has its value.  It's not wrong to make crime capers with eccentric characters.  And given Ravi Babu's fair track record, 'Adhugo' should have been a decent Diwali treat.  But what we get to watch is a half-baked dish that seems to have been made, remade and re-remade over 2.5 years, thanks to the large-hearted producer D Suresh Babu.
Bunty is the focus of the chief characters.  So, what do you expect?  The writing department should invest enough intelligence in making it emotionally appealing (forget aesthetic appeal).  Never does the audience feel for it.  Also, there are other problems.  In one scene, Bunty displays its cleverness in harassing the villains.  In the next scene, it exudes lifelessness (is VFX the culprit?).    
The thread of the devastated child looking for his pet, Bunty, is told in an unimaginative fashion.  He repeatedly misses to find Bunty which is just around and the screenplay in these portions is disappointingly reminiscent of films from an earlier era.  Writer Satyanand surely used his dated creativity here.  
The first half keeps itself busy introducing a range of jokers.  If one of them spits gutka on everyone, another gangster fears his wife like hell.  A lecherous Dubai sheik visiting India with a bed, characters hungry for animal racing, an anger management guru who itches to reform a trigger-happy gangster by showering him with Jandhyala-like abuses... The list goes on and on.  Ideally, the introduction of these characters should have been entertaining.  But it's restless. 
The second half goes haywire.  It's not Shakthi (Rabi Babu), it's not the lead characters (Abhishek and Nabha), it's not Bunty's owner.  It's the petty and ever-quarreling gangsters who are fond of animal racing who get all priority.  What's worse, two troubled nude men are on the run and they look humiliated than comical. 
How the piglet troubles its enemies should have been interesting.  Rather, we get to see remixed ideas on display.  To be sure, a couple of WhatsApp jokes too are rehashed.  The way Nabha is groped by a group of men in some shots is tasteless, so also Ravi Babu chopping off the ear of a woman.  Murders are shown insensitively everywhere.  
To be fair to the director, there are some cute moments.  Abhishek breaking into a love song during a video call with the heroine who is in her kidnappers' den is good (music director Prashanth Vihari's number is passable).  What a situation to have a love song!
The performances deserve nothing home to write about.  The technical departments, including N Sudhakar Reddy's cinematography and the VFX, are sub-par.  
Verdict:
'Adhugo' is muddled. It loses its way right after the introduction of its zillion characters.  A character is seen spitting gutka on everyone around him.  It's a metaphor for the director spitting his horrible creativity on us.
Rating: 1 / 5.0
Showcase your talent to millions!!
Write about topics that interest you - anything from movies to cricket, gadgets to startups.
SUBMIT ARTICLE
More
Telugu Movie Reviews
Ponniyin Selvan 1
Nene Vasthunna
Babli Bouncer
Dongalunnaru Jaagratha
Krishna Vrinda Vihari
Alluri