Airplane Passenger's Compassion for Autistic Child Travelling Alone Wins Hearts
Thursday, July 4, 2019 • Tamil Comments
An incredibly heartwarming incident has just come to light. Alexa Bjornson, the mother of 7-year-old Landon, a child with high-functioning autism, was concerned about her son's first solo flight from Las Vegas to Portland. The mother wrote a note for the passenger who would be sitting next to her son. In it, she described that it was her son's first trip alone and that he had high functioning autism. She mentioned that Landon may ask if they had reached yet a couple of times and may be a little loud with his headphones. Bjornson went on to say that he may get anxious during take-off but had several snacks and games to keep him occupied.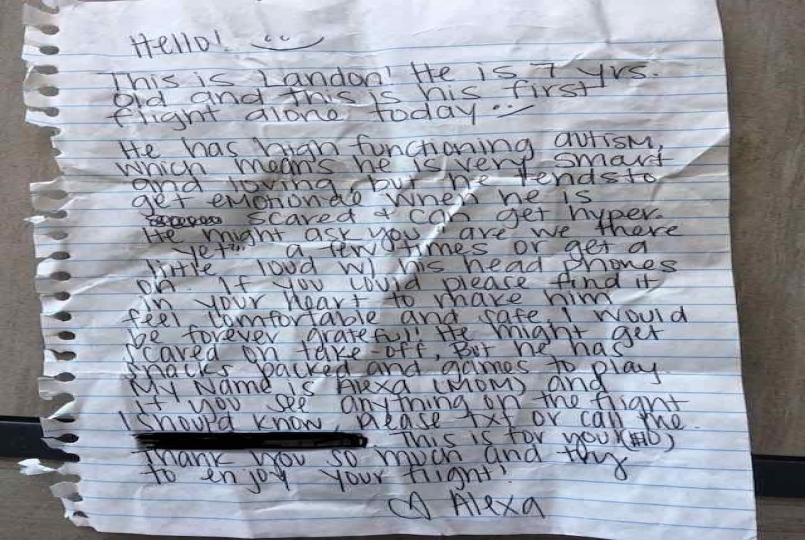 She appealed to him saying: "If you could please find it in your heart to make him feel comfortable and safe, I would be forever grateful!" She also added a $10 for the passenger. She had no reason to be concerned however as the man who Landon travelled with was an absolute gem of a person. When the flight landed, the mother received a message that had her touched her to the point of tears. Ben Pedraza, Landon's travel companion had said: "Alexa, my name is Ben. I was Landon's seat neighbour for his flight to Portland. He did ask if we there yet several times but he was a great travel buddy. We had a good time and played a few rounds of rock-paper-scissors. He's a great kid and you're a lucky mom."
He went on to say: "I appreciate the $10 but it wasn't necessary. I donated it to Autism-Society.org in honor of Landon. Have a great day!" Pedraza empathized with Landon for being bullied due to his condition as he has a nephew with facial cranial deformities who hated school for the same reason. He said: "I think more needs to be discussed and done to thwart this behavior by other children and adults. It starts at home, I believe." His compassion restores our faith in humanity.
 
Follow us on Google News and stay updated with the latest!
Follow
Actress Photos
Poorna
Pragya
Nithya Menen
Kriti Sanon