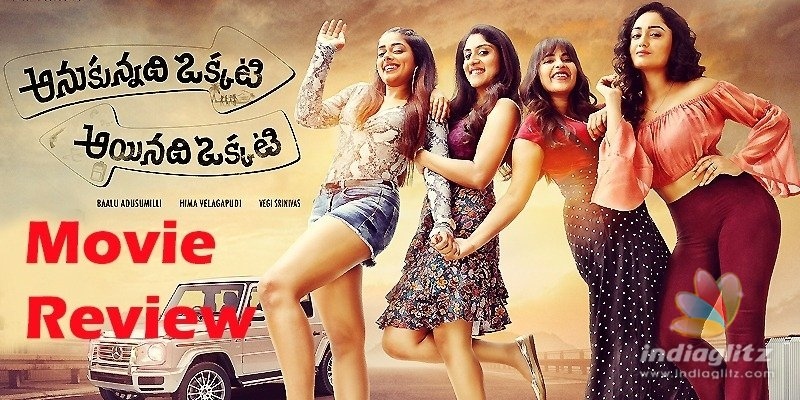 'Anukunnadhi Okkati Ayyindhi Okkati' arrives today at the box-office.  Here we present its review.  
Story:
When Dhanya Balakrishna (a corporate employee), Tridha Choudhury (a journalist), Siddhi Idnani (a housewife), and Komalee Prasad (a costume designer) travel to Goa for fun, things go awry after they book a male prostitute for a night of fun.  Faced with a threat, one of the women accidentally kills him off, an incident that sets off a series of comic and serious consequences.  What are they?  Can the four women save themselves from the cop (Sameer) who suspects foul play?  Answers to these questions are found in the second half.
Analysis:
Debutant director Baalu Adusumilli makes 'AOAO' primarily as a female adult crime-comedy.  There takes place a murder that can trap its female leads and get them behind bars.  But as is the case with most thrillers, there is more to the murder than what meets the eye.
The film belongs equally to Dhanya, Komalee, Siddhi and Tridha.  Komalee gets to enact comedy, while Dhanya tries to dominate the scenes with her demeanour and language.  The actresses make do with adult jokes, some tense moments, and a climax where at least three other characters have a role to play.  
While the premise is okayish, the way the proceedings pan out leave much to be desired.  The suspense hardly piques an edge-of-the-seat feel because of the way the crime is staged.  Moments after the murder, the characters continue to joke around and it's difficult for the audience to be sucked into their situation in such a setup.
The way the cop's character is introduced and his preliminary engagement is interrupted, it's all a dead giveaway.   The climax does tie the loose ends but the way Lobo, Basha (as a bellboy who overdoes his sexual infatuation for Siddhi), Himaja and others wrap it up, it looks all half-hearted.
The sexually-frustrated Siddhi overdoes her exasperation with anyone who uses the word 'time' only because her impotent husband is obsessed with punctuality.  One character keeps using the word 'dry fruit' and the dry 'humour' sucks.  A porn star named Padma Shree says that she is inspired by Shyam Gopal Varma in becoming a porn star because SGV (an oblique reference to RGV) watches porn with 'paachi moham'.  Dhanya falls out with her boyfriend because he is too unromantic to kiss her publicly.  Raghu Karamanchi plays a "cult" filmmaker who wants to sex up a dead body by wrapping it up in a swimsuit.  
'AOAO' takes below-the-belt jokes so too seriously that such "humour" accounts for most of the content.  Had the second half done away with "comedy", there would have been scope for seriousness.  The four women with ordinary backgrounds don't even sweat even when they are in one of the most unenviable situations conceivable.  
'AOAO' throws up subpar technical elements, be it Vikas Badisa's music or  Shekar Ganganamoni's cinematography.
Verdict:
The film is a crime-comedy that is compulsively below-the-belt and broadly predictable.  In an age of thrillers, it should have given us a couple of unique elements.
Rating: 2.75 / 5.0
Showcase your talent to millions!!
Write about topics that interest you - anything from movies to cricket, gadgets to startups.
SUBMIT ARTICLE
More
Telugu Movie Reviews
Karthikeya 2
Laal Singh Chaddha
Macherla Niyojakavargam
Sita Ramam
Bimbisara
The Legend