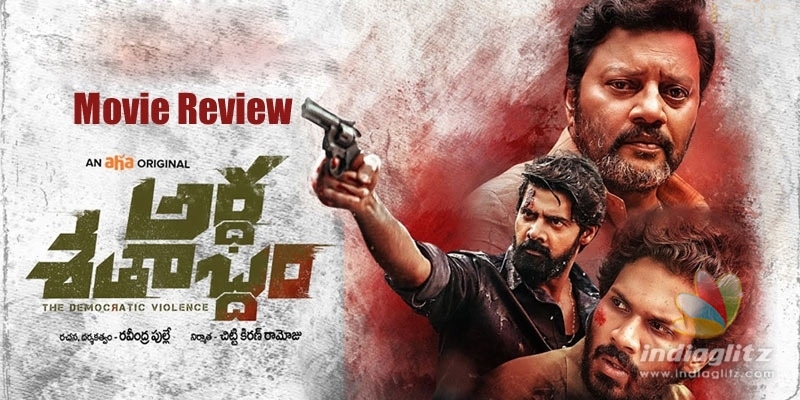 'Ardha Shatabdham' is currently premiering on Aha. Here is our review of the direct-to-streamer release.
Story:
The story takes place in the year 2003 and the film is set in Siricilla, Telangana. Riven by caste-based differences, the village is populated by feudalists, the oppressed, and bystanders.
Krishna (Karthik Rathnam) is neck-deep in love with Pushpa (newcomer Krishna Priya), who is the much-pampered daughter of Ramanna (Sai Kumar). For a change, Ramanna is not a landlord but a former Maoist. When Krishna and his three friends take on a rowdy, their assault triggers a chain of uncontrollable events in the village. What are they? How do Krishna and other good people in the village handle the situation? Will his love story ever emerge as a winner?
Analysis:
Writer-director Rawindra Pulle stages 'Ardha Shatabdham' as a typical love story in the first half and that's where your beef with the movie starts. The romantic-comedy track comes undone by the very many notoriously outdated scenes. For one, it's an overlong love story with its roots in the childhood of Krishna. For another, the male lead doesn't want to speak much (and when he opens his mouth, it's as if Vijay Deverakonda or Anand Deverakonda has dubbed for him) because he is too preoccupied with mooning over a unidimensional girl.
The love story is also musical in nature, with one song after another song informing its ultra-familiar emotions. Krishna's friends are stereotypical and their comedy is deadpan. There is the widowed mother cliche (because a village-based film has to have at least one widowed woman). There is the 'gaarabham' father cliche. There is the rain scene cliche. There is the trigger-happy cop cliche (because villagers have to be treated like dirt by a city-bred cop). The reprieve here is that the cop, played by Naveen Chandra, comes with a certain conscience.
When it comes to depicting caste violence, 'Ardha Shatabdham' adopts an old-fashioned style. There is no mood-altering situation in the second half. Nawfal Raja AIS's background music is lazy at best (to be fair, the songs are worthy and even Sid Sriram makes his virtual presence felt).
The subtext of caste-based discrimination becomes too glaring. And once it becomes the mainstay theme, it loses its potency because the chaos on the streets is portrayed too loosely. Innocent people get killed like flies but the viewer doesn't feel their pain.
A film like this should make the audience think that our society shouldn't be allowed to descend into anarchy. The director uses the narrative tool of a cynical politician (Subhalekha Sudhakar) giving a multi-hued monologue to a top cop (Ajay). He throws around terms like justice, ethics and even takes us through the history of human civilization. Yet, our understanding of caste doesn't improve after watching the movie. The fact that the story is set in a not-so-distant past is another negative. 'Rangasthalam', which too dealt with casteism/feudalism, was set in the 1980s.
There is the rose flower on the one hand. And there are machetes and knives at the other end of the spectrum. This symbolic contrast should have been brought out in a better way. The genre shift that happens mid-way into the film feels alarmingly inadequate.
While a bloodbath is playing out in the village, a mother is shown wondering whether her son had a meal. She should actually be wondering whether he is alive. When the storyteller is content with melodrama, even a riot cannot move the audience. Phew!
Verdict:
'Ardha Shatabdham' doesn't explore caste violence with cinematic maturity. The social lens of the film is found wanting. Aesthetically, it tells a boring love story.
Rating: 2 / 5.0
Showcase your talent to millions!!
Write about topics that interest you - anything from movies to cricket, gadgets to startups.
SUBMIT ARTICLE