Arun Vijay's 'Kutram 23' goes to Telugu
Monday, October 3, 2016 • Tamil Comments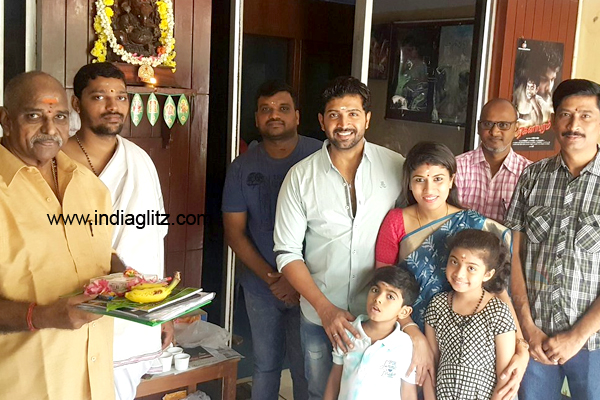 Actor Arun Vijay's medico crime thriller 'Kuttram 23' directed by Arivazhagan has created a positive buzz already. Popular Crime Novelist Rajesh Kumar's story has been adapted and made as a film and that is 'Kuttram 23'.
The makers have started the Telugu dubbing process on Sunday (October 2) with Ramakrishnan, one of the leading writers in Telugu.
It is to be noted that Arun Vijay enjoys a lot of popularity in Telugu field and audience too. It has to be said that, 'Yentha Vaadu Gaanie', the Telugu version of 'Yennai Arindhaal' had a decent run in Telugu, which is then followed by 'Bruce Lee' starring Allu Arjun, powered his status as an action based actor. This is proved by the growing opportunities to act in more Telugu movies.
"I am aware of the expectations in the Telugu films trade circles too. This film will be appreciated and welcomed by the Telugu audience in a big way. We have commenced the Dubbing works of the film. Mr. Ramakrishnan a well-known writer, who does dubbing for most of Mani Ratnam sir and Shankar sir's films, is assigned as the in charge of Telugu version. He is a perfectionist. The Telugu title will be finalized in a week, and we are planning for a simultaneous grand release in both Tamil and Telugu languages…" says a confident Arun Vijay.
Actress Photos
Raai Laxmi
Neha Sharma
Manchu Lakshmi
Meera Mitun