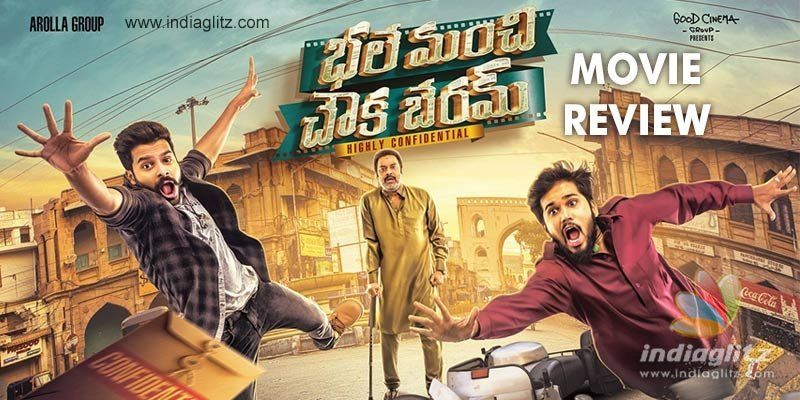 'Bhale Manchi Chowka Beram', a comedy featuring Parvateesam, Naveed and Raja Ravindra, hit the screens this Friday.  Here is our review of the entertainer.
Story:
Saleem (Parvateesam) is a courier boy and Parthu (Naveed) is a cabbie in Hyderabad.  They both are penniless every day and they lie to their parents that they are living a comfortable life in Dubai.
Greed overtakes them and they seek to earn money by deceiving people now and then.  By a quirk of fate, Saleem lays his hands on a confidential envelope in which a document titled 'Desa Rahasyalu' (Country's Secrets) is written.  They pertain to sovereign secrets and if the enemy country has them, it can threaten national security.  
The document was written by an ex-Army major Yakub Khan (Raja Ravindran) and the Saleem-Parthu duo decide to sell off the country's secrets to Pakistan for a fortune.  
Least do they know that the envelope leads to unforeseen consequences for them as well as its author when terrorist kingpin Aslam (Mujtaba Ali Khan) enters the scene.  
Analysis:
Although described as a dark comedy, this film doesn't seem to be one.  It's more straightforward with humorous elements that are typical to Tollywood.  
Director Murali Krishna Muddidani is equipped with a potentially hilarious concept (originally conceived by Maruthi Dasari, whose story for 'Brand Babu' recently was a nightmare).  To be fair to the writing department, the film doesn't reduce the terrorist kingpin's character to a caricature.  Creative liberties are there but it is not a mockery.  
Saleem and Parthu represent the good and bad things in the average human being.  If the former is sentimental about his parents, the latter instinctively abhors the very idea of selling sensitive information to Pakistan.  If Parthu cheats a girl (Yamini Bhaskar as the heroine), only to fall in love with her later, Saleem comes with a sad past.
The raison d'etre of comedies like this has to be the quirks of the characters.  Here, only Parvateesam (as Saleem) is burdened with the responsibility of delivering most of the laughs, thanks to his eccentricities (like getting irksome with anything and everything).  
When Raja Ravindra's character comes and delivers a shocker about his document 'Desa Rahasyalu', it's time for situational comedy.  But this strength is not fully leveraged by the director.  He goes on to repeat the same ideas and, when the terrorist leader reveals his cards in the climax, we wonder as to why he didn't think better all along.
There is a sermon on patriotism here, a melodramatic scene on parental love there.  These ideas are not disparate and they are not totally unwelcome.  But the way they are dealt with needed nuance.  It's Raja Ravindra's able acting that makes some of the badly-written portions look OK.
The whole track involving Naveed and Yamini Bhaskar is a big dud.  The girl behaves like a bimbo with no clue about the muck that the other one represents.  
The climax works only if you are prepared to overlook almost everything, including the way the scenes are mounted.  When comedians rise to the occasion and do something ideal in our films, everything is expected to go on a holiday.  But how long can this go on?
Parvateesam is an able actor and Raja Ravindra is good.  Naveed, Mujtaba, Yamini and others are wasted.  Hari Gowra's music is nothing home to write about.  The cinematography is OK, given the scale of the budget.
Verdict:
This film comes with some sparks in the form of situational comedy.  But, overall, the impact is not-so-impressive.
Rating: 2 / 5.0
Showcase your talent to millions!!
Write about topics that interest you - anything from movies to cricket, gadgets to startups.
SUBMIT ARTICLE
More
తెలుగు Movie Reviews
Sita Ramam
Bimbisara
The Legend
Ramarao On Duty
Vikrant Rona
The Gray Man