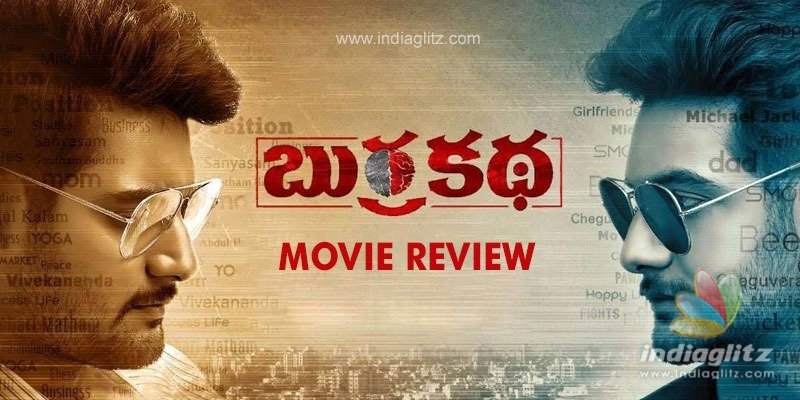 'Burra Katha', starring Aadi Saikumar in an uncanny role, hit the screens this Friday.  Clashing with 'Oh Baby', this one has been directed by Diamond Ratna Babu.  Does the film offer plenty of laughs?  What kind of a story can you expect?  Find out in this review.
Story:
Abhiram (Aadi Saikumar) has a peculiar problem.  There are two personalities in him and they owe their existence to his two minds that are as different as chalk and cheese.  His father divides the two personalities and names them Abhi and Ram.
Abhi is a Romeo who doesn't know anything worthwhile in life.  Ram is the ideal kind of guy.  Whenever a loud sound is heard in the vicinity, Abhi fades away and in comes Ram.  The process keeps on repeating like a cycle.
When Abhi falls in love with Happy (Mishti Chakraborty), a fan of Mother Teresa by the day and a hedonist by night, things start becoming complex.  Happy rejects Abhi but there is more in store.
Things become pretty complicated towards the climax when the clash of the inner personalities causes an emotional upheaval.
Analysis:
Doing a full-length feature film with a quirky idea is not wrong.  In fact, it may be the best thing to do.  So, a conflicted man with two brains that cause a split personality disorder is familiar but potentially entertaining.  However, when the drama spun around such a premise is unreal, it can become hugely problematic.
The hero keeps loathing himself because one part of his brain doesn't think the way the other part wants.  The writing department fails to show a clear-cut reason for this self-hating (no, what is said in the climax is not reasonable).  The father (Rajendra Prasad) loves Abhi and Ram as if they are two different sons.  The idea is stretched to absurd levels; so much so, surgical correction of this medical condition is seen by the characters as some sort of murder of an innocent being!  Where on earth do people give a name to a tumor within a body and develop bonding with it?  Make a surreal film if you want with such an idea, not a commercial comedy-actioner filled with lame actors and parodic scenes.
When you are showing the main lead to be interested in sainthood, the least that is expected of you is at least one scene in which his religious bent of mind is shown respect.  The director here strips everything religious of its dignity by having the hero talk about the purpose of the genital during a satsang.  Why don't they leave such things to a second-rate skit on 'Jabardasth'?
All of the world may run out of water, but Telugu films will never run out of stupid social ideas.  Our hero becomes a youth icon and a celebrity after saying that poor people should be helped by making them pay for their surgeries and medical expenditure in installments.  "Make them pay for 20 years," he shouts. Someone tells him that schemes like Arogya Sri are there to provide free health but our hero says EMIs will be the best thing to do!  Journalists promise him that they will propagate the idea and create a revolution.
The film falls back on invoking the names of superstars (except for Allu Arjun almost everyone gets a mention in the film.  Bunny fans may please note this point) here and there.  Prudhvi is made to become a parody of himself because he is too tired of parodying others.  Chammak Chandra, Prabhas Sreenu and a spoof of the 'Nakoddu' meme strip the film of any semblance of dignity that it may have.
The heroine is so headless that she actually thinks of dating the hero for one hour because a Mother Teresa fan can't be so cruel!  One woman actually tells her daughter to rape her crush.
This must be the one film where almost all characters invoke the names of celebs and world leaders at the drop of a hat.  In scene after scene, you hear character after character dropping names as different as Sunny Leone and Modi, Yogi Adityanath and Jack Dorsey.  It starts becoming a headache after a point.
Meanwhile, the villain (Abhimanyu Singh) actually appears in the climax with Sandalwood star Yash's mask.  It's as if the director thinks Yash is the next Pawan Kalyan out there.  Yash did 'KGF' and Diamond Ratna Babu made us say 'WTF'.
Verdict:
'Burra Katha' is an unabashed 'Burra Leni Katha'.  Weak performances, puke-worthy scenes, over-stretched ideas and outdated elements mar it.
Rating: 1.75 / 5.0
Showcase your talent to millions!!
Write about topics that interest you - anything from movies to cricket, gadgets to startups.
SUBMIT ARTICLE
More
Telugu Movie Reviews
Peddha Kapu 1
Skanda
Chandramukhi 2
Sapta Sagaralu Dhaati
Changure Bangaru Raja
Mark Antony