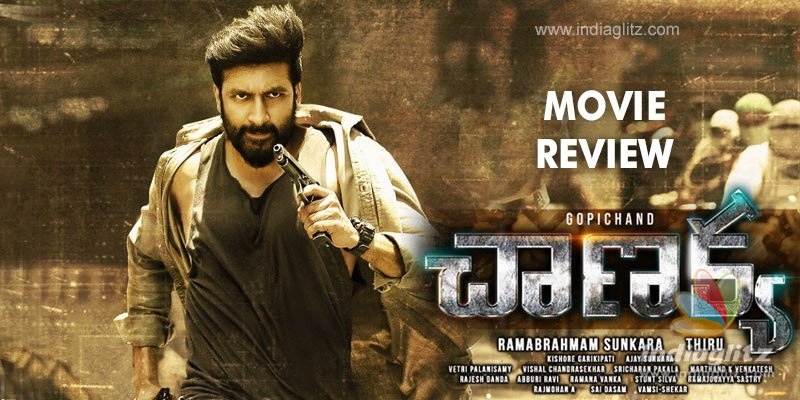 'Chanakya', starring Gopichand in the lead, hit the screens this Saturday.  Here is our review of the latest box-office release.
Story:
Arjun (Gopichand), an undercover RAW spy, knows how to accomplish missions outside the ambit of law.  He is a law unto himself, leaving his superior (Nasser) stunned.  
He has another life - that of a bank employee.  Love with Aishwarya (Mehreen Pirzada) happens rather fast.  
But all hell breaks loose when his friends aka fellow RAW agents (played by Adarsh Balakrishna, Raja and two others) are kidnapped by Sohail Quereshi (Upen Patel), a notorious and smart terrorist based in Pakistan.  Together with his father Ibrahim (Rajesh Khattar), Sohail is planning to wreck havoc in India and at the G8 Summit in Singapore.
Arjun's task is cut out.  Can he rise to the occasion?  
Analysis:
'Chanakya' is a film where a terrorist has this power-packed punchline called 'Expect the unexpected' and the hero speaks bizarre lines like this one to the heroine: 'I am sorry.  I can't allow my dog to sleep with your dog because I wouldn't be able to take care of her if she gets pregnant'.  Not at all making this up.  Believe it or not, this is actually a line from the movie.  Ignore us at your own peril.  
There is a whole track involving the heroine's pet, which is pining for sex (ably discovered by Ali, who actually moans like a sex-starved dog as part of his diagnosis).  Once the dog's libido gets quenched, the heroine is forgotten until the pre-climax phase when the film's thirst for a goddamned duet is to be quenched.
Once the dog-mating is done, the film moves to the 'serious' stuff.  Like how a Pakistan-based, ISI-backed jihadi is planning to blow up the G8 Summit in Singapore and the spies at RAW depend on just one person (the hero, who else?) to stop this catastrophe from happening.  "India will get blamed for the attack and will be shamed," the terrorist screams, smiling menacingly even as the G8 countries and the Indian government, who should have been alerted by the knowledgeable RAW, are fast asleep!  
Even as the terrorists plan the huge catastrophe to bombard the G8 Summit, the hero has no one but a bar dancer and daughter of a former RAW agent (played by Zareen Khan) to help him in Karachi.  Writer Abburi Ravi spots this laughable flaw and makes the woman say it as it is: "Sohail has the Pakistan government by his side.  You have just me."  
Much of the second half is about the hero's iron-clad resolve to save his "friends" from the terrorists.  But there is not a single scene in the first half that suggests that he shares a strong bond with them.  How can such a film have an emotional value?  There is a scene in a bar where the hero reveals to the heroine that his parents had died in a bomb blast.  Ten seconds later, we find the weird friends and the weirder heroine say 'Cheers!' and booze their way to glory.
The hero keeps behaving like the Chief Justice of India but his RAW boss and the Minister (Jayaprakash) have no clue about how to handle him.  The boss is so dumb that it takes the hero to tell him that ISI must not be aware of the Indian agents' whereabouts in Pakistan because the agents are very much alive.  The RAW has a control room in which LIVE visuals get projected from any damn place in the world.  
For all the unremarkable songs and loud BGM (Vishal Chandrasekhar), Vetri Palaniswamy's cinematography is efficient.  The performances are sub-par with the exception of Gopichand's and Nasser's.  
Verdict:
'Chanakya' reminds us why Chanakya should come back alive and file a defamation suit against all those filmmakers who abuse his name for dumb movies.  It's a matter of self-respect for him.  Ridiculously written, it treats RAW, global terrorism, geopolitics and the India-Pak rivalry as a series of jokes.  Illogical and loosely written, it has one of the year's most pathetic rom-com tracks as well.
Rating: 2 / 5.0
Showcase your talent to millions!!
Write about topics that interest you - anything from movies to cricket, gadgets to startups.
SUBMIT ARTICLE
More
Telugu Movie Reviews
Shekar
College Don
Sarkaru Vaari Paata
Ashoka Vanamlo Arjuna Kalyanam
Acharya
Oh My Dog