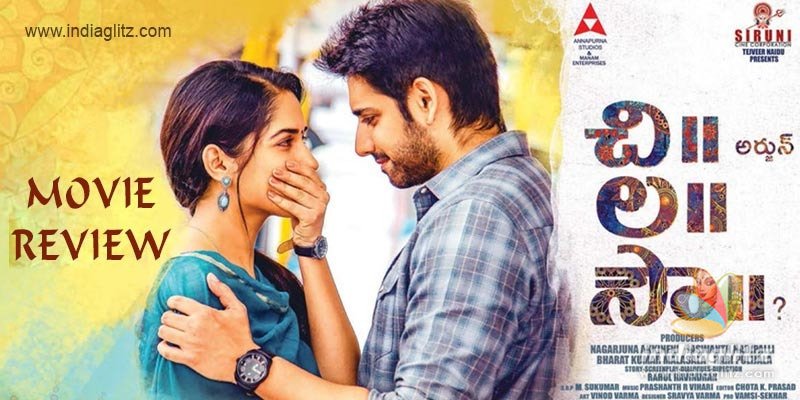 'Chi La Sow', starring Sushanth and Ruhani Sharma in the leading roles, hit the screens this Friday.  Here is our review of the movie.
Story:
Arjun (Sushanth) is sick of the pressure from parents and friends to get married.  He yearns to achieve some goals before entering into a wedlock at the age of 32.
Pushed by his mother (Anu Haasan in an extended cameo), he agrees to meet Anjali (debutante Ruhani Sharma) for an alliance.  
Five minutes into the meeting, Arjun makes it clear to Anjali that he is not interested in marriage anytime soon.  She loses her cool and what follows is a bout of serious monologue.  But this is only the beginning of the day.  
In the next few hours, Arjun and Anjali fall in love with each other as a series of unexpected events happen in their lives and as they realize that there is more to each other and the heroine's personal experiences.
Analysis:
Debutant director Rahul Ravindran (the actor of 'Andala Rakshasi' fame) offers a mixed package.  If there are superficial moments, there are also enriching ones.  The relief is that the latter outcompete the former.
The biggest takeaway is the sensibilities that Anjali's story offers.  Her mother (Rohini is brilliant) suffers from bipolar disorder.  As a 13-something, Anjali was left fatherless.  But nowhere does the narration make it appear that Anjali needs sympathy.  There is no dose of preachiness, there is no dose of melodrama.  
When she decides for herself that she shouldn't emotionally depend on anybody, it's an experiential moment.  The director portrays in a subtle fashion how some events can shape the personality of an individual.  
Rahul Ravindran's strength clearly lies in writing episodes with shades of dark or grey.  The whole track involving Rohini, Jayaprakash and the heroine is well-narrated.  
The dialogues (by the director himself) are relatable at many places.  It's perhaps a first in Telugu cinema for a heroine to talk about her pimples being a reason for rejection by many grooms.  'Chi La Sow' has its heart in the right place, although not consistently.  
Vennela Kishore's comedy works in at least two episodes.  There should have been more of him in the second half.  
Arjun, we are told, is a confused idiot.  He dreams colorful dreams but has his feet firmly on the ground.  It's in narrating his cool side where the director fails to make a mark.  
Post interval, Anjali agreeing to marry the hero is made to come across as a fait accompli almost immediately.  Yes, in a love story, hero-heroine union is always (almost) a done deal.  But then, the director here goes the extra mile in making the audience know that it's a done deal.  To what end?
In his attempts at whitewashing the cheerless aspects of the story, the director allows contrived episodes to corrupt the proceedings.  Yes, life is about lucky coincidences at times.  But how do you show that they are not happening easily all the time?  The grandma has an acid reflux at the right moment.  This is after someone was hospitalized so that the hero can... You get the drift.
It's not until the entry of the heroine does the film acquire a semblance of seriousness.  One is tired of watching the hero's frustration with marriage pressure minute after minute.  
Sushanth comes into his own in the last 45 minutes.  Montage songs suit him well and that's it.  Ruhani fits the bill and proves to be an actress with conviction.  Vidyullekha Raman gets a non-stereotypical role and it's welcome.  Rahul Ramakrishna has a brief role.  Sanjay Swarup and others are seen.
Prashanth Vihari's songs are apt for the film's sensibilities.  M Sukumar's cinematography gets it right for the most part.  Chota K Prasad's editing is sensible.
Verdict:
Relatable dialogues, rare sensibilities, an engaging story for the heroine - these help 'Chi La Sow'.  But some incidents seem as if they are over-planned.
Rating: 3 / 5.0
Showcase your talent to millions!!
Write about topics that interest you - anything from movies to cricket, gadgets to startups.
SUBMIT ARTICLE
More
Telugu Movie Reviews
Nenu Student Sir
Pareshan
Boo
Mem Famous
Malli Pelli
Sathi Gani Rendu Ekaralu