Director Pandiraj's detailed interview about 'Idhu Namma Aalu'
Friday, November 6, 2015 • Tamil Comments

Director Pandiraj who has won a national award for his debut film 'Pasanga' has given some quality entertainers in the years that followed. His next film 'Idhu Namma Aalu' became the hot topic, when it was launched thanks to its lead pair Silambarsan and Nayanthara who were formerly in a romantic relationship and no on expected that they will act together in a film after break-up. The film was however long delayed and finally positive signals have started emerging for a December release.
In his exclusive interview to Indiaglitz, Pandiraj spoke all about the film, the casting, lead pair, what caused the long delay, and also his equation with Simbu. We present the excerpts from the interview for Indiaglitz readers.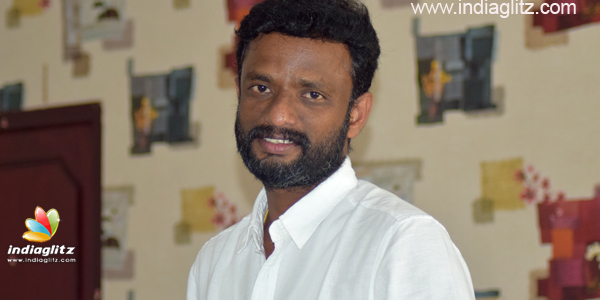 How did 'Idhu Namma Aalu' start?
When I was doing 'Pasanga' I did not expect that I will get more offers and I will sustain as a director. I have never thought of doing a film with a big hero even till I was doing 'Kedi Billa Killadi Ranga'. I had, written a cute love story. It was about the 4-5 months courtship period of a boy and a girl and how love develops between them in that period. People said that Simbu would be a good choice for the story but our work patterns are entirely different and that may cause problems.
The next day, when Poster Nandakumar who runs the family business of pasting posters of films came to my office to receive a payment, he said that he has the call sheet of Silambarasan and asked whether I can do a film for him and took me to him.
I narrated the story to him in 20 minutes and immediately Simbu said it was superb and we can go ahead with the film. That's how it started.
He spoke about his inclination to start his own production banner. Later TR came in as the producer.
What is the reason for the long delay?
During our first meeting itself I openly spoke to Simbu about his image of coming late to shoot and causing delay in the completion of films. I said we have to break that image by releasing the film within 4-5 months. He was also receptive for that idea. In just 18 days we completed 40% of the film. Simbu was amazed.
Till the end Simbu did not cause any delay in the film. He was regular and punctual to shoot and he took leave just for two days citing physical illness He was highly cooperative and adhered to shooting schedules. I was ready to work for 24 hours a day. Everyone in the cast and crew were cooperative. The delay was from production side. The film was completed in January but still it has not released. I started working on the film when my second son was born and now we have enrolled him in a school for this Vijayadasami. Still the film has not released.
The film was compeleted and ready for in January and they wanted two more songs to be added. But still there is no development. I don't know for what they are waiting. All those who have watched the rushes of the film are mightily impressed. Suriya sir asked whether he could release the film under his banner. Now Simbu has watched the film and I hope the film will release in December.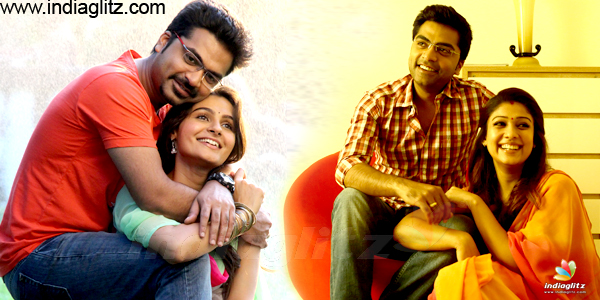 Was there any problem with you and Simbu?
There was no problem at all between me and Simbu except a minor disagreement in the shooting spot on a particular day about the costume for the scene.
The quality I admire in Silambarasan is his sportiveness. No other actor would allow personal trolls on them in films. They would ask to change them. But Simbu will encourage them. He would say these things will work out well with the audience. The dialogue in the teaser in which Soori trolls Simbu's fondness for girls is just a sample and there are at least 10 dialogues like that. Simbu enjoyed each of them.
Likewise Simbu was also very happy with the way we worked. Once VTV Ganesh visited the shooting spot and was chatting with him in the caravan, Simbu said to him that I was the only director who did not cause much strain to him while shooting and it was very free and easy to work with me. Now he has watched the film and he is very much pleased with the final product.
How did you convince Nayanthara to act in this film?
When I won the national award no one asked me whether I expected an award or how I felt after receiving the award. But everyone keeps asking how Nayanthara was brought into this film. After writing the script I thought it would be great if Naynathara could acts as the heroine.
Cinematographer Balasubramaniem was working with her in the film 'Idhu Kathirvelan Kadhal'. He had told this story to Udhayanidhi Stalin and he had conveyed to Nayan that it would be good if she acts in this film. She was ready to listen to my script. She had no qualms in working with Simbu. She was supposed to have acted in 'Vaalu' and also listened to the script. But that did not happen. I narrated the script to her over phone in 20 minutes and she immediately said she will act in the film.
When it comes to dedication to the profession I would say Nayanthara is the lady Suriya. I can say this since I have worked with Suriya also. She will ask me at what time she should turn up for the shoot the next day. If I say she should come at nine, she will come and stand in front of the camera at 8.50 am with makeup.
She was very much open to any changes we suggest regarding her looks, costumes etc. She would try to achieve perfection in even minute details while acting.
Tell us about Soori's role in the film?
Santhanam is the usual comedy companion of Simbu but he could not be cast in our film as he was busy with other projects. Simbu suggested some other names but I said Soori would be apt for the role. Simbu was initially hesitant. He said that his combo with Soori may not work out well.
But I was confident that it will be good. I also said him that since the film deals with the lifestyle of IT youngster, it will be easily categorized as a film for A class audience and Soori's inclusion will help to break that image and attract B and C class audience.
Once Soori was in and we started shooting for the film, Simbu started gaining confidence about him.
This film will be a very important film in Soori's career. He should in a way thank Simbu for that. After reading the dialogues Soori will ask me whether they would irritate Simbu. I won't reveal Soori's dialogues to Simbu. But when the camera is on and Soori delivers his counter to his dialogue, Simbu would instantly laugh and clap when the shot was running.
Your final words to Indiaglitz readers about 'Idhu Namma Aalu'…
'Idhu Namma Aalu' will be a nice love story which will be liked by all. It would have been much greater if it had released one year back but still the film has not lost its charm. It will be an important film i
Related News
Actress Photos
Kajal Agarwal
Keerthy Suresh
Varalaxmi
Manchu Lakshmi