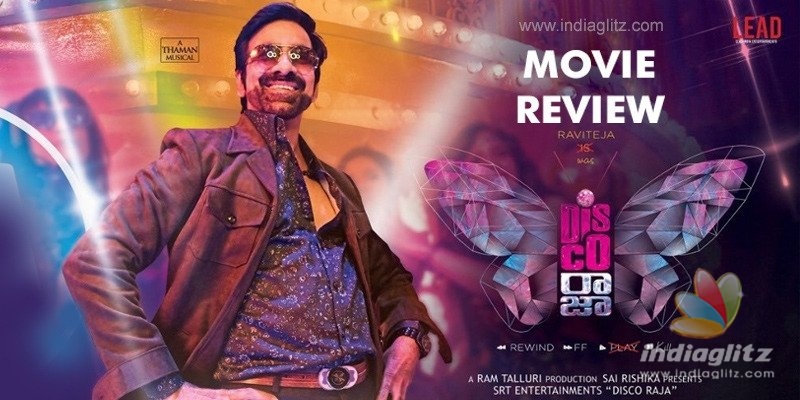 'Disco Raja', starring Mass Maharaja Ravi Teja in the lead, hit the screens this Friday.  Here is our review of the latest box-office release.
Story:
A young man (Ravi Teja) gets brutally killed in Ladakh, only to be buried under ice for years.  A team of medical researchers spot his dead body and revive him to life as part of a pathbreaking stem cell research.  Once alive, he struggles to remember his past.  Once he remembers his past, there is no stopping him.  His past involved a violent gangster named Burma Sethu (Bobby Simha) and others.  Who killed him?  What is his unfinished agenda?  Answers to these and other questions are found in the second half.
Analysis:
There is this over-the-top character played by senior Naresh in this film.  He tries to be madcap and dishes out an eerie mannerism now and then.  He often changes his guises.  Believing that he is being ultra-modern in a maverick way in Goa, he tries to be a new-age badass as well.  The one thing he doesn't know about himself is that he is somewhat pointless.  This character, beautiful ladies and equally beautiful gentlemen, is like a metaphor for the awkwardly bloated movie that is 'Disco Raja'.
Writer-director Vi Anand of 'Ekkadiki Pothavu Chinnavada' fame blends unfashionable revenge formula with a contrived scientific experiment.  As though the film doesn't have too many overdone and fashioned elements already, there is a manufactured and inorganic twist in the climax.  
Had the ideas been tight, the mass-masala elements would still have looked a bit engrossing.  What we get is convenient writing at every step.  The goons of a gangster possessed awesome guns thirty-five years ago.  But the goons of a ganglord in the present, a don who can speak directly to a Union Minister and get things done in a jiffy, carry outdated weapons at critical times.  The higher the stakes, the dumber the villains are in our half-baked movies.
From overdramatic orphans who pray to God for the revival of their missing saviour to a scientist who seems to know more about Ramayana and amulets than medicine, at least half-a-dozen laughable elements come at you in the first 30 minutes of the film.  With its random narrational jumps, 'Disco Raja' is easily one of the most disorganized films.  Somewhere a character says in mild exasperation: "Dennaina ekkuva ga use chesthe ilage untadi'.  He could be referring to the mess that is the film.  Only that he should have said it in wild exasperation.  
There is a female scientist and there is a comedian. If the latter is not comically smitten by her, what kind of a Tollywood-level sci-fi film is it?  He is smitten by her, you know.  In another instance of Tollywood-level 'gripping screenplay', the female scientist hoodwinks her boss the way mischievous granddaughters outwit their grandfathers with ease.  
Regardless of whether it's the hero, the baddies or the jokers (Vennela Kishore, Satya, Sunil, Naresh) who are on the screen, the film starts looking like an excessively-done circus after a point.  Just as you start hoping that the film will come into its own finally, a self-indulgently frivolous bank robbery scene destroys your hope.  
Ravi Teja should have done a character like this when his swag was in top form and his comic timing was flawless.  What it might take to revive the old Ravi Teja is anybody's guess.  Payal Rajput is the only female character in the movie who is not mute (figuratively speaking). Nabha Natesh is wasted in a short role.  Bobby Simha gets to show menace here and there.  Otherwise, his character doesn't pique the audience's interest, condemned as it is to behave in old-fashioned ways.  
Thaman's songs are good and the BGM scores high marks.  Karthik Gattamaneni's cinematography is efficient.  
Verdict:
This is the kind of film that doesn't know the difference between being unconventional and looking too unserious in the process.  Had the comic doses been strong enough to make the audience forget the flaws in the narration, 'Disco Raja' might have saved itself. 
Rating: 2.5 / 5.0
Showcase your talent to millions!!
Write about topics that interest you - anything from movies to cricket, gadgets to startups.
SUBMIT ARTICLE
More
Telugu Movie Reviews
Sita Ramam
Bimbisara
The Legend
Ramarao On Duty
Vikrant Rona
The Gray Man