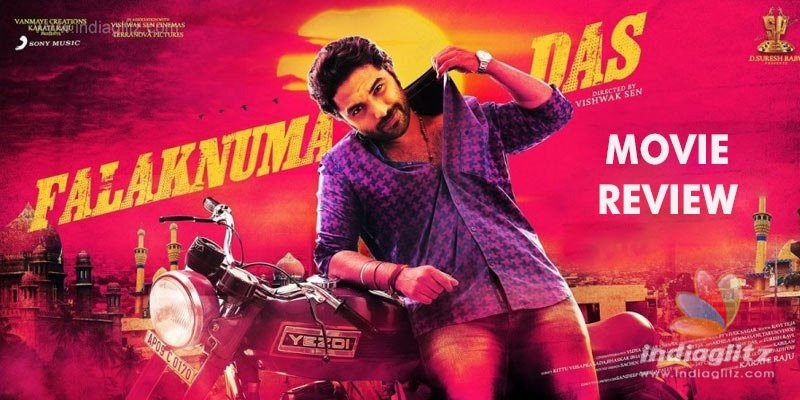 'Falaknuma Das', starring Vishwak Sen in the lead, hit the screens this Friday.  Here is our review of the action-comedy-drama.  
Story:
Das (Vishwak Sen) grows up admiring small-time gangsters in Falaknuma.  He leads a small gang of humble comrades who are both his friends and fellow goons.  Pandu (Uttej) is his all-weather big brother.
They open a mutton shop by entering into a business deal with two violent wholesale traders.  All hell breaks loose when the traders attack the hero and his gang over a business-related melee.  
The rest of the film is about how Das faces an unprecedented crisis in his life, and how he comes out of it.  
Analysis:
'Falaknuma Das' is majorly a screenplay-based movie.  If you keep searching for a story in it, you will have Mollywood-level disappointment.  Yes, it's a remake of the Malayalam movie 'Angamalay Dairies'.  
The world of this film revolves around the life of its male lead, Das.  This character is known for its rough edges and lives a risky life.  Somewhere in the first half, there comes a scene in which Das is sad after the murder of his childhood idol, a gangster named Shankar 'anna'.  In this gloomy mood, he walks towards his bike, and as the camera zooms in towards his feet, the film takes a leap by four years.  The BGM shifts gears and changes from semi-dark to buoyant.  This moment captures the soul of 'Falaknuma Das'.  
Whatever may be the crisis in Das' life, some or the other character keeps coming to his rescue, salvaging him from a situation that looked ominous just a while ago.  As such, life is so beautiful in Falaknuma.  He has best friends going for him, he has beautiful girlfriends going for him, he has looks going for him, so on and so forth.
The film is made like a true-blue bromance and more.  You will find too many characters in most of the frames; they keep talking, shouting at each other, or slapping others, sincerely deploying the street language of pucca Hyderabadis.  Most of them have rugged beards, and eleven out of ten are in love with liquor!
You find comedy scenes visiting announced soon after a serious or tense moment.  Irrepressible male bonding, dramas unfolding in crowded areas, enfants terribles going berserk, etc are a permanent feature of the film.
Filmmaker Tharun Bhascker plays a strong cop Saidulu who can go against his superiors and tame bad men in Falaknuma like a true boss.  He is a treat to watch and he is perhaps the only character in the film who doesn't moon over Das.  
Among the unconvincing features of the film is the way a doctor named Zoya (Saloni Mishra) falls for our impulsive hero who lives way too irresponsibly.  It's as if our onscreen heroes have to get a constant supply of angels, their flaws being their decorated qualities.  
Five elements that 'Falaknuma Das' presents with conviction are these: slice-of-life conversations that are pleasing, excellent sound design, the visual narration (whereby Falaknuma becomes a character in itself), the camera work, and the slow-motion shots.  
Vishwak Sen tries to bend the rules both as an actor and a director.  But his success is limited in both respects.  He definitely holds promise.  Uttej is a very convincing supporting actor.  The guys who have played the hero's friends fit the bill.  The girls do a decent job, while Joh Kottoly is commendable.  
Vivek Sagar's BGM gets interspersed with the narration, the songs are largely okayish.  
Verdict:
The film narrates the rise, fall and rise of a small-time rowdy named Das.  The story is wafer-thin, the film presents some solid moments but many scenes are monotonous.  Neat performances are a plus but there are also some over-indulgences.
Rating: 2.5 / 5.0
Showcase your talent to millions!!
Write about topics that interest you - anything from movies to cricket, gadgets to startups.
SUBMIT ARTICLE
More
Telugu Movie Reviews
Monster
HIT 2 (The Second Case)
Repeat
Chup
Love Today
Itlu Maredumilli Prajaneekam