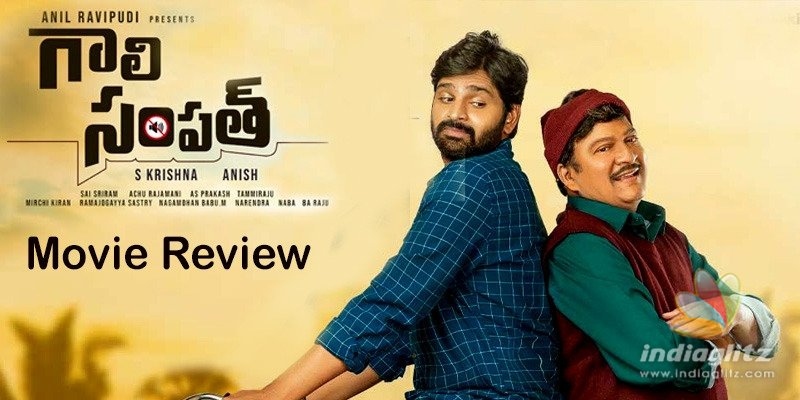 'Gaali Sampath' hit the screens today (March 11) as a Maha Shivaratri special. Here is our review of the latest box-office outing.
Story:
Sampath (Rajendra Prasad) is a dumb person who makes incoherent sounds. That's why people call him Gaali Sampath because his voice is all air. The old man has a turbulent relationship with his son, played by Sree Vishnu.
While Sampath is sorry that he is not a recognized stage artist, the son wants to own a truck and be his own boss. The son's love affair with the daughter (Lovely Singh) of the village's panchayat widens the rift between the father-son duo. Just when the going gets tough, Sampath falls into a deep pit and faces an existential crisis. Can Sampath be saved? Will he ever get to meet his son?
Analysis:
In 'Gaali Sampath', Srikanth Aiyengar plays the manager of a Grameen Bank in Araku. He has embezzled funds and is determined to steer clear of an audit. He comes up with a plan to distract the attention of the auditor, played by Anish Kuruvilla. For days on end, the manager struggles to keep the auditor from starting the audit. Frankly, his woes look far tougher than that of Rajendra Prasad in the film, thanks to the way director Anish and the writing department stage the scenes in the second half.
Rajendra Prasad has been over-the-top from time to time, especially in comedic roles. In this particular film, he is on steroids, given that he is a failed artist who wants to become a stage legend in the village. Sree Vishnu, in contrast, is restrained. Satya, who is the interpreter of Sampath's 'Fififi' language, is earnest. Raghu Babu and Tanikella Bharani fit the bill.
The film falls apart in terms of writing right from the word go. The father-son duo's equations are sketchy. So, the audience fails to connect with their universe. We understand that they are not on healthy terms. But we never wait for them to resolve their differences.
An old man facing a death-like situation when he falls into a deep pit must evoke sympathy. It should make the audience root for what he is trying to say and what he is unable to say. But Rajendra Prasad's anguish just doesn't touch us. And the way he gets saved is hopeless.
The love track, involving Vishnu and Lovely Singh, is immature. It comes with a dash of 'I am lovely because I am not rich' cliche.
Since the screenplay and dialogues are by Anil Ravipudi, there are Jandhyala-type quirky characters in the film. One of them is crazy about 'jadalu'. Yet another one is a compulsive eater. A third one drives on the road without looking at the road ahead because he is too devotional.
Achu Rajamani's music is good. The BGM could have been way better. The cinematography is not ambitious.
At about 116 minutes, the film is not lengthy. The second half is hardly 55 minutes long. Things are way too hurried. One wonders why the drama couldn't have been stretched to add more heft.
Verdict:
'Gaali Sampath' pretends to be a heart-rending survival film helped by entertainment. What it actually turns out to be is a superficial drama with no gravitas or soul.
Rating: 2.5 / 5.0
Showcase your talent to millions!!
Write about topics that interest you - anything from movies to cricket, gadgets to startups.
SUBMIT ARTICLE
More
Telugu Movie Reviews
Rangamarthanda
Das Ka Dhamki
Kabzaa
Phalana Abbayi Phalana Ammayi
CSI Sanatan
Anger Tales