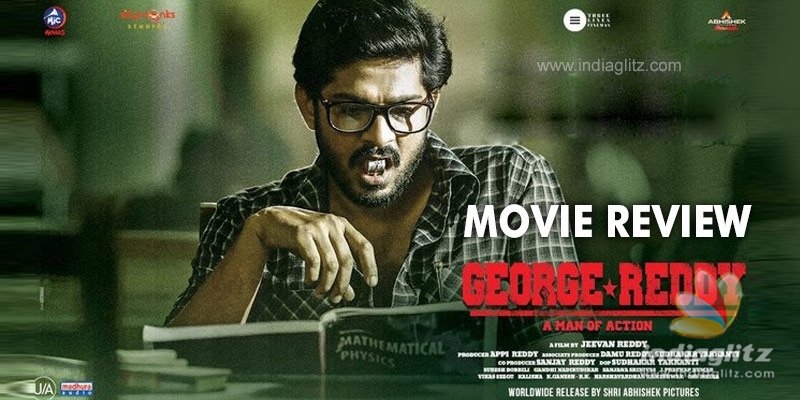 'George Reddy', the biopic, hit the screens this Friday.  Here we present the review of the latest Tollywood release.
Story:
George Reddy (Sandeep Madhav) enters Osmania University in the late 1960s to pursue Post-Graduation.   A brilliant student, he is also a gutsy boxer.  When a gang of upper-caste students humiliates marginalized sections on the campus, he takes up the latter's cause by physically bashing up the rivals at will.
George's violent activism antagonizes the other side, led by a goonda element named Lallan Singh (Shatru) and the politically well-networked Satya (Satyadev).  
The rest of the film is about how the two warring sides get embroiled in a series of clashes on the campus, leading to the brutal murder of George in the end.
Analysis:
If you want to know what this film is about in short, here it is: Attack.  Followed by a counter-attack.  Attack.  Mechanically followed by a counter-attack.  One more repetitive attack.  Followed by one more bland counter-attack.  So on, so forth.  The entire film is riddled with monotony, to put it charitably.  
The film is so generic that they could have called it 'Rami Reddy' and it would have made no difference to Communists and Sanghis alike.  Writer-director Jeevan Reddy narrates the story as a one-note skit.  The film is dangerously bereft of any subtext or nuance.  
Believe it or not, for at least 25 minutes of the second half, the film totally sidelines George!  The protagonist has too few lines throughout, and for the few times he opens his mouth in this alleged biopic, his words are a lifeless extension of what we have seen in the film's trailer.  
The alleged revolutionary movie refuses to give even a lazy view of the social conditions of the day.  It obsesses with the universe of Osmania and is content with oversold issues and superficialities.  If they wanted to make a screenplay filled with routine campus fights and politicized gangs, they needn't have made a biopic.  They could have made another 'Josh' with Naga Chaitanya and be done with it.
I think the director has no clue about George's intellectual evolution.  As a child, he asks his mother why we humans don't revolve when the Earth is doing so!  KA Paul and Kathi Mahesh too must have had such doubts as children.  Forget basic research, this writer-director hates even basic education it seems.
Actor Shatru (as the brother of George's arch-rival) is straight out of a mass masala potboiler.  Forget such a generic portrayal of villainy, the film commits a major blunder by muddling itself with unnecessary characters, played by Satyadev, Shatru, Manoj Nandam and Krishna Chaitanya.  What goes on between them is a drag.  
It's second half of second half and the students are still talking about inedible mess food, this guy beating up that guy, etc.  And the heroine continues to moon over Geoge, even as the latter keeps riding Royal Enfield which never seems to run out of petrol.  
There is over-stylization, but hardly any conversation between students is profoundly political in nature.  The heroine's friend is shown to be a dumb sidekick in the first half.  All of a sudden in the second half, she becomes a Communist on steroids, delivering a fiery speech like a woman possessed.  
George shows solutions to the poor over the course of a song, like Mahesh Babu does in his overrated message-oriented flicks.  Our dude takes up farmers' issues and speaks some simplistic lines before moving on to doing a 'Lal Salaam' salute to a Maoist. Geoge's political evolution was organically tied to Naxalism but this film barely explores it.  
There is a mother-son song.  There is no Telangana.  There is a love track.  There is no India.  There are fistfights.  There are no ideas.  
The performances are fairly good.  Sandeep Madhav shines.  Satyadev, Shatru and others do their parts well.  Abhay Bethiganti seems to be the film's highest-paid actor because he goes over-the-top every time he is around.  Prediction: Thiruveer, who played Lallan Singh, will go a long way.  He is extremely talented.  Muskaan shows her infatuation for George in the right way.
Suresh Bobilli's songs click, especially 'Bullet'.  Harshavardhan Rameshwar's background score is a plus.  There should have been less of it, though.
Verdict:
'George Reddy' is a generic movie that is not only repetitious, affected and superficial but also excessively underdeveloped.
Rating: 2.75 / 5.0
Showcase your talent to millions!!
Write about topics that interest you - anything from movies to cricket, gadgets to startups.
SUBMIT ARTICLE
More
Telugu Movie Reviews
Ponniyin Selvan 1
Nene Vasthunna
Babli Bouncer
Dongalunnaru Jaagratha
Krishna Vrinda Vihari
Alluri