Tuesday, December 1, 2015 • Hindi Comments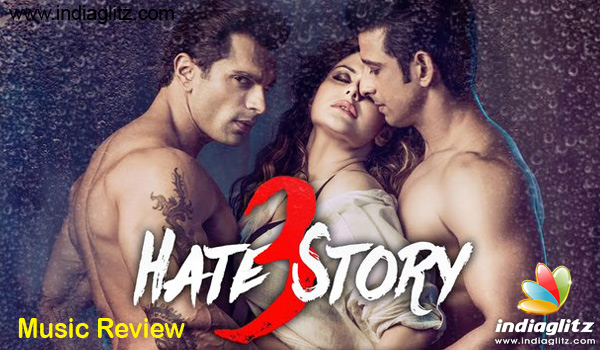 The third instalment in the HATE STORY series, erotic thriller, Vishal Pandya's HATE STORY 3 comes with an 'open love, hidden hate,' music composers Amaal Mallik, Meet Bros and Baman have created a great music with a mix of love, hatred and seduction for 'Hate Story 3'. The film stars Sharman Joshi, Zareen Khan, Daisy Shah and Karan Singh Grover.
'Tu Isaq Mera' starts with some trendy rap (Earl Edgar) after which Neha Kakkar takes over and adds on to the `oomph' quotient with her sensual vocals. Meet Bros (minus Anjjan) have come up with some catchy beats in this seductive number with Kakkar's vocals proving to be the proverbial icing on the cake! Kumaar's lyrics match the mood and setting of the number and the hot and sexy video should only help to increase the popularity of the song.
'Wajah Tum Ho' Now comes the love song of the album, composed by the relatively new Baman. Wajah Tum Ho is the quintessential romantic number, that is pleasant and quite soothing with soft instrumentals. Armaan Mallik proves once again why he is one of the best among the younger of lot of singers, ash he is quite in his comfort zone belting this one.
'Neendein Khul Jaati Hai' With a peppy rhythm and some dhamaal singing by Mika Singh (who is well supported by Kanika Kapoor), 'Neendein Khul Jaati Hai' passes the test. Shabbir Ahmed comes up with some entertaining and naughty lyrics which matches the vein of the song.
Directed by Vishal Pandya, 'Hate Story 3', produced by T-Series, releases on December 4.