Music Review
IndiaGlitz [Friday, November 6, 2015 • தமிழ்] Comments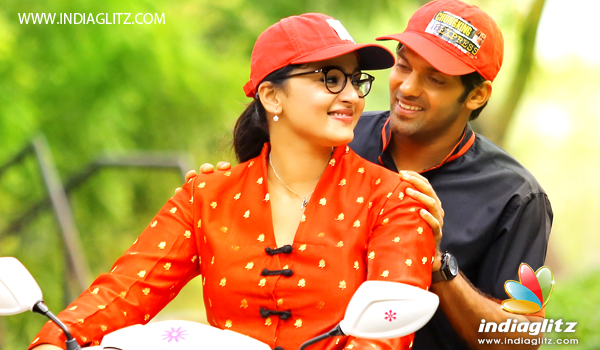 Anushka after Rudramadevi has gone down the fitness line by working hard for yet another bilingual with Arya in an extended cameo. The music is by evergreen M.Keeravani
Size zero : Madan Karky's lyrics stand out in this number, funky and funny going on the lines of what happens if the girl is stout and the means to get her size zero. Keeravani puts on some bhangra kind of lyrics in a all girly song thats funny yet inspiring. Neeti Mohan's vocals is another story that blends into the Band Baja tunes comfortably. A good song with a lot of Bollywood feel, thanks to Prakash Raj's middle rap the number is lively.
Size Sexy : Yet another comical number with the lyrics taking the front seat and giving the instrumentation the backseat. The song is tailor made for some fresh visuals sure to take us on a roll, however the music is plain ordinary for the listeners yet again with some straight forward tunes and recursive electronic beats. Ramya gives her best with her energetic vocals which might do justice in the visuals.
Mella Mella : A soft and easy going female solo song from Shweta Pandit, takes it easy as it breezes along with the tunes. Keeravani's occasional use of the flute and mild raga is melodious, and suits well for a female solo. The mid level bass and violin between interludes is an interesting choice, a feel good song which might go down well with the female listeners.
Cycle: Another inspiring song with some gritty motivational lyrics from Madan Karky has Ranjith making the best out of the vocals. Starts very slow and gets going like a energetic climax sequence, with repetitive mentions of Life is a cycle. Keeravani gets his rhythym going on this motivational track which again looks to be made for a much hyped visual. The bits of chorus is used to bring about the charge within the track's current and sure has served its intention.
Mella Mella(reprise) : The Male version of the melody track has Kaala Bhairava crooning, Keeravani has made some mild adjustments to make it not all that girly track like the original. The song is a good listen for long country drives with the mouthorgan segment whistling between the interludes gives a breezy touch.
Kaanalam: The festive mood of Marriage is captured through the essence of this track starting from the tabla, thavil, vocals and the tunes. The track is easily the pick of the album for blending marriage blues into the folkish undercurrent of the tunes. The mild and melodious female solo before the interlude is a delight. Verdict : A decent track tailor made for the visuals.
Rating : 2.5/5