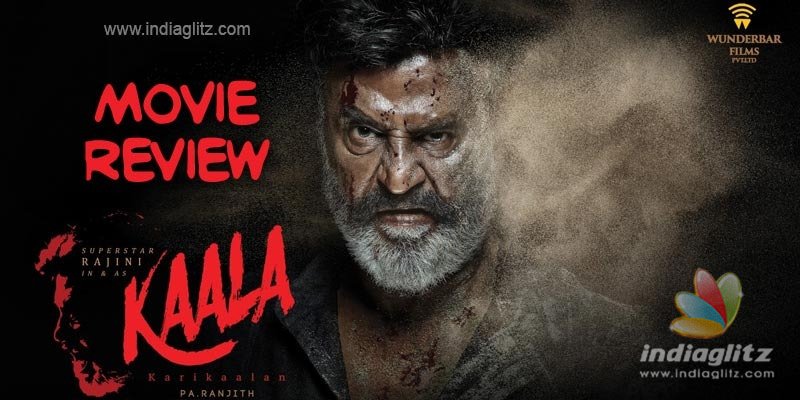 'Kaala', starring Rajinikanth in the role of a saviour, hit the screens this Thursday.  Here is our review of the Pa.Ranjith directorial.
Story:
Kaala Karikalan (Rajinikanth) is looked upon as people's leader in Mumbai's Dharavi slum.  Faced with fundamental issues, its denizens come to see a saviour in the well-meaning Kaala, who is their muscleman and a protective shield against vested interests.
In comes a landed interest in the form of Sampath Raj, who wants to grab Dharavi for capitalists.  A face-off between the poor slum-dwellers, led by Kaala, ensues.  It results in a catastrophe for the bad guys.
It's from now that Haridas Abhyankar's (Nana Patekar) role becomes paramount.  It's now up to the main villain and the hero to slug it out in the second half.
Analysis:
This reviewer was astounded by two particular moments.  Rajinikanth's introduction scene where he is laughably seen playing cricket with kids (Give us a break!).  And the massive disappointment that follows the Superstar's 'Kya re, setting ah?' delivery.  His supporters come out of nowhere and blandly bash up those pursuing to kill Kaala.  And all the while, Rajini himself does nothing.  There is also this pre-interval umbrella fight scene that is over-rated.  
If you are someone who expects fireworks with typical dramatic effects in a mainstream commercial movie, 'Kaala' might force you to call it a documentary (barring those Rajini vs Nana Patekar scenes).  In her initial scene, Huma Qureshi (as a builder of lives Zareena and Kaala's ex-girlfriend) explains why she had to leave Dharavi as a youngster and the whole speech comes across as a seminar event.  
Idea after idea is cliched.  From fire accidents to attacks during festivals, from engineered communal riots to sponsored police atrocities, the film has them all.  
All the while, Kaala's machinations (if any) go on a holiday.  He has only his subdued style quotient to offer.  He has only his Mano-powered (dubbing artist) laughter to offer.  When he is taken to the police station in a mid-night coup, Kaala, who is already drunk to his heart's content, behaves in such a way that the audience subconsciously comes to believe that the hero's victory will be easy.  
So, where then is the Pa.Ranjith touch?  It lies in his (agenda-driven) symbolism.  From alternative reading of mythology to convenient allegories, 'Kaala' espouses a particular Macaulayan mindset.  Muddled thinking is the hallmark of colonized minds like Pa.Ranjith.  That's why he sees no hypocrisy in making a hero out of mass murderer Lenin (that's why Kaala names his son after the maker of 'Pure' Russia) while Huma Qureshi's character (rightly) describes the killing of two protesters as fascism.  The director conceals the inconvenient truth of the role of foreign money in damaging the secular fabric of the city.  Only those who call themselves patriots and nationalists are the villains, facts be damned.  Such a politicized history is known to be taught at Universities led by intellectually dishonest 'chamchas'.
The nostalgia-ridden Kaala-Zareena story becomes too much.  Clearly, the director had to convince the audience that their love story is not forced.  And he didn't do that.
The characterization of Nana's character, who thinks power is his life, is not-so-exciting.  His placid expression may have takers, though.  
The impromptu rap songs rendered by Kaala's supporters are jaded after a point.  The conversations among Kaala's family members lack Telugu nativity.  
Just as in 'Kabali', where the hero's family life becomes an important aspect, 'Kaala' too presents a similar trope.  The lighter-veined bonding between Kaala and his semi-comic wife (played by Eeswari Rao) is enjoyable.  In one stroke, the director shows Kaala's softer side and his sense of loyalty towards his wife.  When he meets Zareena after decades, the way he sees only his wife by her side is touching.  
'Naa maava nalla sirutha puli, raa,' Eeswari Rao says about her husband. Anjali Patil of 'Naa Bangaru Talli' fame is seen as a gutsy girl. Samuthirakani's uni-dimensional character bores.
The interval scene where Kaala shows the antagonist how powerful he is, is remarkable.  The Rajini vs Nana episodes are laced with emotion.  'What sort of name is Kaala?' and 'The colour black is sordid' are two effective lines spoken by Nana.  Such lines go into making black the film's leitmotif.  
Rajini's wit and action (to an extent) and acting are cool.  He has submitted himself to Ranjith's vision completely, even going to the extent of speaking lines he will never do in real life.  
Santhosh stands out in BGM's for Nana Patekar's portions and Kaala's theme track, the songs, though do better on lyrical portions than music. Some heavy duty work has gone behind in setting up a Dharavi slum replica, thanks to Murali's sharp camera work the output has come out spot on.
Verdict:
'Kaala' comes with a time-tested formula.  Almost all the tropes, barring its politically-correct symbolism, are familiar and done-to-death ideas.
Rating: 2.75 / 5.0
Showcase your talent to millions!!
Write about topics that interest you - anything from movies to cricket, gadgets to startups.
SUBMIT ARTICLE
More
Telugu Movie Reviews
Hunt
Driver Jamuna
ATM
Vaarasudu
Waltair Veerayya
Veera Simha Reddy