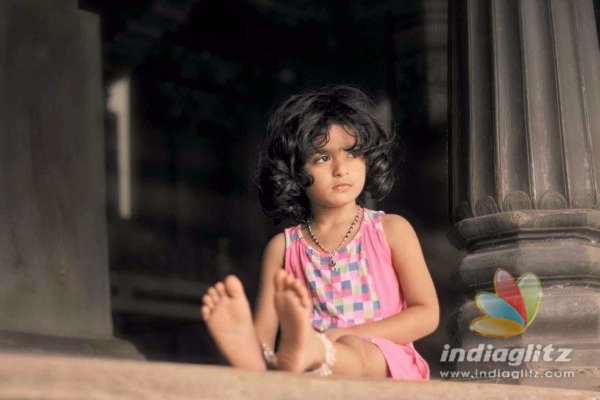 The ghastly effect of a ghost – to be precise 'Atrupta Athma' (unsatisfied at death) entering the body of child Shlaga Saligrama in this 'Kataka' has many questions to answer as the screenplay progresses. The superstitious belief, the presence of ghosts, atheist and theist clash, the Mantrik power etc unfold in this technically brilliant film.
Ravi Basroor in his debut Kannada film direction in just 107 minutes 'Kataka' gathers attention but the question remains why the evil forces enter in the innocent child and create havoc? Probably the elders in the house give more attention to sufferings of a child!
Set in the village backdrop the happy family of Kumar (Ashok Raj) Vadana (Spandana Prasad) and Kavya (Baby Shalaga) come to live in a huge house. Kumar has got transfer to this village as a science teacher. On the way the 'Crab' (Kataka zodiac) reaches the bag of Baby Shlaga. Once the family lands in the house, the trouble shoots up.
A few of the unsatisfied persons Athmas and father of Kumar asking for 'Mukthi' (liberation) is seen via this child. The local mantriks fails to attend to the problem, but the identification happens by opening the bag from another famous Mantrik. That is not enough to eradicate evil forces from the child. That brings Kumar to Atharvana Vaidya in Kerala. At this place the Mantrik is no more but his son is aware of removal of evil forces from the place where he is located via performing of a ritual. He puts a condition for his successful act. What is that you have to watch it in theatres!
Baby Shlaga Saligrama cynosure of all eyes has given an innocent performance. She is cute and lively. When the child says 'Appa it is painful' any stone heart would melt down.
Ashok Raj from side roles to lead role in this given has given his best. He should continue to take such prominent roles for his capacity.
Spandana Prasad is another competitor in this film who is outstanding in her performance. She is in the race of very good character roles. She proved her mettle in recent 'Aprilna Himabindu' and again in this 'Kataka' she has given emotional best. Madhava Karkada as 'Appu' using the Daksin Kannada diction has given admirable support.
There are only two songs in this film appear at the right time with lot of meaning in it. Cinematography by Sachin Basroor is very absorbing. The special effects of this film gather attention.
At the end of the film a message from Power star Puneeth Rajakumar is very appropriate. Do good to the people who have done wrong to you is his statement.
'Kataka' is a family film with some serious elements in it.
 
Rating: 3.5 / 5.0
Showcase your talent to millions!!
Write about topics that interest you - anything from movies to cricket, gadgets to startups.
SUBMIT ARTICLE
More
Kannada Movie Reviews
Vanilla
Hottegagi Genu Battegagi
Seizer
Tagaru
Googal
Raja Simha