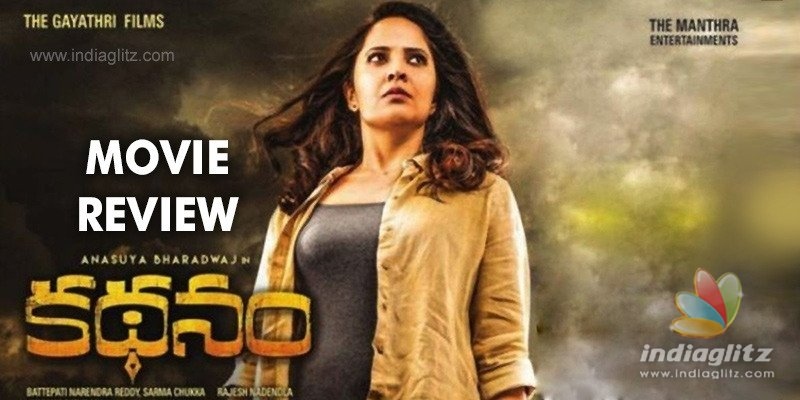 'Kathanam', starring Anasuya Bharadwaj in the lead, hit the screens this Friday.  Here is our review of the latest box-office release that has clashed with 'Manmadhudu-2'.
Story:
Anu (Anasuya Bharadwaj) pens a thriller and approaches four film producers.  They love her script and decide to produce her debut film.  
This is when all hell breaks loose.  Much to her shock, Anu comes to know of the murder of a top cop who was killed by unknown assassins, who executed the killing in the same way she wrote in her film script.  Two more murders happen in a similar fashion.
ACP Randhir (Randhir) is on the job to investigate the murders after a startled Anu approaches him.  To his surprise, Randhir finds a Srikakulam link to the murders.  He goes there, only to meet an old woman who narrates a flashback.
What is that flashback?  Who is behind the murders?  How does Anu have the premonition of the murders?  Answers to these mysterious questions are found in the second half.
Analysis:
Eary on in the film, Vennela Kishore refers to four old-aged characters in the movie as antique pieces.  If they are a manifestation of this film's story, screenplay, dialogues and direction, Kishore wouldn't be more right.  
'Kathanam' is the kind of film where Anasuya speaks in the language of a primitive Dasari Nayanara Rao-written victim while lecturing an R Narayana Murthy-written villain.  You can imagine.  It's the kind of film where high-sounding words like 'rayabharam' and 'Kurukshetram' are thrown around just so that we don't think Anasuya is doing a parody with Hyper Aadi for 'Jabardasth'.  Wearing nice make-up, she mouths heavy lines like 'Kadupulo aakali manta' without a sense of sarcasm.  
It's the kind of film where a Minister's life is in danger and there is only one cop to save him.  Just one cop who behaves like a headless chicken on a busy road.  Assassins come and kill an ex-Minister but he is the only cop in the State to find out what went wrong.  
There is a flashback whose staging is a dead giveaway.  Right after it starts and a woman comes out of a car, even a 10-year-old can tell you what is going to happen for the next 45 minutes of the film.  Wailing villagers, menacing politicians, a philanthropist who behaves like a Grama Devatha, ordering MPs and MLAs to resign at the drop of a hat...
Wait.  We are not done yet.  This film also proves that Avasarala Srinivas has lost it as an actor, for his choices suck nowadays.  Someone as talented as him deserves an 'Ami Tumi', not comically made-up roles that want him to behave like a horrible uncle in a second-rate TV serial.  
This is a female-centric movie where Vennela Kishore's character practices casting couch.  The normalized creep otherwise gets to mouth some meaningful lines, especially about some film producers who live with outdated tastes and make movies that should have died ages ago.  
Roshan Salur's music is a turn-off.  Satish Mutyala's cinematography doesn't bring anything to the table.  The performances are largely forgettable.  Prithvi, Sameer, Jyoti and others are wasted.  Even Anasuya's talent doesn't get a deserving platform.  
Verdict:
With a grossly obsolete story, 'Kathanam' doesn't live up to its title either.  Unremarkable performances, banal dialogues, underdeveloped screenplay - the film is replete with inadequacies.
Rating: 2 / 5.0
Showcase your talent to millions!!
Write about topics that interest you - anything from movies to cricket, gadgets to startups.
SUBMIT ARTICLE
More
Telugu Movie Reviews
Boo
Mem Famous
Malli Pelli
Sathi Gani Rendu Ekaralu
Bichagadu 2
Anni Manchi Sakunamule