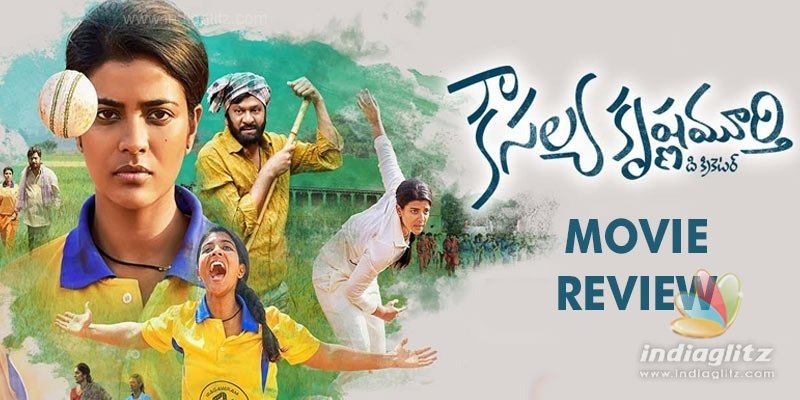 'Kousalya Krishnamurthy', starring Aishwarya Rajesh in the lead, hit the screens this Friday.  Here is our review of the latest box-office release.
Story:
Rajendra Prasad plays a struggling farmer whose universe revolves around cricket and farming.  Together with his irritable wife (Jhansi), he leads a near-poor existence.  
His daughter Kousalya (Aishwarya Rajesh) is determined to play women's cricket for India and her dream has everything to do with her beloved father's passion for cricket.  Through sheer observation, Kousalya grows up to be a self-taught spin bowler and batswoman.  She is a star among cricket lovers and players in the village.
But when life gives her an opportunity to play international cricket, Kousalya finds herself facing some unforeseen situations.  What are they?  Can she overcome them and how does Nelson Dilipkumar (Sivakarthikeyan) help her?  You have to watch the film to know the answers.
Analysis:
A faithful remake of Tamil film 'Kanaa', this one marries cliches with one exciting idea - a woman making it big in the world of cricket.  To be sure, the film's only catchy moments have everything to do with Sivakarthikeyan, the Tamil actor who reprises himself from the Tamil original.  
In one of the initial scenes, Rajendra Prasad's character (a distressed farmer) launches into agri sentimentality when the village's MLA seeks his farmland for a factory.  This moment is a throwback to 'Srimanthudu' at one level.  At another, the jaded dialogues mouthed by the Nata Kireeti bring to our memory the recent 'Maharshi'.  This is just the starting point.  The film keeps on reminding the audience of one forgotten or forgettable film after another for the most part.
Much of the first half is narrated by Kousalya to a comical cop (played by Vennela Kishore), who gets easily excited about her story.  But this excitement is not the audience's.  
For one, there is no consistency in the way, for example, Rajendra Prasad's character behaves.  For another, Jhansi behaves as though she is a 'gayyali thalli'.  The scene where she thrashes her daughter with a broomstick should have been moving.  Instead, it is over-the-top because Jhansi's character was long reduced to a caricature.
Showing Kousalya as a self-taught cricketer is alright but why should detailing be sacrificed at the altar of familiar sentimentality and old-fashioned tracks?  The track involving Karthik Raju and 'Jabardasth' Mahesh smacks of TV serial-level fun.  
Like in so many simple-minded 'Let's-achieve-the-impossible' dramas, 'KK' too has a song over which so much takes place.  Cliches like the gossiping neighbourhood aunties and a mean-minded bank manager abound.  And since it's also about farmers, banalities such as 'Farmers can only do good' are too many.  
The film thinks that emotional support or motivation of a beloved one can help one pull off miracles, factors other than talent be damned.  
Everything said, the depiction of Kousalya's travails is true-to-life here and there.  From obscene comments to discrimination from men and women, she faces them all.  The way people around her try to affect her after she attains puberty is another realistic element.  
Aishwarya's performance is earnest for the most part.  She looks every bit mellowed and vulnerable as well as determined and strong, as the case may be.  Rajendra Prasad's melodramatic performance is an extension of his 'Srimanthudu' performance with a dyed beard.  Jhansi is miscast as the heroine's mother; she doesn't bring to the table the kind of pathos that she could in 'Mallesham'.  Sivakarthikeyan is superb breathes life into the otherwise dead proceedings in the second half.  Others are forgettable.
The songs are a plus, so also the background music (by Dhibu Ninan Thomas).  Andrew's cinematography is just OK.
Verdict:
'Kousalya Krishnamurthy' is ham-handed in the first half and acquires some life in the second.  Many scenes are either crafted or too simplistic.  A remake, this one offers some high moments involving Sivakarthikeyan, coupled with some catchy music.
Rating: 2.75 / 5.0
Showcase your talent to millions!!
Write about topics that interest you - anything from movies to cricket, gadgets to startups.
SUBMIT ARTICLE
More
Tamil Movie Reviews
Sarpatta Parambarai
Vaazhl
Jagame Thanthiram
Malaysia to Amnesia
99 Songs
Karnan