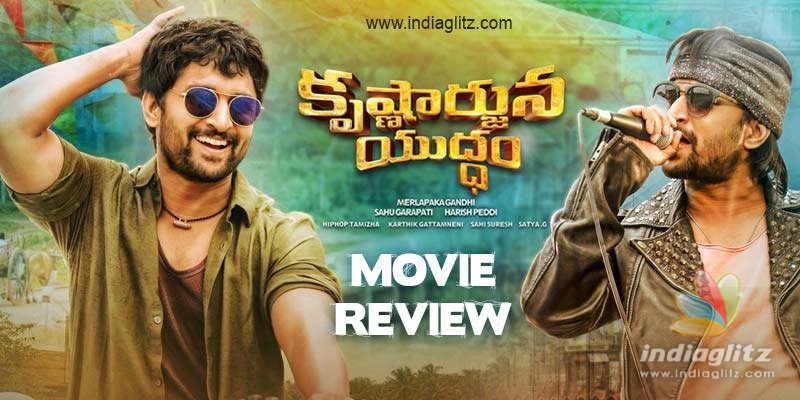 'Krishnarjuna Yuddham', starring Nani in two roles, hit the screens this Thursday.  Here is our review of this latest entry at the box office.
Story:
Krishna (Nani) is a good-natured villager whose only frustration in life is that no girl ever falls for him.  His mother and all-weather friends (Mahesh Vitta and Sudarshan) are his world.  He falls for Dr. Riya (Rukshar Dhillon), a fashionable girl.  This is in Chittoor.
Somewhere in Prague, Arjun (Nani, again) is a calculated and cold rockstar who is a womanizer to boot.  He woos Subbalakshmi (Anupama Parameswaran) with the intention to have a one-night stand with her, only to later realize that he is a changed man after unwittingly falling in love with her.
The lives of Krishna and Arjun are destined to go for a toss when Riya and Subbalakshmi fall in big trouble.  It's now up to the two guys to race against time to save their respective soulmates from a life of condemnation.  The second half is all about this.
Analysis:
A good part of the first half goes into establishing innate contrasts in the personalities of the two look-alikes who are no way related by blood.  If Krishna is that sweetheart who helps out even animals, Arjun is so debauched.  If it's a Herculean task for Krishna to have a girl to even look at him, Arjun has meanwhile had fun with 212 girls.  
Krishna's charm is his innocence.  Arjun's raison d'etre is his self-centeredness.  If the villager impresses Riya with his artlessness, the rockstar repels Subbalakshmi with the dishonesty that is so evident in his very eyes!  If the village-bred Krishna is gutsy, the urbane Arjun is timid.  If Krishna speaks in chaste Chittoor slang (his character's USP, after all), Arjun breaks into whole English sentences (Nani does it with effort).  
More than Krishna's sidekicks and even Prabhas Sreenu, it's Brahmaji who delivers a few laughs.  As Arjun's frustrated manager and a victim of Dhinchak Roja's (Divyadarshini in a fun role) musical shenanigans, he is hilarious.
Karthik Ghattamaneni's cinematography is impeccable, almost.  The songs look beautiful, thanks to his camera work.  Hiphop Tamizha delivers a very good output with 'Dhaari Choodu' (Singer-lyricist Penchal Das is so natural as the harmonium-playing actor in the song) and 'Urime Manase'.  The BGM is fairly good.  
Writer-director Merlapaka Gandhi, armed with two love stories in two distinct backdrops, goes on and on, delivering a 90-minute first half as if it's a sine qua non.  However, in doing so, he falls back on cliches one too many.  Subbalakshmi, who otherwise claims to be harassed by Arjun, sits across the table to patiently look into his eyes for two minutes.  They seem to cross paths in Prague every now and then.  She loses her handbag.  The world-famous rockstar is around right at the moment!  Subconsciously, the ease with which they coincidentally end up crossing paths affects our interest.  
Krishna, time and again, engages in kid stuff.  He sneaks into Riya's house in the middle of the night.  It's as if every love story set in a village should have this stale scene at least once!  He has a rivalry with the son of an MLA and this whole track is not only outdated but also overstays its welcome.  Having watched so many Telugu movies, Riya pines for village tourism at night.  This is another permanent, done-to-death idea in our village-based movies.  Sooner than later, she tells her grandpa that Krishna can die for her.  Meanwhile in Prague, Subbalakshmi continues to be uni-dimensional, with she behaving as if teaching the unethical Arjun a lesson is her lifetime ambition.  
Two songs in the first half come without proper spacing, making the 1:30 hr saga all the more lengthy.    
Not very late into the second half Merlapaka Gandhi lets one of the two Nanis say it doesn't matter that Krishna and Arjun are look-alikes.  Yes, the story has nothing to do with their physical likeness.  There is neither actual meaning nor allegorical/metaphorical meaning here.  Had the villains been confused by their similarities, it would have made sense.  However, it's insignificant characters (like Pooja Ramachandran) who confuse Krishna for Arjun and vice-versa.  The zing, if any, is gone.  
After a while, we are convinced that the film is more about small-time fights between Krishna and Arjun than about one big fight by them.  
The proceedings had to be edgy in the second half but the film never acquires a sense of edginess.  It's also because of the Hindi-speaking, sketchy villains.  It's also because Krishna's punch dialogues directed at Arjun and other less important characters (like the MLA's son) don't help the grave mission he is on.  It's also because Prabhas Sreenu's travails (the constable is pestered by his shopaholic wife, played by Hari Teja) test your patience.
When you have the cell phone of a villain, the least you are expected to do is not rattle off an I-will-kill-you-all dialogue to the main villain on the line.  The climax arrives after an avoidable dream song.  Vidyullekha Raman's track could have been avoided.  
Nani is all over.  He convinces as Krishna but falters as the rockstar.  He is not at ease with the role, somehow.  As Arjun, he was supposed to exude arrogance but he just doesn't do that.  With his near-comic reference to Sigmund Freud time and again, he actually comes across as another version of a bumbling Krishna.  Anupama is beautiful and largely okay, much as Rukshar.  The villains give nothing home to write about.  
Verdict:
Had the director not chosen a grave issue (revealing it would be a spoiler) and been content with a less ambitious backdrop for the second half, the film would have been far more convincing. For a Nani film, this one is too larger-than-life.  Don't look for any rationale for two men ending up in a similar situation having to look alike.  The dual role is pointless.  The first half's laughs and the good technical values need a mention.  For a debut production, Shine Screens has ensured very good production values, adding to the film's visual strength.
Rating: 2.75 / 5.0
Showcase your talent to millions!!
Write about topics that interest you - anything from movies to cricket, gadgets to startups.
SUBMIT ARTICLE
More
Telugu Movie Reviews
Sarpatta
Narappa
Jagame Tantram
Ardha Shathabdham
Anukoni Athidhi
Ek Mini Katha