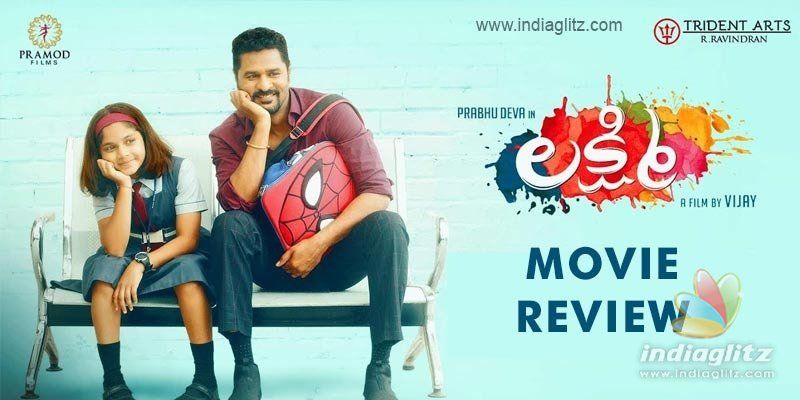 'Lakshmi', starring Prabhu Deva and Baby Ditya Bhande, hit the screens this Friday.  Here is our review of this dance drama.
Story:
Lakshmi (Baby Ditya Bhande), a pre-teen girl, is mad about dancing.  But her single mother Nandini (Aishwarya Rajesh) is opposed to her passion.  
Without her strict mother's knowledge, Lakshmi enrolls herself into a reality dance show competition with the help of Vikram Krishna (Prabhu Deva), a businessman running an eatery.  
But there comes a moment when Lakshmi needs more than mere training in dance.  She needs a morale-booster and a 24/7 Guru.  Vikram Krishna is that guy because he is an ex-dancing champ.
The rest of the film is about how Lakshmi and her team of young dancers win a national title much against all kinds of odds, and why VK had stopped dancing years ago.
Analysis:
At the cost of giving out spoilers, here we tell you what the format and storyline of 'Lakshmi' are like.  It is Prabhu Deva-Raghava Lawrence's 'Style' plus Chiranjeevi's 'Daddy'.  With a director like AL Vijay, any hint of dramatization can hit the rock bottom.  So, 'Lakshmi' is minus the earnestness of 'Style' and the emotional strength of 'Daddy'.
We have seen binaries being created with adults but 'Lakshmi' goes a step further.  It separates kids into good guys and bad guys.  Remember the machinations of the antagonists in 'Style'?  Here, dumbed down machinations are implemented by kids.  The kids on the hero's side are virtuous, they endure adversity with a smile on their faces, in unison and with practiced ease. The antagonistic kids are cunning like consummate villains.  
And the rivalries are so perfunctory that an adult rival named Yousuf and a TV channel's creative head are constantly seen in an auditorium throughout the second half, living and reliving same expressions for 91.20-95.60 percent of their screen time.  
The utter predictability of the story aside, when Prabhu Deva meets an important character from his semi-ruined past, it's hard to find a semblance of emotion on his face.  It's as if he just met an old colleague after many years at a new workplace.  
The baby girl meets with an accident.  This mother (Aishwarya Rajesh) is so lite that a nurse could have successfully pulled off a serious expression.  The less said about Prabhu Deva's uninvolved demeanour, the better.  He is seriously uninvolved.  Seriously.  We mean, seriously.
Prabhu Deva helps Baby Ditya overcome stage fear using a superficial line or two. A documentary would have more drama and be less direct.  
Two kids fighting each other over befriending Lakshmi is veritably lifeless.  It's something even kids will find jaded.  
Give him a problem and Prabhu Deva will show how it's solved before the sun rises the next day.  In this, he doesn't have to lecture much.  Just his mere legendary presence is enough to reform the characters, including a really devastated one for many years.  
Out of the blue, the director introduces the element of TRP games played by TV channels.  In an important segment, the happiness on the face of the hero's sidekick (Sathyam Rajesh) over the Baby girl's impending victory is more palpable than that on the face of the girl's mother.  
A dialogue-driven dance choreography involving the lead man and children is the film's first and only high point.  A backstory about Prabhu Deva's past begins and ends with characteristic nonchalance. As the dancer in him bursts forth, it's a treat, though.  Baby Ditya's performance is a saving grace.  
Verdict:
But for Nirav Shah's cinematography, the immense effort put in by those many kids (who are real dancers) and Sam CS's music/BGM, 'Lakshmi' would have been a dull documentary.  With these, it's a dull non-documentary.
Rating: 1.75 / 5.0
Showcase your talent to millions!!
Write about topics that interest you - anything from movies to cricket, gadgets to startups.
SUBMIT ARTICLE