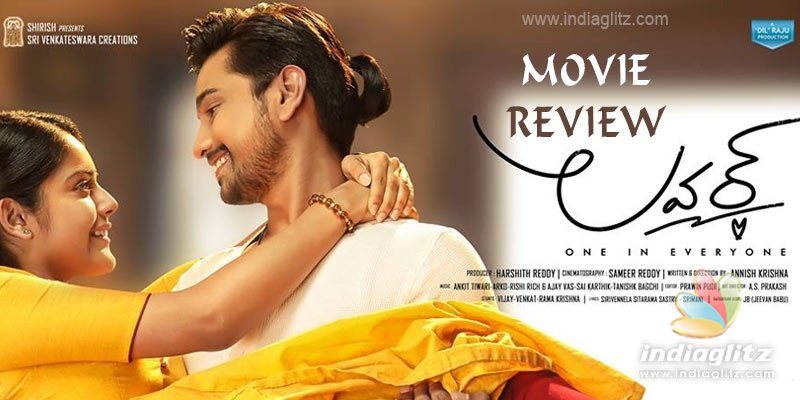 'Lover', starring Raj Tarun and Riddhi Kumar in leading roles, hit the screens this Friday.  Here is our review of the latest Box-office release.
Story:
Raj (Raj Tarun) is a creative mechanic who can make customized bikes and sell them for big bucks.  His elder brother (played by Rajeev Kanakala) is a partner of a small-time gangster (played by Subburaj).  
The hero falls in love with Charitha (Riddhi Kumar), a Malayali nurse working in Anantapur, where most of the film is set.  
Somewhere Varadaraj (Sachin Khadekar), an immoral billionaire, needs a liver transplant and he belongs to a rare blood group.  His nephew (played by Ajay) is violent and can go to any extent to ensure that his uncle is saved.  
At a time when Raj wins Charitha's love, the heroine is endangered.  Why is she wanted by the villains?  What does Raj now do to save her?  Where does the hero's brother figure in all this?  That's the rest of the story.
Analysis:
Don't know what director Anish Krishna was thinking about the climax of 'Lover',  but a prudent director would have realized that this climax would have been fit to be there as a pre-climax episode. A hero and his gang of loyal friends can engineer a technical coup for all they can, but such ideas should not be used for anything more than to create a first scare in the heart of the villain(s).  In 'Lover', what should have been one of the tricks of the hero becomes the one and only weapon, idea of heroism and dose of intelligence (if you can charitably call it).  
When you have an actor like Raj Tarun whom our filmmakers think should behave like a 'Cinema Choopistha Mama' boy whoever may be the villain and whoever may be the girl he is wooing, you get films like 'Lover'.  Charitha goes missing and Anish Krishna uses his creativity to infuse a sad song here to convey the hero's depression and anxiety.  Our hero goes about tracing the girl in this montage song and the expression on his face is so improper that someone who doesn't know what happened before this song will think that his lover just went back to her hometown without telling him the address after having a heated argument with him!  
Rajeev Kanakala's face, on the other hand, is stuffed with disproportionately higher doses of nervousness.  Maybe he knew he should do Raj Tarun's part as well.  Or maybe, he has always been like this.
Ajay plays that villain who is seen talking on the phone 75 percent of the time.  But there comes a time when even he has to forget his Bluetooth and do some body movements.  The director now tells himself that Ajay should be put to best use in this scene sans Bluetooth.  And that particular scene goes on forever, complete with Rajeev Kanakala's unbearable guts and predictable closing.
The way our directors think of nothing other than culture tourism and the like, phrases like 'God's own country' and the like, lame lines like 'Malayalam girls are beautiful' and the like whenever the backdrop shifts to Kerala, is flabbergasting.  Thanks to the producer's magnanimity, the heroine has a 'Lanka antha kompa' in Alappuzha and the two people who are most delighted by this swanky house have to be the cinematographer and the art director.  
To say that the film's story is predictable would be correct but not adequate.  Even most of the scenes are.  'One incident can change your opinion about me', our hero tells the heroine.  You can see the nature of the incident from miles away, especially given that the girl is a nurse.  The only reason this incident takes some time to happen is that Anish Krishna was given the freedom to rope in comedians like Sathyam Rajesh, Sathya and Praveen, who are made use of for a scene in a restaurant.  
Raj Tarun is at his usual self in the film.  Riddhi Kumar comes off as an affected actress trying hard to show her softness.  Rajeev Kanakala, Ajay, Sachin Khadekar, Subbu Raj and all others give sketchy performances.
The songs by Ankit Tiwari, Rishi Rich, Arko, Tanishk Bagchi and Sai Karthik work to an extent.  Sameer Reddy's cinematography is able.  Prawin Pudi's editing and AS Prakash's art direction are nimble.  
Verdict:
'Lover' is a formula-driven, predictable fare.  The climax doesn't pack the punch.  Better story-sequencing would have helped. Good technical output is fitting.
Rating: 2.5 / 5.0
Showcase your talent to millions!!
Write about topics that interest you - anything from movies to cricket, gadgets to startups.
SUBMIT ARTICLE
More
Telugu Movie Reviews
Kota Bommali P.S
Aadikeshava
Sound Party
The Trail
Spark
Sapta Sagaralu Dhaati (Side B)