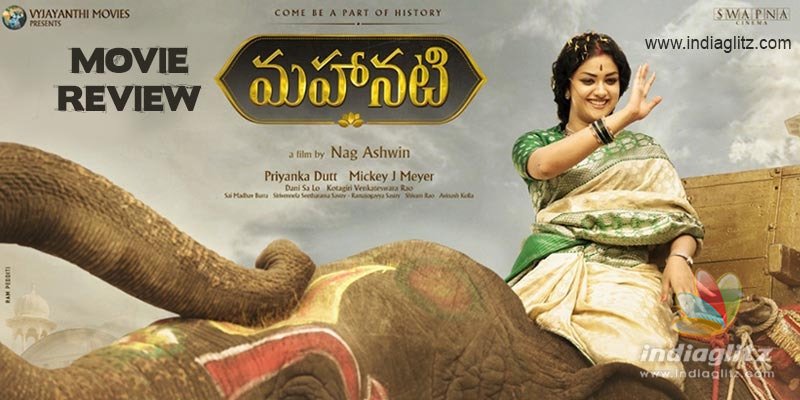 'Mahanati', starring Keerthy Suresh and others in key roles, hit the screens this Wednesday.  Here is our review of the biopic.
Story:
Savitri (Keerthy Suresh), a 14-year-old girl is persuaded by her 'Pedananna' (Rajendra Prasad in a largely humorous role) to move from theatre to cinema.  When they reach Madras, the citadel of South Indian film industry, Srinivasan Ganesan (Dulquer Salman as Gemini Ganesh), a budding talent at a studio, spots a future star in the young girl.  
Even as Savitri starts to become a busy actress, her friendship with Ganesan blossoms into love.  Despite having reservations about his civil status (Ganesh is already married and has two kids), Savitri goes on to marry him, for he is her weakness.  
By and by, she is catapulted to superstardom.  This is also when Ganesan's stocks are low in Tamil industry.  What then happens to their relationship?  How does Savitri try to cope with the shocks in her life?  That's the rest of the story.
Analysis:
As she excels in the role of Parvathi, in real life, Savitri finds herself discussing 'Devdas' with her lover (Ganesan).  'It's because Devadas loved Paru so much that he might have behaved the way he did', Ganesan tells her.  He goes on to deliver a bombshell: 'I am married, and have two kids.  But it's you who are my love'.  Savitri's heart seems to skip a beat.  Moments before, he had told her this much: 'Pelli aina vadu premalo padithe, adhi pelli ki pareeksho prema ku pareeksho'.  Such gems dot the well-written and aesthetically-executed 'Mahanati'.
The changing equations that defined the relationship between the Savitri-Ganesan duo are the main crux of the biopic.  Some scenes come as a revelation.  As her rise coincides with the hiccups in his career, Ganesan's ego gets the better of his love for 'Ammadu'.  And this is when he perversely expects her to share in his vicissitude - by boozing.  Moments like these are not only shocking but also convey the helplessness of a woman in an abusive relationship.
At times, Savitri's love for cinema becomes dominant.  So, she wants to remake 'Mooga Manasulu' in Tamil much against the wishes of her beloved husband.  
After failing to cope with her personal devastations, Savitri starts to put on weight.  When the media writes about it, director Nag Ashwin portrays it as a watershed moment by mentioning the year in which the first gossip column about her growing weight appeared in print.  Call it a cinematic presentation or the representation of reality as it happened, Savitri is seen binging on laddoos as her trusted man (Mahesh Achantaa) reads the column.  
Savitri, a legend for others, was also a mother struggling to do justice to her children.  This aspect is brought out in a subtle manner without the usual cliches associated with the trope in Telugu cinema.
Far removed from all this by time and space are journalist Madhuravani (Samantha) and photo-journalist Vijay Anthony (Vijay Devarakonda), both determined to achieve a breakthrough in reportage about Savitri's life when she slips into a coma.  Madhuravani, whose stammering is almost a metaphor for her meekness vis-a-vis her conservative parents, finds succor in the fighter Savitri when she goes searching for the elusive Sankaraiash in the Mahanati's life!  Her investigation and love affair with colleague Vijay Anthony is narrated in installments.  It's fertile imagination that Madhuravani delivers to Savitri an important photo that she has been emotional about.  
If the director shows spark in unleashing flourishes of nuance, he also fumbles in quite a few matters.  Rajendra Prasad's character, which travels with Savitri for a major part in the first half, smacks of cinematic gait.  His language, his demeanor are a put off in a biopic set in a different era.  The childhood episodes of Savitri needn't have been so long.
The dialogues are, generally speaking, brilliant.  However, some lines are too farfetched.  'Aada vaalla yedupu andariki telustundi, maga vaadi yedupu mandu bottle ki maatrame telustundi', an insecure Ganesan tells his worried wife.  Cinematic liberty yes, but such semi-comic sophistication is going too far.  
Keerthy Suresh fits the bill.  She is phenomenal in those black-n-white frames.  Her introduction scene, in which KV Reddy is pleasantly shocked to see her talent, is brilliantly conceived.  One feels Keerthy shouldn't have been like a child-woman too often in the film.   Her performance in the second half is much better.  When she screams out of pain even as her acquaintances come to congratulate her on her latest success, is heart-rending to watch!  Dulquer Salman shows his character's confidence and vulnerability quite well.  Samantha is fabulous, Devarakonda is good enough.
More than Naga Chaitanya as ANR, it's Mohan Babu as SV Ranga Rao and Krish as KV Reddy who deserve a pat on the back.  Malavika Nair as Ganesan's first wife is outshined by a subtle Shalini Pandey (as Savitri's friend Suseela).  Tanikella Bharani as a publisher, Prakash Raj as Chakrapani, Avasarala Srinivas as LV Prasad fit the bill.  Tharun Bhascker as Singeetham and Sai Madhav Burra as Pingali are also seen.  
Mickey J Meyer's background score is brilliant, to put it mildly.  The title track is rousing.  Dani's cinematography deploys a scintillating mix of colour palette.  Expect high-profile awards!  
Verdict:
For all its minor flaws, 'Mahanati' is a story told without recourse to short-cuts.  Director Nag Ashwin says no to low-hanging fruits and makes the biopic proudly self-contained.
Rating: 3.25 / 5.0
Showcase your talent to millions!!
Write about topics that interest you - anything from movies to cricket, gadgets to startups.
SUBMIT ARTICLE
More
Telugu Movie Reviews
The Ghost
God Father
Swathimuthyam
Ponniyin Selvan 1
Nene Vasthunna
Babli Bouncer