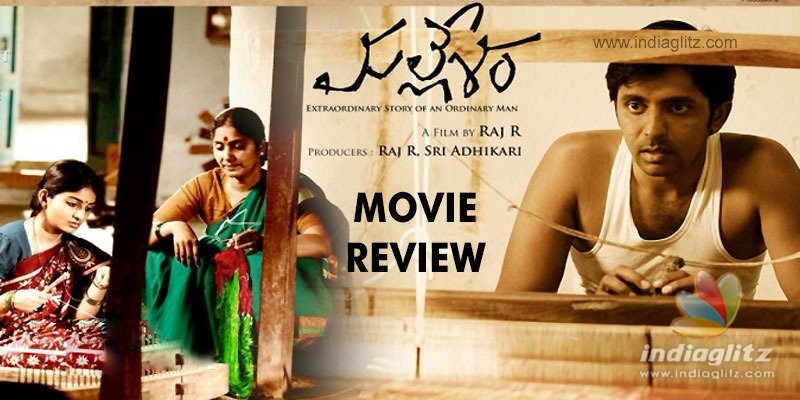 'Mallesham', starring Priyadarshi in the lead, hit the screens this Friday.  Here is our review of the biopic.
Story:
The film tells the inspiring story of Padma Shri recipient Chintakindi Mallesham, whose Asu machine invention has changed the lives of thousands of weavers.  
Mallesham (Priyadarshi) grows up seeing his mother Lakshmi (Jhansi) go through immense physical stress to make ends meet.  She and her husband (Ananda Chakrapani) are weavers, working 'asu'.  As his mother's physical condition deteriorates due to years and years of weaving, Mallesham decides to make it easy for her and the weavers in the village by inventing an 'asu' machine.
What he thinks will be a short-term mission ends up being a 7-year-long expedition full of travails, insults and sometimes transient achievements before Mallesham finally materializes his grand vision.  
Analysis:
He who liberates others from physical pain or financial distress is worthy of the highest praise.  Chintakindi Mallesham has done both.  He is a rare hero, a prodigy whose stellar creation gets a heart-touching, substantial biopic.  
Writer-director Raj Rachakonda roots the film in Telangana, letting his characters bathe the audience in authentic language, slice-of-life conversations, and relatable emotions. The way everyone from Priyadarshi and Jhansi to Ananya (as Mallesham's wife, Padma) emote and behave, it's as if they transformed themselves in the image of their demanding director.  
In one of the understated yet brilliantly evocative scenes, Mallesham meets one Abdul, who wears a cloth.  He explains to him the marathon, humongous effort that goes into weaving such a cloth.  The way he does it, it sensitizes the audience to the drudgery that handloom weavers used to put in for decades.  
The triumph of hope is narrated with characteristic uniqueness.  Mallesham sees an opportunity everywhere (when his father does the unthinkable to the product of his years of effort, Mallesham sees it as creative destruction), makes chance discoveries, and stuns even a University professor, taking insults all along.
At a time when films tiresomely romanticize village life, Mallesham escapes into city life in company with his wife.  Life unfolds new opportunities for him.  The scenes in Hyderabad are so engaging that they are lovely even when they contain ordinary moments.  
The closing scenes are moving, especially the TEDx Talks visuals of the real-life Mallesham.  
It's shameful but not surprising that Mallesham received no institutional support whatsoever even when he made progress in his mission to make the lives of poor weavers better through his invention.  His fate is a sad commentary on the inadequacies of the Indian state.
Priyadarshi delivers an award-winning performance.  There are no two ways about it.  This is his best output as yet.  He is massively convincing and a total surprise.  Ananya is cute, restrained and innocence embodied.  Jhansi brings pathos to her role.  Even Tagubothu Ramesh is good.  
Mark K Robin's BGM is minimalist and nimble.  Balu Sandilyasa's cinematography is adequate.  The production design is apt.  
Everything said, there definitely are problems with the film.  It somehow has those fairytale vibes (especially in the later scenes involving Mallesham and his wife) and that's not how it should have been.  The writing department should have given a brief but thorough glimpse into Mallesham's self-taught abilities in the first half itself.  The first half doesn't invest enough in his obsession with the machine; a character says that he has started talking to his brainchild but the screenplay doesn't convey this madness.  When the madness is verbalized, it looks artificial and forced.  Here and there, the film loses its distinction.  For example, most of the childhood scenes of Mallesham are too generic.  The song involving the kids was unnecessary.
Verdict:
'Mallesham' is a must-watch biopic that serves up a motivational lesson without sounding preachy.  It's heart-breaking, it's ennobling, it's lovely.  Neat performances elevate this story of a true hero!
Rating: 2.75 / 5.0
Showcase your talent to millions!!
Write about topics that interest you - anything from movies to cricket, gadgets to startups.
SUBMIT ARTICLE
More
Telugu Movie Reviews
Shekar
College Don
Sarkaru Vaari Paata
Ashoka Vanamlo Arjuna Kalyanam
Acharya
Oh My Dog