Mass Leader complete, Shiv in intro song
Tuesday, June 20, 2017 • Kannada Comments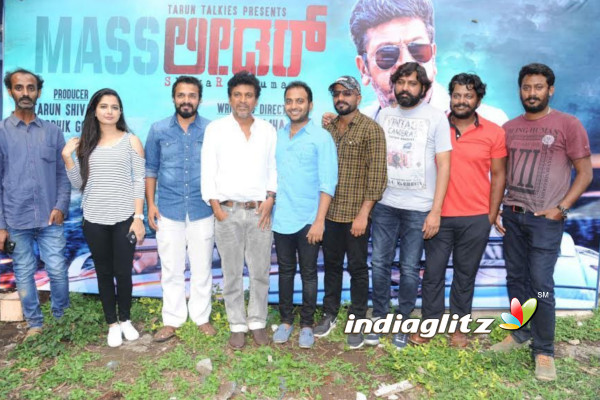 At the old Minerva Mill premises the introduction song for the film 'Mass Leader' was shot at the end of shooting. Well known director cum dance director A Harsha showed the steps to the song captured on Dr Shivarajakumar and others.

Tarun Shivappa had a big hit in 'Rose' Kannada cinema and he is trying a bigger scale cinema with Sahana Murthy also director of 'Rose'. Sahana Murthy is Narasimha from this film. This film was shot in Bengaluru, Mangaluru, Srinagara, Kashmir, Gulmarg and other exotic locations.

At Minerva Mills in Bengaluru, the emotional Ustaad in Kannada cinema and action hero Dr Shivarajakumar was in style for the opening song of this film. Harsha has done the dance direction for this song. With this song the shoot for the film has been completed for 'Mass Leader. In the direction of Sahana Murthy who is Narasimha from this film.

On July 12 Dr Shiv birthday of Dr Shivarajakumar, audio CD will be released. Soldiers in Kataar supported for this film shooting. Tarun Shivappa immensely thanked for such a support.

Veer Samarth 25th film is this Mass Leader, he has composed music for five songs. Gururaj Jaggesh says he has been admirer of this huge personality Dr Shivarajakumar. I have learnt so many things from Dr Shiv he said. It is a big technician's film stated Vijaya Raghavendra. Ashika is sister in this film to Dr Shivarajakumar.

Dr Shivarajakumar explained that 'Almighty' is leader of everyone. In this film the happiness, sorrow mood, difficult times are part of this film. In reality the film comes out well. The climax dialogue the people understand. The problems on 'Dharma' would come to an end. I am not just 'Leader' everyone is part of leadership.
Related News