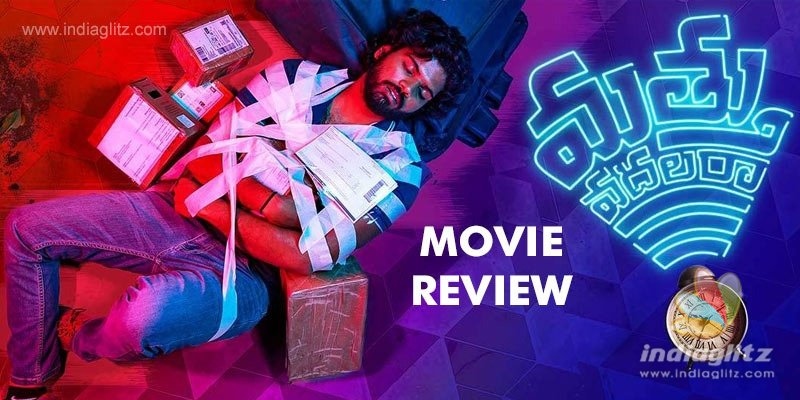 'Mathu Vadalara', directed by debutant Ritesh Rana, hit the screens this Wednesday.  Here we present its review.  
Story:
Babu (debutant Sri Simha), Yesu (Satya) and Abhi (Naresh Agasthya) are buddies sharing the same room in a low-end area.  Working as courier delivery boys, Babu and Yesu are grossly underpaid but Yesu has designed a strategy to keep himself affluent.  He hoodwinks his gullible customers and makes fraudulent money, a vice Babu attempts to pick up.  
As fate would have it, Babu's very first attempt at cheating a customer results in a tragedy as an old woman dies accidentally.  The poor chap devises a plan to save his skin.  Least does he know that things are not what they seem.
Ravi (Vennela Kishore), Myra (Athulya Chandra) and a police constable (Brahmaji) are in the same residential complex where Babu is in.  
Analysis:
Writer-director Ritesh Rana employs situational comedy in his attempt to tell a crime-thriller that is loaded with a twist or two.  And does he emerge with flying colours?  Largely, yes.  
The one good thing about 'Mathu Vadalara' is that it keeps racing ahead and doesn't slow down.  It throws into the mix some relatable human emotions.  When Babu gets embroiled in a murder he never committed, we kind of root for him despite the fact that he sort of invited it upon himself.  This is because he was shown as a victim of his employer's exploitation earlier in the film.  He lives a near-subsistence existence, not sure if he will get to eat the next day.  
In a film full of largely serious characters (even Vennela Kishore and Vidyullekha Raman don't try to elicit laughs, if you observe their body language and lines), comedian Satya takes it upon himself to assume the avatar of a dramatic comedian.  I felt his reactions were not that credible; you wouldn't expect such lightness from a person who is in the kind of unenviable situation that he is in.  Despite this, Satya is endearing and gets to play a full-fledged role with confidence.  
There comes something close to a flashback in the movie and it's another highpoint. This segment tells the story in a clear-cut way, unlike some of the scenes that precede it.  
The film seeks to shock the audience with its kind of narration.  But what is more imaginative is the way the shots are put together in rapid succession to convey tension.  For example, when a car speeds into a building complex in a tense scene, the mood is conveyed through a rapid round-up of the complex by the camera even as the BGM suggests the jet speed of the vehicle.  
The use of pop culture references (including Megastar Chiranjeevi and his popular hits) is done in a non-cliched way.  What is better is the narration of a weirdly mawkish TV serial involving a husband and a wife.  It is not just parody but makes the audience see the proceedings of the film itself as somewhat quirky.
The climax is gripping and it comes and goes without making much fuss.  Action takes place as a dreamy set of sequences here.  It's all psychedelic.
Everything said, two of the key performances should have been intelligent.  I couldn't relate to Sri Simha's rather one-note and not-so-believable reactions after a point.  Same is with Satya, whose animated reactions are fun to watch (despite the over-the-top feel) but that are unrealistic.  If Naresh Agasthya is highly promising, Kaala Bhairava's background music is slick and tension-inducing.  Suresh Sarangam's cinematography helps immensely.  AS Prakash's production design is measured.  Karthika Srinivas gets the editing right.  
What I never understand about some crime thrillers is this: Why do characters get paranoid about accidents?  Are they not adults who would rather react instinctively and try to shout for help - like to save the old woman, in this case?  Why do they think they are totally helpless even after it becomes clear that they are in a soup because of a conspirator?  In this film, even CCTV footage doesn't quite make Babu any less paranoid.
Verdict:
'Mathu Vadalara' is a true-blue thriller-comedy.  Its characters are engagingly-written, its plot is driven by a range of emotions, and it keeps the suspense going.  The few flaws are minor and forgivable.
Rating: 3 / 5.0
Showcase your talent to millions!!
Write about topics that interest you - anything from movies to cricket, gadgets to startups.
SUBMIT ARTICLE
More
Telugu Movie Reviews
Dasara
Rangamarthanda
Das Ka Dhamki
Kabzaa
Phalana Abbayi Phalana Ammayi
CSI Sanatan