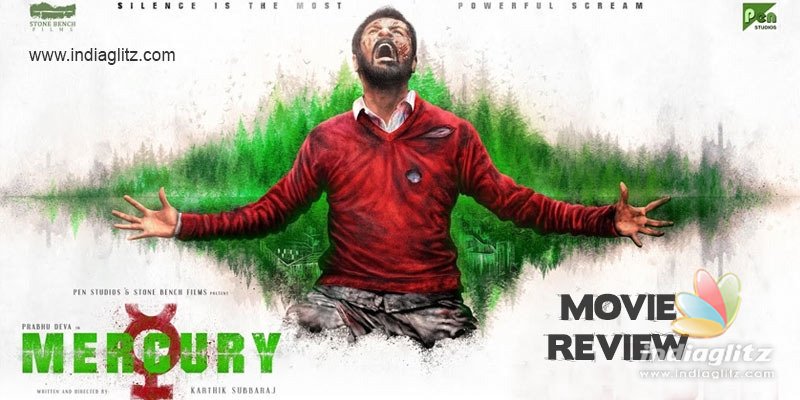 'Mercury', starring Prabhu Deva in a crucial role, hit the screens this Friday.  Here is our review of the latest thriller at the box office.
Story:
A group of friends, dumb and deaf, reach a hill station to enjoy their vacation.  Indhuja, the only woman among the friends, is in a romantic relationship with  Sananth Reddy.  
The friends take their four-wheeler out and go on a long drive in the middle of the night.  After enjoying their time together, they proceed to travel back to their place of lodging.  This is when an untoward accident happens.  In trying to save a dog from being hit by the vehicle, the girl ends up hitting a man (Prabhu Deva), who may be dead!  
The friends stage an escape by trying their best to bury the incident.  In their attempt to stamp out the gory accident, they end up in an abandoned factory, where the accident victim is on the prowl, raring to eliminate them!  
But will he succeed?  What challenges do the friends face in trying to save themselves?  What is their backstory and what is Prabhu Deva's character story?  That's the rest of the film for you.
Analysis:
It would be tempting to say that the biggest USP of 'Mercury' is its silence!  With not a single dialogue, this is easily one of the most experimental outings in a long time.  But that's not what makes it a special experiment.  It's the inevitability of the silence that makes it a noteworthy attempt.  
The friends are deaf and dumb and they have no go but to talk in sign language.  On the other hand, their bete noir, too, has a disability.  This combination makes for an exciting idea.  
At less than 50 minutes, most of the first half goes into narrating how the friends try to wriggle out of a legal culpability.  Their disabilities make for a heart-rending watch, and even though they are calculated in their thinking, their vulnerabilities and helplessness keep us from judging them.  
The natural performances put in by these unfamiliar faces is a treat to watch.  There is no trace of artificiality.  Sananth Reddy, Deepak Paramesh, Indhuja, Shashank Purushotam, Anish Padman - they all are specatcular.   Remya Nambesan (in a guest role) is good.  As for Prabhu Deva, he doesn't really give any shivers down the spine.  
Santhosh Narayanan's background score elevates the scenes with its dark vibes.  Thiru's cinematography is brilliant in the two edgy episodes in the second half.  
In the second half, before the backstories of the main characters are narrated in a novel way (there is a dose of sentimentality involved), we are treated to two episodes of how two characters do their best to mislead Prabhu Deva's monstrous character.  Their alertness, their spontaneity keep us guessing about what might happen next.
Everything said, 'Mercury' falls short of the expectations triggered by its unique backdrop, genre and the unlikely character combinations.  One might have a problem with the mix of genres.  Was the supernatural element really needed?  Director Karthik Subbaraj might have his reasons.  But the element results in a complicated climax and a very wafter-thin interval bang.  
The first half is too short-lived for all you know.  The story doesn't progress much.  And just five minutes into the second half, we are convinced that this is going to be more of the same.  
After a point, the hide-and-seek format starts looking uni-dimensional.  Also, the sign language is too difficult to understand. Whole silent conversations could have been avoided or minimized, without somehow rendering the proceedings sketchy.  
Verdict:
'Mercury' is an experimental silent thriller that tells the story of how a group of dumb and deaf friends tries to escape from an unlikely villain.  Edgy moments and excellent production values help matters.  However, the overall feel is that the whole could have been greater than the parts.
Rating: 2.75 / 5.0
Showcase your talent to millions!!
Write about topics that interest you - anything from movies to cricket, gadgets to startups.
SUBMIT ARTICLE
More
Telugu Movie Reviews
Michael
Writer Padmabhushan
Hunt
Driver Jamuna
ATM
Vaarasudu