Emotionally rich, musically richer
IndiaGlitz [Saturday, September 7, 2019 • தமிழ்] Comments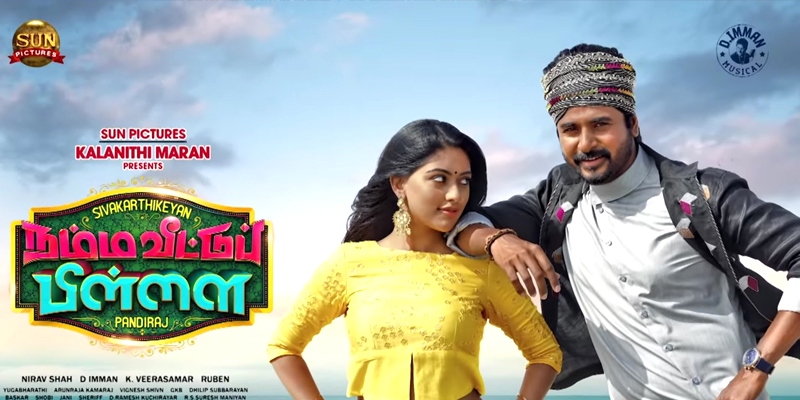 Namma Veetu Pillai - Emotionally rich, musically richer
Fans have always had good reason to be excited when they know Pandiraj and music director Imman are collaborating on a project. Yes, good chartbusting numbers. Imman has cranked out an album that touches on various moods effortlessly. Not only with respect to the music, but also considering lyrics, this is a finely balanced album that seems to deliver as expected. And maybe, even a bit more than what you expected. Grab your earphones and let Imman talk magic to you... 
Yenga Annan
Singers: Nakash Aziz, Sunidhi Chauhan
Lyrics: Vignesh Shivn
For all you inseparable brothers out there whove been wondering if the Tamil music industry forgot your sentimentslo and beholdseems like Imman hasnt. Charmingly composed with an intriguing intro and a catchy rhythm, Imman has handed you an anthem to celebrate your sibling super-sentiments. Not to mention, Vignesh's rhyme scheme and choice of words render a colloquial, jolly spirit to the song. What're you waiting for? Time's come to set the most suited caller ringtone for your power brothers. 
Mailaanji
Singers: Pradeep Kumar, Shreya Ghoshal
Lyrics: Yugabharathi
This duet strums off to a smooth beginning. As obvious as it is, we have to admit that Pradeep and Shreya have interweaved a pleasing auditory delicacy.  Imman proves his element in the way he brings about balance between vocals and the instrumentals, without one downplaying the other. The composing shows no hurry towards the end as it gradually slides down to a rhythmic silence. Get ready for repeat hearings!
Unakoodave Porakkanum
Singer: Sid Sriram
Lyrics: GKB
Before moving onto the music, shall we take a moment to acknowledge how raw and sensitive GKBs lines have worked out for this melody? Imman has strung GKB's simple, mesmerizing lyrical truths on a wonderful melody. And when we've got Sid Sriram on the mic giving life to the words and composition, you know you're up for something that will stay for longer in your hearts. This is a tender, moving number that will well... move you. We suggest you hear this immediately next to Yenga Annan to understand the beautiful contrast between Vignesh's feminine, colourful lyrical composition to the masculine sentiment that GKB has evoked for this track. 
Jigiri Dosthu
Singers: Jaya Moorthy, Anthakudi Ilayaraja
Lyrics: Arun Kamaraj
We dont know what you feel about the prelude, but once the vocals begin you understand and get in tune with the somewhat quirky flavor that the track sets. And all of a sudden youre left wondering, "Hey, I think I'm beginning to like this...".  Arun Kamaraj's lines are the perfect marriage to Imman's energetic composition. A song that celebrates friends, friendship and all your 'jigiri dosths' !
Unkoodave Porakkanum
Singers: Shashaa Tripathi
Lyrics: GKB
The flautist for the song alone deserves a standing ovation. Its beginning and intermittent portions are what adds the perfect feminine touch to the song. And what better way to express, as this version is from a sister's point of view. GKB has cleverly complemented the male version. The lines in the male version talk about the brother wanting his sister to be his daughter in another lifetime. Here, we listen to the sister asking for her brother to be her son in a different lifetime. Because GKB hasn't taken his audience for granted, we experience soul and sensitivity in these tracks.
Gaandakannazhagi
Singers: Anirudh Ravichandran, Neeti Mohan
Lyricist: Sivakarthikeyan
Seems like Sivakarthikeyan's time away from camera involves crafting mischievously romantic lines. We don't know what 'Gummerutuperru' really means. But what we know is it's going to be on a lot of people's lips. The song is a comical flirtation between two lovers who seem to have been gifted with 'magnetic eyes and pearl like teeth' . The track uses repetition schemes and wordplays to its maximum advantage. A definite dance number for all the happy feets out there!
Namma Veetu Pillai (Theme)
Lyrics: Arun Kamaraj
What musical instrument more than a trumpet to scream 'bossy and macho' . Imman has crafted a power pumping theme decorated with Arun's equally vigorous lyrical play. A good guess: its going to be a good background score in the film.
Pick of the album: Yenga Annan
Verdict: Imman takes you on a rollercoaster ride of emotional, sentimental and fun music.
Rating: 3.5