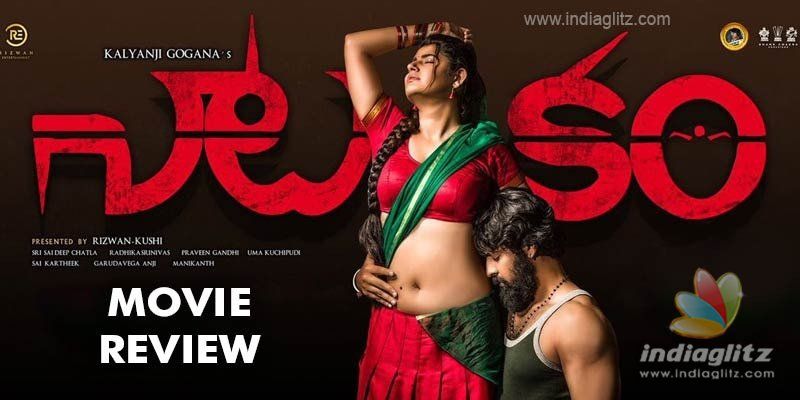 'Natakam', starring Ashish Gandhi and Ashima Narwal as the lead pair, hit the screens this Friday.  Here is our review of the rustic drama.
Story:
The film opens with a bunch of violent men committing mass killings for gold chains, etc.  
Somewhere in a hamlet named Chintalpudi, Koti (Ashish Gandhi) lives a happy life with his father.  He comes across Parvati (Ashima Narwal), a beautiful college-goer who lives alone because she is an orphan.
Love, sex and more sex happen quite fast, thanks to the heroine's open-door policy at nights.    
Meanwhile, the gang of chain snatchers is upon the village.  This is when a twist is revealed.  
The rest of the film is about who Parvati is, how Koti is dragged into a mess he didn't know existed, and whether he will pay the price for everything that has happened to him.
Analysis:
'Natakam' is actually a revenge drama with an eccentric twist.  But, once the movie is over, all that you will remember are these things: Koti has a drinking problem he is very proud of, he likes to have omelettes while boozing and sex after boozing, the heroine is very fond of kissing and prefers sex immediately after kissing.  
Besides having sex to heart's content every night, the otherwise unemployed and irresponsibly alcoholic hero is keen on solving the problems of the village with his guts.  One spoilt rich brat impregnates a poor girl and refuses to marry her.  You know what our heroes do in such situations.  Someone needs an emergency medical service, some other one has some other problem.  So on and so forth.  He also gets to say that the farmer is the king.  All these when our amazingly self-styled drunkard is not having liquor, omlette, and sex.  
A bunch of girls goes missing in the village.  Our hero goes searching for them in the middle of the night.  He finds no clue even after hours of hunting.  Guess what he does now?  He enters a bar and boozes.  (Not sure if he eats an omlette in this scene).  
When he is not having cot-breaking sex with the heroine, he has hangover problems because of excessive drinking the previous night.  When his hangover is over, he dances mirthfully, just like those onscreen duffers in Kollywood movies.  
Just to make sure the audience doesn't mistake him for a scum of a robot, the director pulls out certain tricks from The Book of Telugu Cinema Manipulations.   To prove he has a heart, he is shown to be getting senti about his long-dead mother.  To prove he has a mind, he is shown to be a disbeliever in God.  Go figure how many films have played this lame trick over the years.  
Somewhere and somehow, the bride our hero goes to see turns out to be his sister because his naughty father had an affair with a woman many years ago.  
As for the heroine, she has that Please-stalk-me-or-else-I-will-feel-really-bad expression on her face.  She is too busy having sex that she has no concern about the thing she needs to be concerned about.  Her portions should have been emotional and soulful, but they are egregious and sexful.  
The climax is more underdeveloped than even the hero's brain and the heroine's heart.  Our hero mechanically and easily accomplishes the mission.  The End.  
Speaking of the performances, the one thing this reviewer remembers about Ashish Gandhi is his perfectly-arranged tooth.  Ashima Narwal is beautiful and that's all.  The other actors, including Thotapalli Madhu, bore to death.
The soundtrack is an unabashed rip-off.  The RR and the cinematography are pathetic.
Verdict:
It's difficult to take the story of an agonized entity seriously when the lead pair is stuck in the bedroom till before climax and it would have been good had the director of this farce of a movie known it.
Rating: 1.5 / 5.0
Showcase your talent to millions!!
Write about topics that interest you - anything from movies to cricket, gadgets to startups.
SUBMIT ARTICLE
More
Telugu Movie Reviews
Sky Lab
Akhanda
Anubhavinchu Raja
Drushyam 2
Ram Asur
Missing