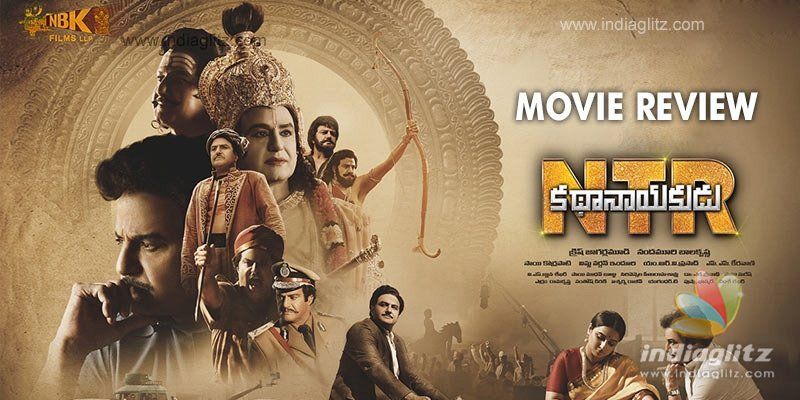 'NTR: Kathanayakudu', starring Balakrishna as the hero, hit the screens this Wednesday.  Here is our review of the biopic.
Story:
Months after India gains Independence, Rama Rao (Balakrishna) quits his job as a sub-registrar to pursue acting.  He moves to Madras (erstwhile Chennai) and bags a role as the main lead in his first film after months of near-hungry existence.  
By and by, folk dramas like 'Thota Ramudu' make him a superstar in the world of Telugu cinema.  Mythologicals make him a legend.  
With cinema as his life breath, Rama Rao continues to go places as an actor even in the face of competition from youngsters such as Krishna and Shoban Babu.  
Always a noble-minded thinker with a sympathetic heart, the biggest icon of Telugu cinema is moved to tears when he sees people in pain.  The rest of the film is about how he decides to take a plunge into politics.  His political journey will be narrated in a full-fledged manner in the second part, 'Mahanayakudu'.
Analysis:
Director Krish knows the film's subtext well.  He narrates the Bobbili Puli courtroom scene to symbolize NTR's growing angst over the sufferings of the people.  Earlier, Dasari Narayana Rao offers him a socially rebellious role, seemingly propelled by destiny to do so.  Director Krish's narration, at times, reminds the audience of the kind of juxtaposition between the reel life and real life of the personality we have seen in 'Mahanati'.  
If there is a subtle theme that the first half constantly throws up, it has to be this: NTR as a high-thinking human being whose heart bleeds for the marginalized, especially women.  In his very first scene, the new government employee (NTR) almost celebrates women's empowerment in the presence of the rare female employee at the office.  A fortuitous incident that makes him remain in Madras before bagging his first movie has him help a pregnant lady.  He proudly refers to himself as a 'rythu bidda'.  He sacrifices his meal for the sake of his needy roommates.  Dialogue-writer Sai Madhav Burra sees Karma setting itself in motion here.  'The people are going to give it back to him (NTR) in the form of cinema tickets', a character says.  
Throughout 'Kathanayakudu', it's as if NTR scoring a blockbuster is cinema itself achieving glory.  It's not the audience who watch his movies; it's people with hearts who do that.  How do you show the legend as a superhuman?  After all, when NTR and his contemporaries were bashing up baddies, fight sequences were underdeveloped.  The writers of this movie are clever.  NTR is shown standing stiffly for many hours for a single shot!  Superman NTR.  He is a man who believes that going for a body double is nothing but duping the audience (err, people).  
Politics didn't occur to NTR suddenly.  He was always political, the film says, showing the future CM daring the Establishment a day after the imposition of the Emergency - all for the beleaguered producer of his movie, not for himself.  But Burra being Burra, he uses this scene to elevate NTRism: 'NTR is a hero when he is with make-up; he is more than a hero when he is not wearing make-up'.  Of all, a policeman, who symbolizes Indira Gandhi's totalitarian state, says this line.  Of all the lines, why should NTR have rehearsed only this line so intently, as if in a daze? 'Mattilo kalavalsina pranam aa matti kosam ivvaleva?' Destiny?
One expected more from the movie, though.  In the introduction scene, Balakrishna is seen riding a bicycle.  No prizes for guessing the scene is the way it's because, decades later, 'Bicycle' would become the symbol of his political party.  More and more such moments would have made a great deal of difference.  Sumanth (as ANR) is just there, making no much impact.  The upstaging of this senior actor by NTR in the 1950s should have been shown in a dramatic way.  NTR's directorial creativity is given a tribute through a subtle scene where his audacious experiment called the song 'Chitram bhalare vichitram' is praised as a gem.  At least half-a-dozen such surprises should have been there.
Also, there is this sense of 'NTR was born to be great' feel hanging around constantly.  At regular intervals, ordinary mortals raise their hands in reverence for NTR.  OK!  
The scene where NTR meets a spiritual master tells it all about the pitfalls of completing production works in a short time. It's so laughable that you can see Krish taking you for a ride, especially because comedian Kireeti is one of the saints in the ashram.  You can imagine!  
The chemistry between Balayya and Vidya Balan (as NTR's wife, Basavatharakam) is largely lackluster, save a few well-written lines.  This is not to say Vidya's performance is not up to the mark; she does a fine job.  
The bit players (from Rana Daggubati, Rakul Preet, Shriya Saran, Brahmanandam, Pranitha Subhash, Hansika, Manjima Mohan, Kaikala Satyanarayana, Shalini Pandey, Payal Rajput and others) don't make the cut.  Prakash Raj (as B Nagi Reddy), Naresh (as BA Subba Rao), Kalyanram (as Harikrishna), Krish (as KV Reddy) are OK.  It's Daggubati Raja (as NTR's brother, Trivikrama Rao) who gives the best performance among all the character artistes.  Ravi Prakash as Yoganand and Burra as Pithambaram are good, while Vennela Kishore is a complete misfit.  
It's Balakrishna all the way; he steals the show right from the word go.  The last scene, wherein the actor assumes the dramatic body language of his father, makes us expect a lot from 'Mahanayakudu'.  His earnest performance is cool, while Krish's aim to bring out the innocence in NTR through Balayya pays off.
MM Keeravani's songs and BGM lend an aura of grandeur.  VS Gnana Shekar's cinematography is efficient.  The art work by Ramakrishna-Monica duo is commendable.
Verdict:
The film comes with sincere writing, focussed narration, able performances (by the main cast), and fine dialogues.  On the flip side, many scenes are plain.
Rating: 3 / 5.0
Showcase your talent to millions!!
Write about topics that interest you - anything from movies to cricket, gadgets to startups.
SUBMIT ARTICLE