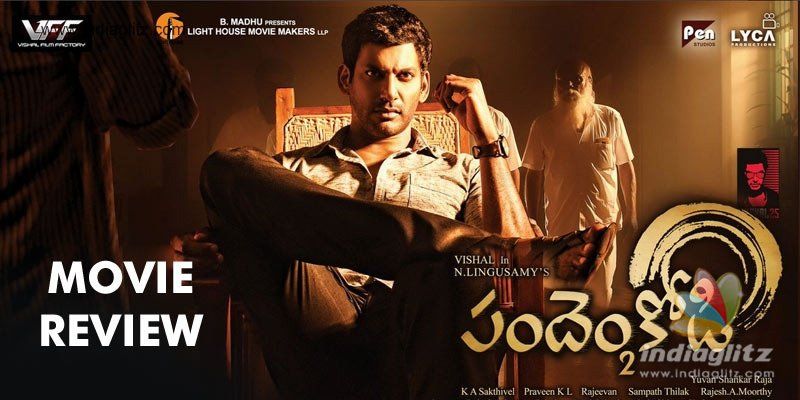 'Pandem Kodi-2', starring Vishal in the lead, hit the screens this Thursday.  Here is our review of the action-drama.
Story:
Raja Reddy (Raj Kiran) provides protection for Gopi (Johnny Hari), who is the target of a dreaded woman Bhavani (Varalaxmi  Sarathkumar) from a neighbouring village.  She is out to avenge the death of her husband.
A grand festival is organized in the surrounding villages for the first time in seven years to appease the village deity for rains.  The villains are bent upon using this opportunity to finish off Gopi.  
In comes Raja Reddy's son Balu (Vishal), who has been abroad all the while, and who falls for the bubbly rural belle Charu (Keerthy Suresh).  
Troubles soon start when the festival is sought to be disrupted by the villains.  How Balu uses his brains and brawn to fight Bhavani and her gang and upholds the honor of his father forms the rest of the screenplay.
Analysis:
The screenplay is loaded with cliches and contrived situations that grounds the film and it never gets to take off.  Repeated attempts by the villains to best Vishal even after they get duly bashed up is ridiculous, especially given that their techniques don't see any progression.  Many scenes, especially in the second half, are so lethargically written that they are clearly an indication that the audience has been taken for granted.  
The very foundation of the conflict is under-written.  Two factions are constantly engaged in a bloody war over a side character.  The writer seems to have written the story as a sort of experiment where it's never mainly between the villain and the hero until it's too late.  But it's vacuous, giving rise to bouts of trivialization.
Raja Reddy's condition has to be shielded for some reasons and this situation is leveraged for some situational comedy.  As a result, the tempo never raises.  Even a sidekick of the hero gets far greater screen space than Bhavani, the much-vaunted bloodcurdling lady antagonist.  
The romance scenes between Vishal and Keerthy Suresh are so predictable that you can almost taste their flavour by watching the trailer twice.  Just to showcase our hero's greatness, he is made to forfeit his love to uphold his father's honor for no effective rationale.  
The fight scene that intercuts between Vishal and Rajkiran tackling villains in different places could have been choreographed in a better way.  The one interaction scene between Keerthy and Rajkiran is loaded with hackneyed sentimentalism.  
The climax fight and the way Varu's character finds its arch though forced gives the film's theme its rounding off and that's about it.  The scene where a hired goon craws before the villain, shaking up at his mere sight, is another high point.  
N Linguswamy's Midas Touch goes missing.  Don't expect innovation or novelty but the director owed his audience at least an engaging masala which he fails to cook up.
Vishal once again gives an earnest performance, scoring both in both sentimental and romance sequences.  He is a man on fire in the action sequences, especially impressing in his first fight in which he also has to pretend to the crowd that he is not involved in it.  As Rajkiran points out Vishal has not changed a wee bit in thirteen years which speaks volumes of his exemplary fitness levels.  Anyone who had doubts whether Keerthy Suresh can match Meera Jasmine's absolute rave performance in the original gets a shakeup.  Her sprightly dance moves are an absolute delight to watch and it is no exaggeration to say that Keerthy is the real star of the show.  Varalakshmi Sarathkumar gets to play the arch villain here but unfortunately, the role is one dimensional.  RajKiran majestically does an encore while Johnny Hari, Muniskanth and others are OK.  
Yuvan Shankar Raja elevates the scenes with his vibrant background score and his theme for Varu actually gives her character the edge which the writer doesn't.  However, it seems to be a rip-off of the 'Komaram Puli' tune.  The songs don't make a mark.  KA Shakthivel has captured the essence of the rural setups with his choice of colors and bright lighting.  The 'Jathara' scenes are all over and it would have made sense for different colour palettes to be used.  
Verdict:
'Pandem Kodi-2' fails in even having an exciting premise, forget a gripping narration.  Vishal is a saving grace.  The hyped-up villainy of Varalaxmi falters right from the word go.
Rating: 2.75 / 5.0
Showcase your talent to millions!!
Write about topics that interest you - anything from movies to cricket, gadgets to startups.
SUBMIT ARTICLE
More
Telugu Movie Reviews
The Ghost
God Father
Swathimuthyam
Ponniyin Selvan 1
Nene Vasthunna
Babli Bouncer