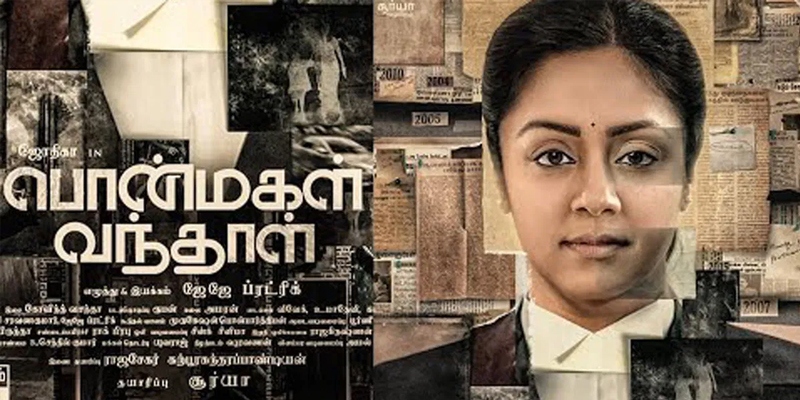 Ponmagal Vandhaal review - Jyothika is back with a relevant, strong message for the society!
After the important take on government schools and education in Ratchasi last year, Jyothika is back on screens this time with another socially relevant theme in Ponmagal Vandhaal - sexual crimes against children. With the trailer of the movie directed by JJ Frederick promising an intense courtroom drama, let's see what Ponmagal Vandhaal has in store.
Petition Pethuraj (K Bhagyaraj) as he's known among people in his locality for the petty cases he files against people for publicity, creates waves as he reopens an old case involving a psycho who murdered girl children, and Pethuraj's daughter Venba (Jyothika) appearing on behalf of the psycho, Jyothi. The 15-year-old case however isn't an easy task for Venba to deal, as she has to clash with a powerful lawyer Rajarathinam (Parthiban), who's hired by Varadarajan (Thiagarajan), a bigwig in the society. Why did Venba take up the fight for a psycho killer, how is Varadarajan involved in the case, whether Venba was able to get justice for the real victims and get the sinners punished is what Ponmagal Vandhaal is all about?
As advocate Venba who takes up an unexpected case representing a person hated by everyone, Jyothika delivers an arresting performance, with the right mix of subtlety and emotions. Venba's controlled aggression in the courtroom sequences and the emotional outbursts are portrayed in an impactful manner by Jyothika. Parthiban is his usual, witty self mouthing catchy one-liners, standing against the protagonist, and despite the character being a single-dimensional one, makes a mark. K Bhagyaraj is aptly cast in a character that holds secrets, and delivers a neat performance, while the rest of the cast including Vinodhini, Pandiarajan, and Thiagarajan are adequate.
With a haunting start with gruesome murders and a closed case, Ponmagal Vandhaal moves on to establish K Bhagyaraj's character Petition Pethuraj, before taking a turn with the arrival of Jyothika to revive the closed case, taking sides with the main accused. While Thiagarajan and Parthiban's characters are explicitly presented with grey shades, the movie reaches the interval point with a good twist.
The second half of the movie turns quite predictable, as the war between Venba and Varadarajan proceeds linearly without much twists and several repeated sequences. Jyothika's performance in a particular portion of the movie was loud as well, but the final revelation and another twist in the end, with the much-needed message for the society, make up for the shortcomings.
Govind Vasantha's background score gels well with the dark theme of the movie, and of his songs, Vaa Chellam is good. Ramji's cinematography captures Ooty in all its glory, and the raw crime sequences create an impact. Ruben's editing could have been taut, avoiding several repeated sequences.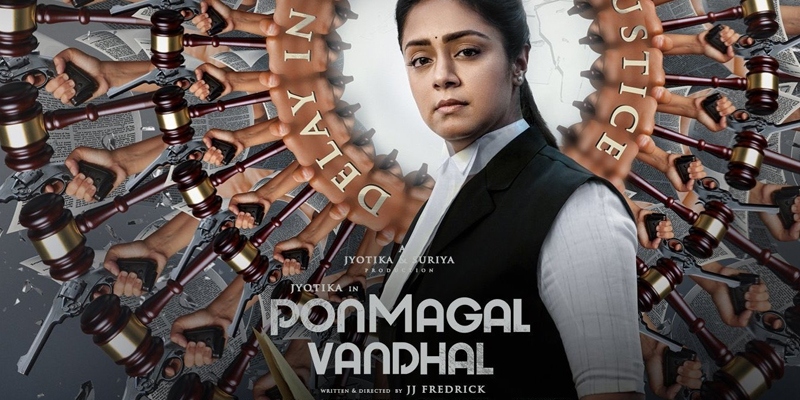 Debutant JJ Frederick has taken up an important theme for his debut movie and has delivered an engaging product. Headed by the dependable Jyothika, Frederick has taken up the premise of sexual crimes and an advocate fighting for a person deemed to be a criminal and getting justice delivered. Though the movie doesn't boast of powerful courtroom moments or arguments, Fredrick has some interesting twists in the interval and towards the end, and while the flashback portions that arrive towards the end of the movie are haunting, they create the necessary impact to convey the message. Ponmagal Vandhaal has numerous emotional moments and Jyothika delivers an impactful performance that conveys the pain, anger and the long wait to get justice, and she's ably supported by a strong support cast including Parthiban and K Bhagyaraj. With a strong technical team, Frederick could have worked even more on fine-tuning the screenplay, especially the courtroom episodes, as the linear narration with predictable moments and a leisurely pace lessen the impact. Nevertheless, 2D Entertainment, Jyothika, and debutant JJ Frederick have delivered a product they can be proud of, as Ponmagal Vandhaal speaks out loud and clear on an important topic, and delivers a much-needed message for the society. 
Verdict: Jyothika is back with a relevant, strong message for the society!
Rating: 3 / 5.0
Showcase your talent to millions!!
Write about topics that interest you - anything from movies to cricket, gadgets to startups.
SUBMIT ARTICLE
More
தமிழ் Movie Reviews
Mark Antony
Jawan
Kushi
Adiyae
King of Kotha
Jailer