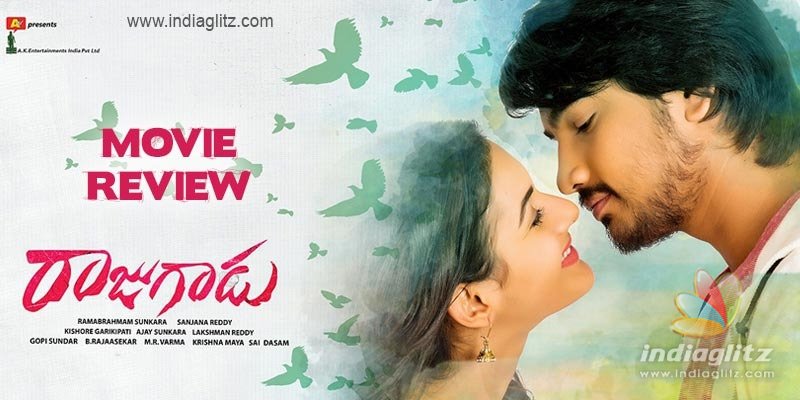 'Raju Gadu', starring Raj Tarun and Amyra Dastur in lead roles, hit the screens this Friday.  Here is our review of the rom-com.
Story:
Raju (Raj Tharun) is a fun-inducing kleptomaniac who is just unable to overcome his medical flaw.  He bumps into Thanvi (Amyra Dastur) and it's love.  While the girl reciprocates, she asks him to get the nod for their marriage from her grandfather Surya Narayana (Nagineedu).  
Needless to say, this grandpa is a disciplinarian who can't tolerate dishonesty.  In this old man, our hero finally meets his anti-kleptomaniac.  To make the matters worse, there is Anji (Rao Ramesh), a banished ex-resident of Ramapuram.
All throughout, Raju has got the blessings of his funny father (Rajendra Prasad) and mother (Sitara).  The question is, will everything fall into place for him before he can marry Thanvi?
Analysis:
Originally conceived by Maruthi, 'Raju Gadu' largely follows a conventional trajectory.  Even the Trailer had made it clear.  The hero's character traits come with exaggerated tropes.  The heroine is like an Angel who loves the imperfect hero because, well, some films are meant to be escapist fare.  
And the father's troubles are meant to be hilarious.  Given that it's Rajendra Prasad who is there, the reactions are a mixed package.  If there are over-the-top moments, there are also old-fashioned ones.  And Sitara is at her usual self.
Leaving aside the premise and the characters, the scenes lack a semblance of drama.  Either they are loud or too low-brow.  If Rao Ramesh is convincing as ever, Nagineedu chews more than what he can swallow.  That said, their antagonism is treated fairly well.
As for Amyra Dastur's character, she would have evoked a range of emotions had there been a screenplay that eschewed low-hanging fruits.  It's as if everything is superficial.
While the songs (music is byGopi Sunder) are decent enough, one feels their placement comes undone at least twice.  
As comedy goes, more than situational, Prudhvi's bloc entertainment comes as a relief.  He is effortless as ever, overshadowing his colleagues with ease.  
Perhaps driven by the temptation to make the film a fest of laughs, debutante director Sanjana Reddy infused extraneous comedy scenes even in unlikely phases of the film.  This robs the film of heft.  The pre-climax phase could have been avoided the pitfalls of commercial pulls.
It's not just good songs but also decent cinematography that makes this film noteworthy for its budget and genre.  Sanjana Reddy shows imagination in visualizing a couple of songs.  
After a dud like 'Rangula Raatnam', Raj Tarun looks decent in this comedy.  His comic style, however, needs to go to the next level.  Amyra is talented but she has to get emotions right in serious scenes.  
Verdict:
'Raju Gadu' doesn't boast of originality.   There are unnecessary scenes and elements as well.
Rating: 2.5 / 5.0
Showcase your talent to millions!!
Write about topics that interest you - anything from movies to cricket, gadgets to startups.
SUBMIT ARTICLE
More
Telugu Movie Reviews
Butta Bomma
Rebels of Thupakulagudem
Michael
Writer Padmabhushan
Hunt
Driver Jamuna