Do your part to reduce the gap between director Ram's films
Friday, August 11, 2017 • Tamil Comments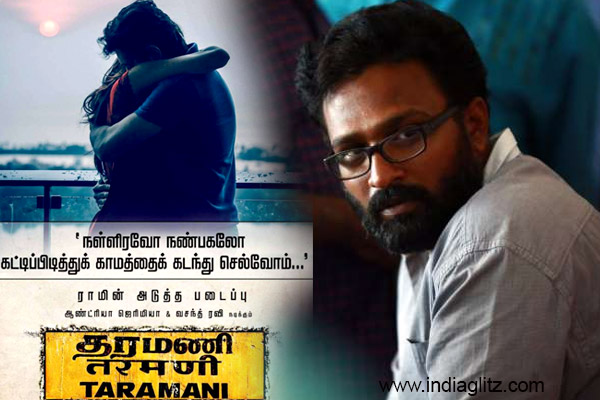 Director Ram's debut film 'Katradhu Tamizh' released in October 2007. His second film ''Thangameenkal' released in August 2013 and 'Taramani' has released today (August 11 2017). Quiz him about the years of gap between his films. Ram says it is because most of us did not watch his films in theatres. Quite true.
He himself says 'Katradhu Tamizh' was hailed only after it was taken out theatres. 'Thangameenkal' was also taken out of theatres before the positive word spread. But the film received a couple of National Awards. This and many other reasons has lead to another four years delay in the release of Ram's next film 'Taramani' which stars a debutant Vasanth Ravi as the male lead. The female lead Andrea is a talented actress liked by audience but not so favourable for the distributors as said by Ram himself.
After so many delays and sturggles 'Taramani' has made it to the screens today. The film has released with an Adults Only certificate as the makers did not want to make the cuts suggested by the Censor board if they have to give a U/A rating. Ram boldly said it is an Adult film and with the promotional materials it is quite clear what the film would deal with.
Upon release the film has got unanimously positive reviews and all the reviewers have given 3 or 3+ rating on a scale of 5. Though Ram's previous films also acquired critical acclaim and 'Taramani' was expected to fall in that line this much of unanimous acclaim is something unexpected. Many feel that this is the Best of Ram and to quote from the IndiaGlitz critic's review, "Director Ram has given us two emotionally gratifying films, Katradhu Tamil` and Thangameengal` and for his third venture he has dealt with a very relevant subject of how men from all classes wrongly perceive women and realize their folly mostly when its too late. The message that Ram sets out to tell is loud and clear and that`s the strength of Taramani`." Read full review here: Taramani Review
Ram says if we go watch 'Taramani' in theatres we will not have to ask the same question about the "long gap' between his two films and with the positive reviews it is clear that the director is highly justified in expecting us to come to watch the film in theatres.
Now it is up to the movie going audience to decide whether they have to support good films like 'Taramani' and genuine and bold filmmakers like Ram.
Follow us on Google News and stay updated with the latest!
Follow
Actress Photos
Manjusha
Ritu Varma
Pooja Hegde
Nidhhi Agerwal