Ramesh takes Queen Remake, it is in Kannada and Tamil
Wednesday, June 7, 2017 • Kannada Comments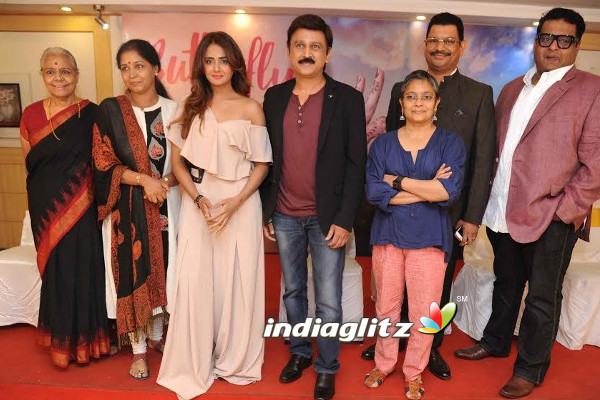 The super hit Hindi film of 2014 in the direction of Vikas Bahl starring Kangana Ranaut in title role is coming to all the four major south Indian languages from Manu Kumar and Manoj team that is based in business establishment in London.
As of now the Kannada version and Tamil is in the direction of Ramesh Aravind who directed films of Dr Kamal Haasan in his career is taking up this bilingual with Parul Yadav talented actress taking up the Kangana Ranaut role in 'Butterfly' – Patharagiththi in Kannada. The official announcement was made on Monday night by Manu Kumar and Manoj at Citadel Hotel basement in the presence of Ramesh Aravind, Parul Yadav – birthday girl, dialogue writer Mamata Sagar a poet, Smt Bhargavi Narayan and Sudha Belawadi on dais.
Another foreign origin and Hindi actress Amy Jackson is playing the role of Lisa in four South Indian languages.
Ramesh Aravind is setting initial background for Kannada version in Shimoga surroundings and for Tamil version he is bringing Tirupur locality that is known for textile business. The major portion of shooting will be held abroad. The fascination of 'Kambalihula' (blanker worm) transforming to butterfly is the focus via central character of the film. A girl from one civilization to another unknown civilization adjusting is in screenplay of this film. Ramesh had immensely liked this Hindi film and he has taken the responsibility easily. The shoot is planned in London, Paris and other countries.
Bhargavi Narayan and Sudha Belawadi are playing the grandmother and mother roles to Parul Yadav in this film. Sathya Hegde is man behind camera.
Prolific writer in Kannada literature Mamata Sagar is giving up the rudimentary style and working on breaking norms while portraying a woman in her dialogues.
Parul Yadav birthday on Monday was the launch of 'Butterfly'. She feels it is a privilege to perform in the film. Ramesh Aravind is the best choice in giving direction she feels. There will be comparison after I work for this film. I have taken even workshop for this film purpose.
Sudha Belawadi favorite film is Queen. On the day she was reading newspaper of remake version of it, she got a surprise of a role with her real life mother also appearing as screen mother in this film.I am not worried to play grandmother role for cinema. I have such position in real life says Bhargavi Narayan.
Related News